A. Gary Shilling wrote in Forbes magazine dated 8/6/2012 that we will face another recession starting this year. The byline in the article stated, "Facebook will become the poster child for the social media stock bubble." The WSJ headline on Friday 7/27/2012 is, "Facebook's Growth Slows; Shares Tumble 10% after hours as Costs Rise..." Gary predicted the real estate meltdown in 2005 before it occurred. He foresaw the drop in the stock market and lowering of interest rates that accompanied this meltdown.
He is now predicting the S&P 500 will fall to 800 on weak corporate earnings. He maintains that family-housing prices will fall another 20% due to excess inventories. He cites the problems in Europe and falling growth rate in China as further evidence of a worldwide recession on the horizon.
Since I scoffed at his earlier predictions and lost a lot of capital as a consequence, I decided to pay attention this time. Shilling suggests the 30 year treasury bond, which only offers 2.5%, as the place to secure your money. I consider the return on investment much too low to place my money there. Besides, if interest rates begin to rise, one can lose capital in these bonds just as quickly unless one is willing to wait until they mature.
If Shilling is correct, what can one do to continue to have a decent rate of return and protect one's capital at the same time? It is easy to decide what to avoid. Avoid industrial companies that make things since they always decline in a recession. Commodity producers will see huge price declines as well. Stay away from home builders and mortgage lenders. They will be fighting a huge headwind in Shilling's scenario. Retailers always face problems of lower volumes and slimmer profits during recessions.
My answer is to buy companies that offer services and products that people need and use in spite of economic setbacks. People will continue to use electricity, water and gas to heat their homes. Companies which distribute these necessities will fare reasonably well in a recession. Healthcare companies will not see their volumes reduced. They will continue to grow because of our aging population and their growing health needs.
Shilling maintains that we are fast becoming a nation of renters instead of owners. Many families have lost their homes as a consequence of the real estate bust. They continue to need a place to live but do not have the ability to buy so they must rent. One can either buy up properties and rent them or invest in REITs that provide housing for these families. Health care REITs and triple net lease REITs that rent to sound companies should be reasonably safe as well. MLPs that move or store petroleum products are safe since they are paid for moving and storage and therefore are not subject to the fluctuation of prices with which the producers must contend.
I have compiled a few examples below of the kind of equity to purchase that will achieve a reasonable return while minimizing loss of capital. In the utility sector I have chosen PPL Corporation (PPL). PPL is an energy and utility holding company that delivers electricity and natural gas to about 10 million customers in the US and UK. Below is a price chart of PPL from 2003 to the present.
Click to enlarge.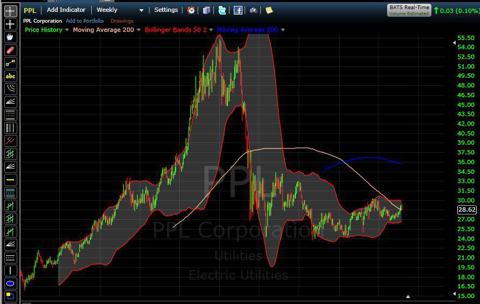 Source: freestockcharts.com.
The stock had a huge price dip in 2008 from which it has not recovered. In spite of the price fall, earnings per share grew from $2.08 per share in 2003 to $2.61 in 2011. Dividends increased from $.77 in 2003 to $1.40 in 2011. The company has not missed a quarterly dividend throughout the 8 year period.(S&P data) S&P projects PPL will have an approximate 8% annual rate base growth from 2012 through 2016. Since PPL is not dependent on one particular region for business with facilities on the east coast, central US and UK, the safety of the earnings are enhanced.
PPL's price could decline somewhat in the event of another recession, but it offers evidence that it would continue its dividend and the price should recover nicely since it is not overpriced at this time. Since it is offering a 5% dividend and is selling at a reasonable 10 P/E ratio, it offers a good place to park during a recession.
Associated Estates Realty Corporation (AEC) is a REIT that offers good price protection as well. AEC specializes in owning and managing apartment communities in the Midwest, Mid-Atlantic and Southeast US. S&P as well as Shilling maintain that the outlook for residential REITs is positive. Presently residential REITs are reporting occupancy figures over 95% allowing for rental increases.
Dividends have held steady at $.68 per unit since 2007. AEC has recently increased the dividend to $.72 per unit starting May of this year. S&P states that $10,000 invested 10 years ago would be valued at $14,803 now. AEC has weathered the recession well with no loss of dividend or loss in price of the units over the long term. Below is a price chart with dividend payments for 5 years.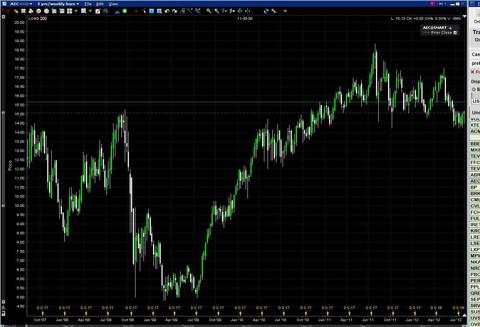 Source: Interactive Brokers
This chart seems to contradict my thesis. The price of the equity shows a huge price spiral during the last recession. Prior to the real estate bust, families were able to buy houses with little down money which turned many renters into owners. The apartment rental business looked like it was on the skids with empty apartments and lower rents. The real estate bust turned this pattern inside out. Young families with little credit experience or poor credit must rent now since banks have severely tightened mortgage requirements. Many other families have lost their homes and need shelter as well.
Brad Thomas listed AEC as a 'wide moat REIT', one that is able to defend its profits against competitors. He maintains that this is the type of REIT one should own to defend one's portfolio. I am convinced that AEC is in a position to hold up well during the next few years, downturn or not.
Fracking has created an expanding business in the US of storing and moving petroleum products. Spectra Energy Partners, LP (SEP) is an ideal position to profit from this expansion. SEP owns and operates over 3200 miles of natural gas pipelines throughout the US. It also owns and operates several natural gas storage facilities. S&P states that $10,000 invested 5 years ago would be worth $14,686 today. It started paying $.30 per quarter 10/31/07 and now pays $.485 per quarter. The payout has been growing consistently since the partnership has gone public. Below is a price chart with dividend payments for 5 years.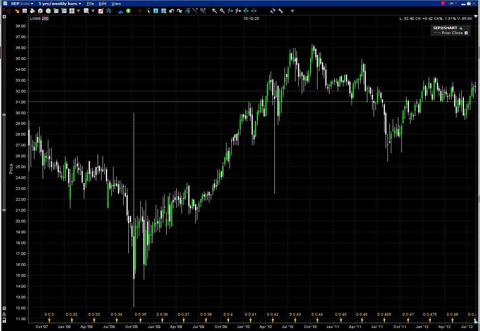 Source: Interactive Brokers.
Running pipelines is a fee-based system. This helps the partnership lock in earnings over the long-term and shelters earnings from the ups and downs of the price of natural gas. S&P maintains that the outlook for pipeline and storage facilities is good for the next year. Here again is another equity that offers a reasonable dividend with good price protection.
Let's look at one more example in healthcare. Teva Pharmaceutical Industries (TEVA) develops, manufactures and sells pharmaceutical products worldwide. Its products include generic tablets, capsules, injections, inhalants and creams. It also offers several branded products for several medical conditions. The company is headquartered in Petach Tikva, Israel and is the largest generic drug maker in the US. TEVA was recently listed as a SAFE dividend stock for its strong yield and 5 year dividend growth. The chart below from Forbes' website illustrates that growth.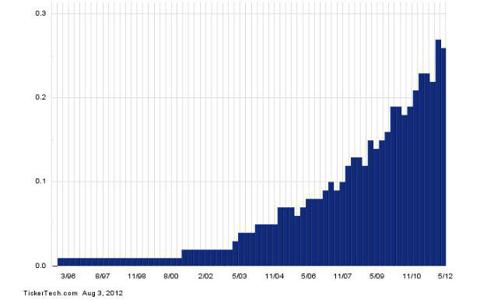 In spite of patent and regulatory pressures on pricing, S&P maintains that demographic growth of the elderly still enhance the long-term prospects for drug producers. The pharmaceutical industry has been able to maintain margins even as other industries see their margins decline. S&P states that TEVA, because of its huge size and worldwide reach, should be able to gain market share which will further enable it to use plants more efficiently and introduce greater economies of scale.
Furthermore, if the Affordable Care Act holds, there will be 32 million more Americans with health insurance in the near future. A further guarantee of more customers and greater volumes. TEVA's dividend at 2% does not match the rates that other major drug companies offer, but it does offer a great place to invest because of its sales growth and probable dividend growth even in the midst of economic headwinds.
Since a receding tide lowers all boats, one should buy these stocks at reasonable or bargain prices. Issuing puts on some of these equities and others like them is a good strategy to use in procuring them. The puts generate income while one waits for lower entry prices. In the interests of full disclosure, I have sold off many of my equities and plan to execute the strategy laid out above for my own portfolio. (For those of you who don't understand the use of puts, let me recommend the articles of K202, Timour Chayipov and Mark Bern, CPA CFA.)
Disclosure: I am long SEP, TEVA, PPL, AEC. I plan to use puts to buy stocks with similar qualities to the equities listed above.