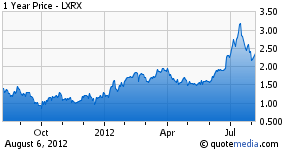 All in all, it's been a good year for Lexicon Pharmaceuticals (LXRX). Although well off its highs, the stock has done well since I last wrote about its prospects and the company looks to be in stronger shape today. The real question for Lexicon, though, is whether the company can produce clinical data that significantly differentiates its candidates from rival therapies and gives larger pharmaceutical companies a reason to partner with the company.
Diabetes Drives The Bus
Far and away the most important drug to Lexicon is LX4211 - the company's proprietary SGLT-1/SGLT-2 inhibitor. SGLT inhibition has become a hot area for diabetes drug development, but Lexicon has the only dual inhibitor well into studies.
Phase II results looked encouraging. About six weeks ago, Lexicon reported that LX4211 showed a 0.95% HbA1c reduction when given in the highest dose. There was also a strong link between dose and efficacy (usually a good sign that a drug does something), as lower dosages showed reductions of 0.79%, 0.52%, and 0.43%. Safety looked good; although 22% of patients in the high-dosage group had various GI issues, these are not uncommon issues with diabetes drugs and the rate of discontinuations was quite low.
It's important to remember that this is not a full data package - Lexicon management has said that they will have full data to present to potential partners later this month, while full public presentation could take a little while longer because of medical conference schedules.
That said, the data stacks up well. On a placebo-adjusted basis, LX4211 looks at least as effective than rival drugs. With 0.86% placebo-adjusted HbA1c reduction at the highest dosage, LX4211 would appear to outperform Bristol-Myers Squibb (BMY)/AstraZeneca (AZN) drug dapagliflozin (0.5% placebo-adjusted reduction) and Lilly's (LLY) empagliflozin (0.7%). Data on Johnson & Johnson's (JNJ) canagliflozin has shown placebo-adjusted reductions ranging from 0.7% to over 1%. It's critical to note, though, that none of these studies were head-to-head, and there were differences in inclusion criteria, trial design, and therapy - consequently, it's difficult and maybe even misleading to say much more than that LX4211 looks promising at present.
Lexicon now has the task of securing a Big Pharma partner to develop LX4211 further. With good efficacy and solid safety, there should be some interest here, particularly if you consider the number of companies pouring money into poorly-differentiated GLP-1 drugs. With no advanced SGLT2 programs of their own, Merck (MRK), Pfizer (PFE), and Sanofi (SNY) would be logical partners, and I would think that Takeda (OTCPK:TKPHF) and Novartis (NVS) could be interested as well.
What Else Is There?
Lexicon is going to push ahead with additional studies on LX2931 in rheumatoid arthritis and LX1032 in carcinoid, but I would keep my expectations low here. Earlier results from LX2931 showed good safety but inadequate efficacy; an additional dose-ranging study should explore whether even higher dosages can deliver commercially viable efficacy without compromising the safety. Given the huge amounts of money reaped by Abbott (ABT) and Pfizer from RA, it's at least worth a second study.
LX1032 and LX1033 seem like even bigger longshots. Although LX1032 has shown efficacy in carcinoid, a large percentage (70-85%) of patients are thought to be adequately treated on generic drugs and it's unclear that there would be a worthwhile economic return on this drug. The potential for LX1033 in irritable bowl is much greater [experimental drugs from Salix (SLXP) and Forest Labs (FRX) could have billion dollar potential], but an earlier version of the drug didn't generate impressive performance.
The Bottom Line
LX4211 could very well become a billion dollar drug (if not better), and Bristol-Myers and AstraZeneca recently agreed to pay over $7 billion for the billion-dollar potential of Amylin's (AMLN) once-weekly GLP-1 drug Bydureon. If Lexicon can convince a partner that the dual inhibition mechanism really can deliver superior performance and/or safety, a lucrative partnership agreement is possible.
On the basis of $1 billion in revenue, I believe Lexicon should trade for around $2.75 per share. Success with LX1033 could add almost as much value, but the risk of this program makes it difficult for me to chip in much more than $0.25 to $0.75 per share in value. Likewise for the rest of the pipeline - drugs for osteoporosis and glaucoma could prove to be valuable down the line, but the incredibly high uncertainty there whittles the present-day value down to very little.
Short of a partnership announcement, there's likely to be little data to move this stock for the remainder of 2012. That will be bad for stock price performance, but investors looking for a still-underappreciated biotech with potential platform technology ought to take a closer look at Lexicon today.