After a massive bull market from 2009 until early 2011, silver has been in a downtrend. Whether this is simply a correction or a longer-term trend is unclear. Personally, I believe continued bond purchases by the ECB and potentially the Fed could spark another rally in both gold (GLD) and silver. However, on the other hand, a resolution to the European sovereign debt crisis or the U.S. fiscal cliff could send "fear assets" like precious metals and Treasury bonds down.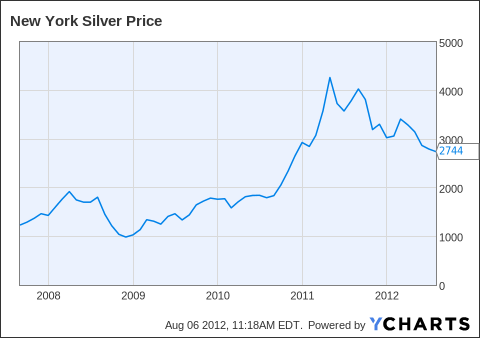 New York Silver Price data by YCharts
For many investors, precious metals represent part of a "permanent portfolio" strategy intended to preserve purchasing power over the long term. Such investors will likely find the following analysis irrelevant, but speculators in ETFs like the iShares Silver Trust (SLV) or those hopping on the "momentum train" may do well to pay attention and consider how it affects their holdings.
Silver Manipulation?
For years, major financial institutions like JPMorgan Chase (JPM) have been accused of manipulating the price of silver due to their short positions. JPMorgan denied these accusations, explaining to Bloomberg that bloggers misunderstand their positions:
JPMorgan Chase & Co. mostly hedges silver for clients, and large speculative bets aren't "part of our business model," Blythe Masters, the bank's head of global commodities, told CNBC.

Market participants "don't see all our activity," and bloggers have "a misunderstanding of the nature of our business," Masters said today in an interview on CNBC. There is "an underlying client position" involved in hedge or forward trades, she said on CNBC.
Nonetheless, regulators looked into the accusations, analyzing over 100,000 documents. But today, the investigation that began in September 2008 will likely be dropped:
The U.S. Commodity Futures Trading Commission is expected to drop a four-year probe into possible manipulation of silver prices after failing to find sufficient evidence to back a case, the Financial Times reported Monday, citing three unnamed people familiar with the situation.
Market Impact
Those hoping for a "short squeeze" or market run up after the CFTC's report will obviously be disappointed by the news, because it appears no such event will occur. Previous CFTC investigations in 2004 and 2008 found no wrongdoing; on a four year repeating pattern, the 2012 investgation looks to be the same.
If you believe that Europe will crash and burn and the U.S. will be mired in recession indefinitely, then silver might still be a good play as a fear hedge. However, as a non-believer in precious metals, I have exited my speculative position in silver on this news.
Disclosure: I have no positions in any stocks mentioned, and no plans to initiate any positions within the next 72 hours.