We are taking some profits on CF Industries Holdings (NYSE:CF) after buying back shares in the $190s recently. Our seasonal target remains $220.
Both CF and 75% owned Terra Nitrogen Company L.P. (NYSE:TNH) report Q2 results after today's market close. We have no view on TNH right now.
We'll consider buying CF shares back after the earnings conference call on Tuesday.
The stock is currently trading at $201.18 and goes "ex" 40 cents on Friday.
I have CF earning an adjusted $570.4 million or $8.91 basic/$8.78 fully diluted adjusted EPS.
Fertilizer volumes and prices were great in April and up to mid-May, with particular emphasis on dry urea, but fell off in June, at which point the drought and related news/expectations took off.
There is a chance CF could report another above-expectations number, but we think it is conservative to "wait and see."
The DJIA and the crude oil market have been supportive of the rally in commodities however, so we would be buyers on a pullback in the $190s.
My basic Q2 number is near the average of the consensus but my fully diluted number is slightly below the average analyst estimate of $8.90 (estimates range from $7.90-$10.45).
Note the consensus average estimate moved up from $8.08 to $8.90 over the past few weeks, mainly with the low end of the estimate range being raised.
My EPS estimates assume CF went into the market and bought the $500 million remaining on their share buyback, 3 million @ $165 average cost, when the stock tanked in May.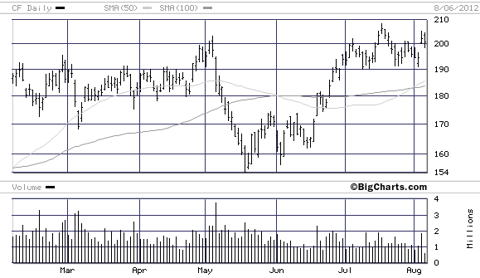 Click to enlarge
If CF bought no shares back in Q2, my EPS estimates would then be $8.71 Basic/$8.58 FD or 3.6% below average consensus estimates.
I have CF Q2 revenues at $1.988 billion, 2% above consensus $1.95 billion (estimates range from $1.76 to $2.27 billion). The consensus average was raised from $1.85 billion over the last few weeks.
Some of the assumptions made in my estimates:
-Nitrogen product sales of 3.885 million short tons, 2.9% over Q2 2011
-UAN volumes up 9%, urea volumes flat, ammonia volumes down 10% (due to early spring application)
-Ammonium nitrate and nitric acid volumes and prices up due to the explosion at the LSB Industries (NYSE:LXU) El Dorado, Arkansas AN/NA plant in mid May
-CF's Woodward, Oklahoma plant was down for about a week due to an electricity outage from April tornado activity
-Lower Q2 natural gas cost of $3.30/mmBTU versus $4.32 Q2 2011 and $3.48 Q1 2012
-Nitrogen gross margin (record) $933 million/54% of $1.727 billion revenues
-Total DAP/MAP volumes down 2.4%
-DAP prices down 10.8% versus Q2 2011
-Better productivity as dock facilities at Tampa back to full operating rates
-Lower sulfur costs
-Phosphate Gross Margin of $65 million/25% of $260.6 million revenues
-Average fully diluted shares outstanding of 65 million
Disclosure: I am long CF.
Additional disclosure: We sold CF Industries at $201.60 today, bought back at $199.70/$200.63, selling at close.