Oil has had an incredible run, and it is by no means over. So why not buy now? First off, it is long overdue for a pullback. Oil has skyrocketed, but is overbought by far. I do see oil moving to $140 or $150, but not before a pullback to $125 or so. Second, there is nothing wrong with walking away with what you have already made. If you own oil stocks, I would recommend getting out. If you are in them, you have already likely made a healthy profit. Other stocks have been beaten down by oil. This has presented the perfect buying opportunity.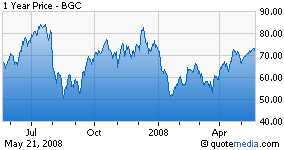 One company that I have recently been watching is General Cable (NYSE:BGC). General Cable works with the development, design, manufacture, marketing and distribution of copper, aluminum and fiber optic wire and cable products for the energy, industrial, specialty and communications markets. The company offers competitive strengths in such areas as breadth of product line, brand recognition, distribution and logistics, sales and service, and operating efficiency. It is an international company that has expanded from North America to Europe and North Africa.
The company hasn't missed earnings estimates in the past 12 quarters and has a Price to Earnings ratio that is comparable to its peers. The company also has a Return on Equity of around 36%, better than most of its peers. It makes products for infrastructure such as bridges, telecommunications, and electric grids. Not only has it seen steady growth in the last three years, but its earnings are projected to continue to grow well in the future. The CEO has both public and private experience, but more importantly has been with the company since 1994. At around $70, the stock is oversold and poised for a good run.
Even if you do not want to get your feet wet in specific stocks, I would at least get in the market. Buying opportunities like the correction we have seen in the last few months only come once in a while. Buying into an index fund such as SPY or another mutual fund that follows an index such as Vanguards 500 Index Fund [VFINX] will not leave you unhappy in a couple of years, not to mention five or six.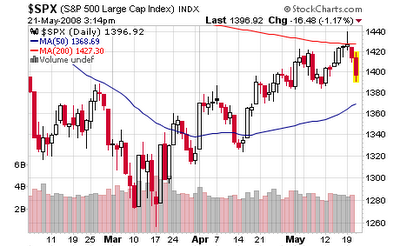 Disclosure: I own VFINX.