First, I will not lie. I have enjoyed and benefited from the recent Jim Cramer obsession with Broadwind Energy, Inc. (OTCBB: BWEN).
I have owned shares for sometime – actually, before it was BWEN and was called Tower Tech Holdings and traded under the symbol TWRT.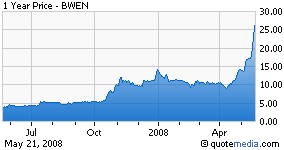 About 2 years ago, I found a company that was in the wind energy business and getting some support from a very reputable hedge fund manager, Jeffrey Gendell. I figured it was worth picking up some shares at $2-$4 per share. I even wrote about TWRT (now BWEN) in my column at AskMen.com about Green Investments back in the Summer, 2007 where I mentioned TWRT as one of the little, speculative plays with some upside potential. Since then, I sold a fair amount of my shares in the $10-$12 range, some at $25, and kept a small position to let ride. Certainly, my only regret at this stage is that I did not go 'all in' on this one, but the stock market is about investing and not gambling.
I, too, am a big believer in the future of the wind industry in this company and really like what I see in companies like Trinity Industries (NYSE:
TRN
), Thermadyne Holdings (NASDAQ:
THMD
), and Miscor Group, Ltd. (OTCBB:
MIGL
). I have positions in the latter two. I was hoping for more of a chance to continue to build my position in MIGL in the $10 range, but the word is somewhat getting out on MIGL in the short-term.
Here is my problem and somewhat has to say it. Cramer was absolutely nuts mentioning BWEN in the light that he did. In the bits I listened to him regarding BWEN, he is clearly misinforming viewers. I personally am one to conduct my due diligence and not just jump in on a stock based on a hot tip, but unfortunately, I have learned that most of the retail investing community that watches Cramer is not. A mere mention of a stock in a positive light by the Mad Money author can send the stock soaring. Cramer should know this and while I am fine with his position as an entertainer, some things should be pointed out.
Again, I do agree that the future of wind energy is big. I am no expert or industry ace, but I have been studying this aspect of alternative energy for the past 2-3 years. In fact, I have been so keen on it and learning about it that I missed the huge run up in solar stocks because I have come to understand that solar is far less cost-effective and viable than wind energy.
Here are my concerns with Cramer's obsession with BWEN. These are not necessarily deal breakers, but none are being discussed and I fear retail investors are simply buying in on the dream of quick riches. In making an informed, long-term investing decision, the latter should be considered.
I have nothing against the OTC BB or even the Pink Sheets. There are some very reputable companies on both venues and it seems likely that BWEN will make it to the NASDAQ sooner than we think. However, OTC BB stocks are not widely followed and often thinly traded, which makes them subject to some serious volatility. BWEN is no exception to this. A huge influx of retail investor buying can really make some movement happen. The Cramer mention is not that different than those mailers you receive on OTC BB companies. For all intensive purposes, this mention of BWEN is really no different.
$1 Billion Company? Cramer continues to reference BWEN as a $1 billion company. As of today, May 21, BWEN boasts a market cap of $2.3B ($25/share with 90M shares outstanding). If you read the SEC filings, you will see that the fully diluted number of shares outstanding, after warrant exercises, can easily see this stock with 100M shares. Additional acquisitions or equity financing are also not out of the question. BWEN's market cap is far greater than $1 billion.
1Q 2008 Results Did anyone bother to read the company's 10-Q for first quarter of 2008? At first glance, it looks great. Revenue swelled to $36M from $2.2M a year ago. However, $29M of this revenue is from the acquisitions, particularly Brad Foote. Of this $36M, only $6.6M came from the manufacture of wind towers. Yes, this is 200% more wind tower revenue from the same period last year, which is impressive, but it's not the whole story. Note also that Brad Foote makes products for many industries, not just the wind industry. Yes, revenue is revenue, but how much of the $35M is really wind energy related. It is even likely that some of the $6.6M of fabrication revenue is not associated with the wind energy arena. Additionally, a closer look shows gross margin in the fabrication division declined by 9% and net income rose only 10% although revenue grew 200%. For a comparison, take TRN that saw $84M of wind tower revenue in 1Q 2008 vs. $48M in 1Q 2007. TRN also has a $1.6B backlog in this division and a $3.2B market cap.
Wind Energy Pure Play? Yes, BWEN is positioning itself nicely to be the comprehensive wind energy company offering fabrication, installation, service, parts, and transportation. However, is BWEN a wind energy company or a manufacturer, electrical contractor, and trucking company? For instance, BWEN acquired Badger Transport, which is a trucking company that is capable of transporting large items, such as wind towers. It is unclear how much, if any, of Badger's historical revenues have been from the transport of wind towers. BWEN is certainly putting the pieces together nicely, there is no question, but these observations escaped mention from Cramer.
Please do not get me wrong. BWEN is well positioned and will benefit from this growing industry. BWEN has the financial support needed to grow. BWEN's second quarter numbers might be astonishing in terms of wind energy related revenue growth, but we do not know those yet. For those holding, I hope BWEN goes to $50 or $100 or even higher. I simply found it irresponsible for BWEN to be mentioned as haphazardly and whimsically as Cramer continues to do so over and over again. He should know better, but then again, he is just an entertainer and I'm watching and talking about it, so I suppose he wins anyway you slice it.
Disclosure: Long