In October of 2011, I wrote an article titled Looking For Value In Trucking primarily based on the fact that Celadon Group, Inc. (NYSE:CGI) had purchased a 6.29% stake in USA Truck, Inc. (NASDAQ:USAK) for "investment purposes." According to the Schedule 13D, the CGI Board of Directors believed that the average price of $7.08 represented a potentially attractive investment for CGI shareholders. In addition, the 13D filing stated that CGI had requested a meeting to discuss a possible association between the two companies that may include a combination.
Shortly thereafter, the USAK Board of Directors issued a statement that it unanimously decided to decline a meeting with CGI at this time. USAK stated, "among other factors, the Board of Directors considered the recent management changes and the Board's desire to remain focused on increasing value through operational improvements. Accordingly, the Board of Directors unanimously decided to decline a meeting at this time."
Of course it is easy to question the motives of the board for declining such a meeting several months later, but not much has changed at USAK except for the stock price. When USAK declined to even sit down at the table with CGI, the stock was trading at roughly $8.00 per share. Today, the stock is at $4.15 and sliding. If CGI thought USAK was a value at $7.08, it makes you wonder what thoughts they may have now. The management of CGI was smart enough or lucky enough to have sold their entire stake earlier this year when the shares were still trading over $8.00 per share so they succeeded in at least delivering some value for shareholders.
USA Truck, Inc. 1-Year Chart (click to enlarge)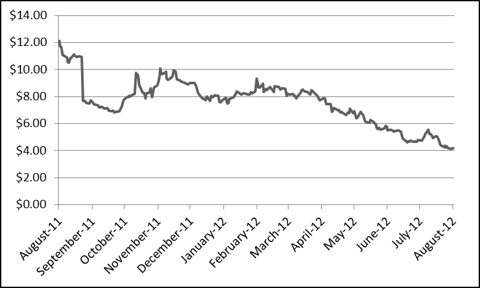 Click to enlarge
Celadon Group, Inc 1-Year Chart (click to enlarge)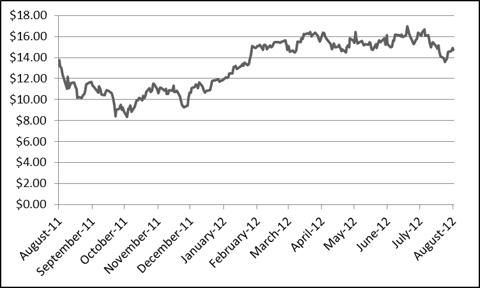 Click to enlarge
USAK recently announced earnings for the quarter ended June 30, 2012 which were less than stellar, reporting an operating loss of $4.33 million compared to operating income of $2.21 million for the same period in 2011.

Click to enlarge
Management gave three primary reasons for the poor performance which I have summarized below:
Poor economy exacerbated by a less than optimal freight network
Poor operational execution
High unmanned tractor count which averaged 12.2% due to a challenging environment to hire drivers and an inefficient network making it difficult to retain drivers
Other than the poor economy, these all seem to be challenges that could be assisted by a combination with the right trucking firm that can solve these issues.
While CGI did miss analyst revenue estimates, its bottom line improved significantly and easily surpassed estimates. During the second quarter of 2012, CGI saw freight revenues (before fuel surcharge) increase 4.6% to $124.3 million and operating income jumped 47.7% to $15.94 million. CGI attributed much of its operating gains to a younger fleet which is less expensive to operate and maintain.

Click to enlarge
Currently the only sign of growth for USAK is through its Strategic Capacity Solutions (SCS) segment which is a freight brokerage that matches shipments with available equipment of USAK and other preferred carriers. In the last quarter, trucking revenue fell nearly 16% to $71.85 million while SCS revenue grew nearly 47% to $26.25 million. If the SCS segment cannot continue this growth, it could spell real trouble ahead for USAK. In addition, USAK is currently not in compliance with the financial covenants contained in its revolving credit agreement, but has obtained a waiver through the end of the third quarter. Management stated that it is currently negotiating a new five-year credit facility to replace the existing facility with better terms.
Given the continued struggles at USAK and its inability to deliver value to the shareholders, it is inexcusable that they would simply blow off a meeting with CGI to discuss what possibilities might exist. It is hard to say if CGI would have put an offer on the table after the discussions, but if they had, it seems likely the offer would have been at least double the current trading price.
Will CGI come back into the picture only months after deciding to dump its interest in USAK at much higher prices? Unfortunately, that is not a question I can not answer. For all I know, they may be glad that they were rebuffed. I have found that sometimes the best deals are the acquisitions that you don't make. USAK may fall into that category, but at some point in an industry looking for revenues, USAK will be attractive to other suitors. I would recommend to the USAK Board of Directors that if CGI or any other suitor should come calling... Answer the phone and take the meeting.
I do think at some point, USAK will be acquired, but there is certainly the risk of more downside before a potential suitor shows its hand. If management is able to get things headed in the right direction or another suitor materializes, USAK could easily trade back into the $6 - $7 range in short order. However, with the current economic headwinds working against USAK and uncertainty in the timing of any potential offers, I plan to steer clear of taking a position in USAK for now.
Disclosure: I have no positions in any stocks mentioned, and no plans to initiate any positions within the next 72 hours.