Travel agency Expedia, Inc. (EXPE) impressed investors when the Bellevue, Washington-based company reported another good quarter, with earnings topping the analysts' consensus estimate by 17 cents. While expenses continued to increase, revenue growth helped offset the impact, as well as the impact of a higher tax rate.
Expedia provides branded online travel services for leisure and small business travelers. The company offers a wide range of travel shopping and reservation services, providing real-time access to schedule, pricing and availability information for airlines, hotels, and car rental companies.
The company's second quarter EPS rose 24% from the prior year quarter to 89 cents per share, or $125 million. Its revenue grew 14% to $1.04 billion. Analysts were expecting the company to earn 72 cents per share on revenue of $988.7 million. The company attributed its strong gains to increased volume of domestic and international bookings, as well as strong hotel revenue growth.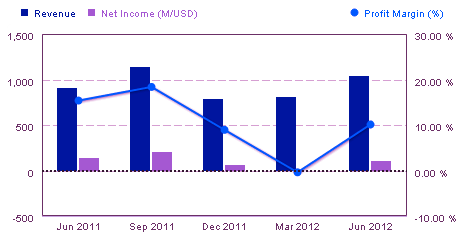 Shares of Expedia soared 20% after second quarter earnings beat analyst forecasts. The shares rallied 89% since the beginning of the year, but still trade with a fairly modest forward PE multiple of 19.
Expedia's Fundamentals Improving
Investors should take note of the following points that indicate the company is growing on solid fundamentals.
Leisure customers grew 26.2% from the previous quarter and 11.3% from the year ago quarter.
Corporate customers (Egencia) grew 43.4% from the previous quarter and 61.7% from the year ago quarter.
The Leisure business continues to be driven by hotel revenue, since rising airfares are impacting ticket revenues.
The company is beefing up the Egencia segment with acquisitions because it is clear that the company is gaining ground in the Egencia (corporate) segment. Corporate spending on travel continues to pick up, despite the rising airfares that were negative to Expedia's leisure business.
Hotel and Air, the two main product lines grew 16% and 8%, respectively from the year-ago quarter.

Around 58% of Expedia's quarterly revenue was generated from the US business, with the remaining 42% coming from international business.

The domestic business in the US grew 22.4% sequentially and 14.3% from a year ago.

The international business grew 35.1% sequentially and 13.1% from last year.

Expedia's acquisition of VIA Travel in April also helped boost its bookings revenue. Increased hotel bookings helped offset thin margins from airline bookings, which are impacted by rising fuel costs.

Cash and short term investments totaled $2.39 billion at quarter-end, up $395.8 million during the quarter. The net cash position of $1.14 billion was significantly higher than the $748.4 million in net cash going into the quarter.
(Source: InvestorGuide & Zacks)
Online Travel Sector: Expedia's Position
Online travel booking looks buoyant because of the shift from offline channels. There has been a proliferation of internet sites over the last decade to help people planning a perfect vacation, and getting it at a discount. The opportunity in the Asia/Pacific region is significant and is likely to remain one of the strongest drivers of the company's business over the next few quarters, particularly since online penetration in many Asia/Pacific markets remains relatively low.
Expedia will continue to face challenges from players like Priceline.com (PCLN), Orbitz Worldwide (OWW) and Travelzoo (TZOO) as well as a growing number of local Chinese players that could make expansion in the fast-growing Chinese market difficult. Additionally, Google's (GOOG) venture into the travel market is expected to increase costs for Expedia.
Expedia: Short Term Outlook
The stock has been rising steadily since the last four months. The Stochastics and MACD indicate there's room for some more expansion in the short term and we expect the stock to touch $61 shortly.
Expedia: Medium Term Outlook
Medium term outlook for the online travel industry remains fairly bullish. Most of the companies in this sector are profitable. Some of those are growing quickly while others are not. Priceline.com has a one year forward PE of 21 on a market cap of $33,062 million. Orbitz has a forward PE of 15 on a market cap of only $444 million while Travelzoo has a forward PE 15 too on a small market cap of $348 million.
Expedia Earnings Estimates
This Quarter
09/2012
Next Quarter
12/2012
This Year
12/2012
Next Year
12/2013
Average Estimate
1.16
0.49
2.51
2.93
Number of Estimates
12
12
12
12
Low Estimates
0.92
0.20
1.63
1.86
High Estimates
1.33
0.58
2.81
3.43
Year Ago EPS
1.52
0.50
2.52
2.51
EPS Growth
-23.63%
-1.67%
-0.56%
17.03%
(Source: Zacks)
We are bullish on the companies for the medium term. The long term picture is still not clear given the macro economic headwinds the world is facing. We are most bullish on Expedia with a forward PE multiple of 19 on a market cap of $7,798 Million. Expedia's dividend yield stands at 0.91%. We expect the stock to trade in the region of $69 to $75 within the next six months to one year.
Disclosure: I have no positions in any stocks mentioned, and no plans to initiate any positions within the next 72 hours.