In 2009 Suncor Energy (NYSE:SU) merged with Petro-Canada, making the combined integrated oil and gas producer one of the largest energy companies in Canada. SU is focused on production in Alberta's gigantic Athabasca oil sands with complimentary refining and marketing operations.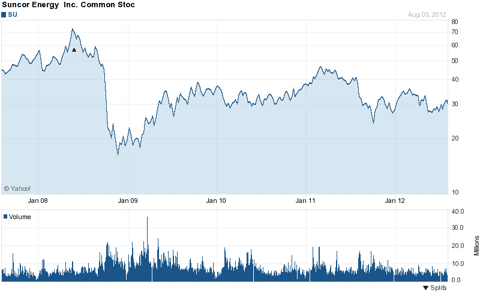 Click to enlarge
According to Yahoo.finance:
SU: $31.58 +$1.22 (4.02%)
Market Cap: $48.41B
P/E: 11.3
EPS: 2.79
Div: $0.52 (1.70%)
Suncor announced Q2 2012 earnings on July 24. Notable highlights include:
Q2 operating earnings were $0.81/share compared to $0.62/share in the prior year (+30.7%
Production averaged 542,000 boe/d compared to 460,000 boe/d in the prior year (+15%)
Oil Sands production averaged 309,200 bbls/d versus 243,000 bbls/d in the prior year.
Production at Firebag continues to ramp up nicely: 95,800 bbls/d in Q2 versus 83,600 bbls/d in Q1 and 56,400 bbls/d in the prior year's quarter.
Oil sands operating costs decreased to $39/barrel versus $48.40/barrel in Q2 2011.
Suncor's refining segment continues to capitalize on its inland refineries access discounted crude feedstock.
The increase in outlook for international production reflects the restart of production in Libya and the suspension of operations in Syria (see chart below).
The company's Q2 dividend increased 18% to $0.13/share from $0.11/share in Q1 of 2012 (the prior quarter).
Suncor's production guidance was revised:
Production Guidance

2012 Full Year Outlook

April 30, 2012

2012 Full Year Outlook Revised

July 24, 2012

Actual 2012

(First 6 Months)

TOTAL

530,000-580,000

540,000-580,000

552,200

Oil Sands (bbls/d)

325,000-355,000

325,000-345,000

307,500

Synthetic Crude (bbls/d)

299,000-327,000

280.000-295,000

271,000

International (boe/d)

67,000-75,000

77,000-85,000

98,300
So the company is moving right along - consistently growing its production and sharing the profits with its shareholders. SU's western North America refining refineries enabled Suncor to deliver strong refining performance despite the widening discounts to WTI. It is helpful to use Suncor's refining results as a proxy for Phillips 66 (NYSE:PSX) and Marathon Petroleum (NYSE:MPC) as both these refiners are also benefiting from discounts of NA land-based oil production. Indeed, both PSX and MPC also produced excellent results in Q2. Phillips 66 was covered in this Seeking Alpha article: Phillips 66 Hits A Home Run.
Key notes from the conference call:
Despite oil prices that were $9-10 lower than in Q1, SU's integrated model was able to produce very comparable earnings and cash flow.
Firebag 4 is now over 90% complete and steaming is expected to begin in Q4.
Company is not just focused on growing production, but instead on profitable growth and returning cash to shareholders.
$549 million worth of stock was bought during the quarter bringing the first-ever buyback program's total to $1.4 billion with a resulting cancellation of 46 million Suncor shares (almost 3% of outstanding shares). Management believes buying shares at current levels is an excellent investment.
I was quite surprised SU's stock did not pop with the announcement of China's state-controlled CNOOC's friendly C$15.1 billion dollar bid for Canadian firm NEXEN (NXY). Although I have no doubt Canada would block any foreigner's bid for Suncor, the buyout offer shows just how valuable the Chinese view Alberta's oil sands.
Perhaps no other foreign oil company will gain more from the United State's inability to take advantage of its #1 economic advantage against all other countries (its 2+ million miles of natural gas pipelines combined with its abundant natural gas reserves) and adopt natural gas transportation than will Suncor Energy. The lack of an American strategic long-term comprehensive energy policy (like this one) directly benefits SU. If I ever saw America take advantage of natural gas transportation to reduce foreign oil imports, I might reconsider investing in Suncor. But for now, President Obama, Congress, and Energy Secretary (I am "agnostic" about nat gas transportation) Chu have shown no intention whatsoever of putting a priority on natural gas transportation. All the better for Canadian oil producers like SU.
While SU's P/E is higher than many NA oil producers, I believe this reflects the lower risks associated with the fact that Suncor will hit oil with every shovel full of oil sands, its biggest asset (the oil sands) are safe, and its proximity to the world's largest oil consumer - the United States. I have no doubt the Keystone II pipeline will get built as well as other takeaway transportation in the Bakken. Over time, the discount to NA land-based oil will decrease, SU's production will continue to grow, and the company's earnings and dividends will grow as a result. It is a solid long-term holding for Americans wanting an insurance policy against rising oil (gasoline) prices while collecting a moderately small, but growing, dividend. S&P has a 12-month target of $38/share.