Magnum Hunter (MHR) is a bit of an abnormality. Usually U.S. domestic oil and gas companies selling in the low single digits do not have that much production history. That's not the case with Magnum Hunter. In fact production has increased almost 5 fold in the last 5 quarters through internal development and acquisitions.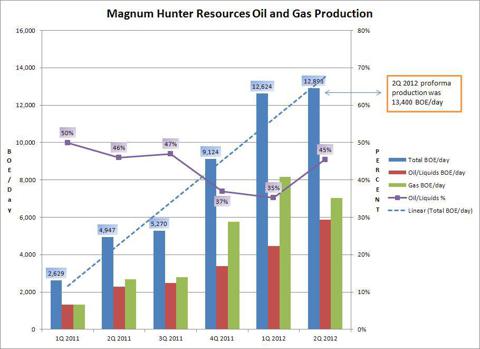 Click to enlarge
Magnum Hunter management has forecasted continued substantial growth with company's production exiting 2012 at a rate of 18,000 BOE/day from the proforma 2nd quarter rate of 13,400 BOE/day.
Clearly this is a company that is trying to get bigger in a hurry and has the net acreage to do it.
132,000 acres in the Williston Basin and Tableland
24,000 acres in the Eagle Ford shale
58,000 acres in the Marcellus shale
61,000 acres in the Utica shale
313,000 acres in Southern Appalachia
Magnum Hunter's 2012 drilling budget is $325M with $170M in the oil rich Williston Basin, $130M in the oil and liquids rich Eagle Ford Shale, and the remaining $25M in Appalachia. This is a redirection of capital to oil and liquid rich plays with the company projecting a significant increase in the oil to gas production ratio by years end.
Although Magnum Hunter's North Dakota oil rich Williston Basin wells are not as prolific as Kodiak Oil and Gas (NYSE:KOG) wells, current net production is over 4,000 BOE/day from its wells in the region. In the oil and liquid rich Eagle Ford Shale Magnum Hunter's acreage is adjacent to and comparable with EOG Resources (NYSE:EOG) production results.
In addition, Magnum Hunter is a partner with ArcLight Partners in Eureka Hunter Midstream, which operates 54 miles of 20-inch pipeline in the "wet gas" corridor of Marcellus shale in West Virginia. According to the company's August presention (PDF) Magnum Hunter's retained equity value is approximately $300M.
Proved Reserves have increased from 3.1 MMBOE in 2008 to 67.7 MMBOE by 6/30/2012 for an impressive 150% annual growth track record.
Financial Metrics
Forward PE (fye Dec. 31, 2013) of 14.75. Cash of $31.5M and Debt of $369.5M. Book value of $3.05/share. Data from Capital IQ
Conclusion
Magnum Hunter is clearly employing growth as a strategy and the stock looks like it has finally found a bottom between $3.50 to $4.00. It looks like a buy to me in this price range, but I would caution that this stock is not for the faint of heart.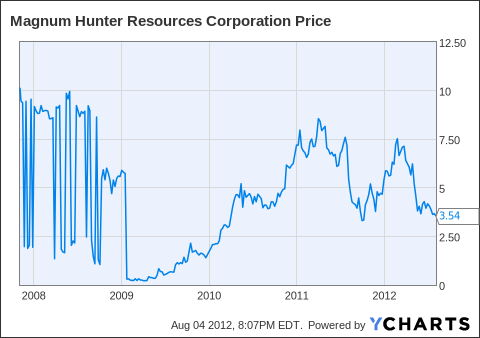 MHR data by YCharts
Data from Company presentation and earnings releases
Disclosure: I have no positions in any stocks mentioned, but may initiate a long position in MHR over the next 72 hours.