SoundBite Communications (Nasdaq: SDBT), a leading provider of on-demand customer contact solutions, recently reported their Q1/2008 earnings, and the subsequent disappointment and stock collapse led to much head scratching.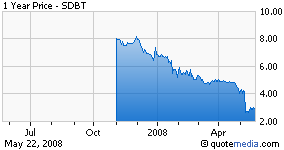 I followed up with SoundBite's management team to clarify some things that were said on the conference call, in addition to talking more about the business, the future, and to help understand whether or not we should hang on to our shares of SoundBite for another quarter or cut bait now.
What follows are the questions that I asked SoundBite's management (In Bold), and their responses to those questions (paraphrased).
New to the SoundBite story?
Read my last company update and buy recommendation here.
or you can:
I've broken down this report into 2 parts:
What's Really Going On: Management discusses the business, present and future, as well as URS legal matters
Bottom Line: More clarity, but still on notice
What's Really Going On
Broad ranging discussion includes industry trends/economy
Q: Are the business trends that SoundBite talked about in your last call specific to your company, or are you seeing it across the board?
A: Since SoundBite is the only public company in this space, they are the only ones that report numbers.
However, that being said, they are seeing some pricing pressure in the 3rd party space where typically companies compete less on service and more on price.
Originally, when this all started and the pricing pressure really started to heat up, SoundBite thought that originally these companies were trying to steal market share since SoundBite is the leader in the 3rd party space, but as things have progressed, they are hearing and seeing things in the marketplace that lead them to believe that there is some weakness there.
Q: Why didn't SoundBite issue some form of preliminary guidance prior to the earnings release if you knew that things were shaping up poorly?
A: In the midst of the quarter, everything was tracking within the range they gave, but in March some 3rd party accounts didn't pan out, and pushed their campaigns out into the next quarter.
All things being equal, they only missed guidance on their low end by about $65,000, so they felt that they didn't need to issue any preliminary guidance.
Q: What competitive strengths does SoundBite have going forward to see you through these tougher times?
A: SoundBite believes they have a technological advantage via their automanage and call-flow algorithms.
Basically, what this means is that their system is continually looking at hold times, ring times, abandon rates etc. It does this every minute or so on a real-time basis, and then based on the parameters of the individual campaigns, it controls the flow of incoming and agent-based calls using an algorithms within the platform
SoundBite has a patent application pending to patent this capability.
Another competitive advantage is their robust and flexible scripting language that allows customers to implement their campaigns easier and more quickly than the companies they compete with. They can change those campaigns in any way they want with very little work or time wasted.
This allows SoundBite the ability to be flexible for their customers so they can change things quickly, in days instead of weeks.
Lastly, management cited SoundBite's domain expertise in the collections space, which is their bread and butter. In fact, they are so confident they are better in what they do that they don't make customers sign any contracts, and a customer can leave anytime.
They also said that they are still growing strong (20%+ range), just not as fast as before (30%+) range.
Q: Will you be tapping into your cash reserves in the coming quarters?
A: Management stated that they are a cash intensive business, so if their margins decrease due to loss of sales or increased competition, then, yes, they will have to tap into their cash.
Last quarter though even with the shortfall, SoundBite was cash flow positive.
Q: If SoundBite was so "excited" about the future, why did you low ball guidance?
A: SoundBite has a very detailed sales forecasting model and based on the bottom-up forecast, macroeconomic trends, cycling up of orders, etc., they put out guidance on what they are comfortable with.
They also realized that you don't want to ever have to lower guidance again, so make sure you reduce expectations low enough so that even if things get worse, you are covered looking forward.
Finally, they reiterated that they are optimistic because they have some very exciting prospects in the 1st party space.
Q: Are you going to be cutting costs? Jobs? Etc?
A: You can't grow a business and cut costs. That being said, they will be slowing spending, yet still investing in their infrastructure, sales team and business.
They will also be spending less in sales and marketing, but still spending. If they stopped spending, they wouldn't grow, and that's something they aren't considering at this time.
Q: Can you explain the URS patent litigation stuff in more detail? For instance, from what I understood on the call, there appeared to be 2 separate cases, is that correct?
Read my initial explanation of the litigation from SoundBite's latest conference call.
Case 1: First off, SoundBite believes they are still on track for a May expedited trial date for the previously mentioned URS case where SoundBite sued URS for tortuous interference during their IPO. They believe they will be successful in this suit. They have completed the discovery process with a number of depositions being taken and they are merely waiting for a trial date, which they believe will take place this month.
A: SoundBite confirmed that this first case indeed has a May trial date.
Case 2: In addition to this first suit, it seems that SoundBite is now a part of another suit AGAINST them on the part of URS.
According to management on the conference call, on May 1st, 2008, URS filed a complaint in federal court in Minnesota, looking to retract its statement of non-liability from the aforementioned case.
A: According to SoundBite, URS was essentially trying to unwind their first response to SoundBite's legal actions
I further asked what URS's strategy was by doing this? Management talked about how in these cases a lot of the time, the companies settle before they go to court.
It could be that maybe URS is using another suit as a bargaining chip in settlement talks.
What I don't want to see happen is for SoundBite to settle and pay out anything, especially in light of the fact that they have already dropped a lot of money on legal fees. This would be a net loss for the company both in lost time and productivity and distraction, as well as financially.
Finally, SoundBite stated that there have been court ordered mediation sessions. So both companies are talking.
Obviously getting this resolved is in everyone's best interest, but I believe that URS has no legal basis here, and hope that SoundBite, if they do settle, at least recoup their legal fees that they've incurred up to this point.
Q: Part of the investment thesis in SoundBite is due to the countercyclicality of the business in terms of collections agencies using your services more during times of economic stress. Now that seems to have changed, why?
A: Management went to great lengths to say that what they said was: "logic would suggest that it would be a 'countercyclical' business"…but since they haven't gone through that yet, they don't know.
I guess we're finding out that perhaps SoundBite is just like any other company in good times and bad.
It looks like more and more first parties are trying to get ahead of the debt and default cycle, but the third parties are having trouble collecting the debt. And since that is SoundBite's largest segment, by revenue, if that space has trouble, so to does SoundBite.
Further, SoundBite said that they hadn't gone through it before, so they didn't have a forward-looking understanding of the business.
I then asked about the margin deterioration, and I was told that if revenue is lower it messes up the margins because SoundBite is a highly scalable, fixed cost business. So that the margins are affected both ways: higher in good times and lower in bad.
Q: Why isn't SoundBite expanding into Europe to try and take some of the sting out of the US marketplace?
A: They have to get their VOIP network deployed first.
It's taking longer than anticipated: always nuances that come up when venturing into new technology. They are working with their VOIP providers to resolve these issues, things like call durations, call volumes, etc.
They think they will be done by the end of the summer.
They are still looking at the market strategy in Europe. They stated that you want to start slowly, and then build up slowly. So perhaps they will use a reseller channel to start, since there would be less costs involved to start up. Alternatively, they would deploy a local sales person to scout out first party clients.
Also something interesting to note is that even though all of SoundBite's business is in the US, a female voice with a British accent tends to get the best response in their call campaigns! I'm not sure what exactly that means or tells us, but it is definitely interesting.
Q: Does the Free to end user [FTEU] text messaging cost the companies using it? How much?
A: It is similar to standard text messaging, but the cost is higher than a regular text message, and the companies pay on a per message basis.
Basically SoundBite is just the aggregator. Then there are standard billing rates, an access fee, and then they are charged on a per message basis.
It's about twice the price of a standard text message, but free to the end user.
This functionality has already been integrated into SoundBite's platform in their co-location facilities, and is already in use.
The response from their clients thus far has been "very exciting", and they have over 12 agreements signed and in process.
Q: What about acquisitions?
A: The recent Mobile Collect acquisition is the type of stuff they are looking at.

They want to increase their offerings to their current customers and attract new ones. They aren't looking to make an acquisition to increase their customer base. They are looking for small companies that have to partner with a larger player, like Mobile Collect, which come at a lower purchase price, but provide a better bang for the buck.
In fact, they mentioned customers who have come from one of their competitors, Varolii - a privately held company. They mentioned how those customers are surprised and happy with SoundBite's service and their ability to implement campaigns quickly.
Bottom Line
Still Sticking With SoundBite for Now
Other sources that I've talked to in this industry agree with SoundBite's assessment that first party clients take a long time to come on board and test out all the functionality and potential benefits of the AVM systems that SoundBite offers.
If this is indeed true, then we should start to see traction later in the year as more and more of these contracts come on board and start utilizing SoundBite's services.
Because SoundBite makes higher margins from first party collectors (those directly involved with their customers, vs. third party collectors that work on behalf of other companies), as they diversify their revenue stream away from thrid party and more towards first party, their business trends should improve.
At the same time, economic forces also appear to be stabilizing, and it could very well be that SoundBite took their numbers down to make sure they lowered the bar so much that it would take a short hop to beat the grossly lowered expectations.
Wall Street certainly took it to them for this revision, and the analysts that cover SoundBite have all lowered their earnings expectations, revenue outlooks, price targets and ratings.
At this point, with SoundBite trading near its cash value of $2.36 a share, there is downside protection very near today's price. This is one of the reasons why I am giving SoundBite one more quarter to show some business improvements.
I'm not expecting things to rocket upward quickly, but what I want to see is continued business trend improvements, more first party customers, and no more lowered or missed guidance.
Anything short of that puts SoundBite's shares directly into the penalty box, no matter how "cheap" they may or may not look.
For now, if you still own shares of SoundBite, hold on to them, and for highly speculative risk-takers, buying shares of SoundBite at today's prices might present a great risk/reward scenario with shares near their all-time lows and trading below book value and right around cash value.
It takes guts to hold on and/or buy shares of SoundBite at this point, but there's a reason that I started this website. It was to be ahead of the curve, not behind it when it comes to recommending stocks that are on their way up, or that have bottomed out, as SoundBite appears to have done.
In fact, expectations are so low now that, even if SoundBite meets guidance, it is very possible that their shares will recover nicely from today's levels in a relatively short amount of time.
The bottom line is this: SoundBite gets one quarter to show at least marginal improvement to their business, otherwise we move on to greener pastures.