Shares of Western Refining Inc (NYSE:WNR) are up by more than 78% so far in 2012. However, there are three reasons why investors should consider buying WNR.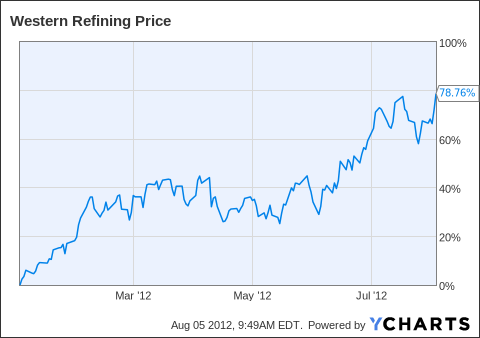 WNR data by YCharts
Brent/WTI Spread
The recent widening of the Brent/WTI spread, as shown by the chart below, is bullish for the entire refinery sector. Barclays recently published a research note discussing how major refinery companies including, Holly Frontier (NYSE:HFC), Valero (NYSE:VLO), Tesoro (NYSE:TSO), and Marathon Petroleum (NYSE:MPC) benefit from a wider Brent/WTI spread. In short, refineries with access to U.S. crude will see higher profit margins because refined product is often priced more in line with Brent than WTI. Because all of its operations are in the U.S., WNR is extremely well positioned to benefit from the wide spread.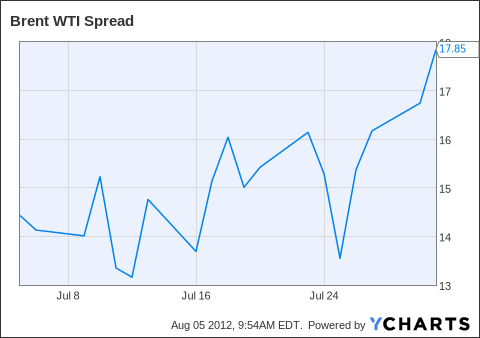 Brent WTI Spread data by YCharts
Momentum
As shown by the chart below, WNR has just recently broken out of a multi month trading range between $10 and $20. Currently, WNR is trading very close to a 52-week high. The recent price action should bring in momentum players which will should push the stock even higher.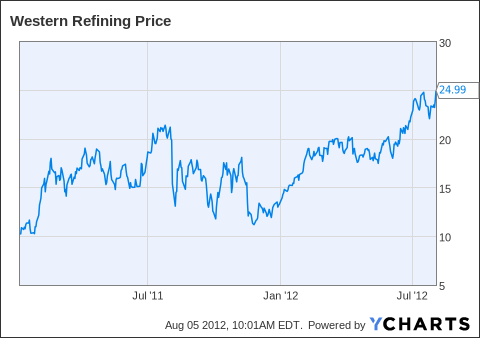 WNR data by YCharts
Short Interest
Despite the more than 78% move higher so far in 2012, short interest remains high. Currently, more than 14 million shares or 25% of the float is sold short. As the stock continues to move higher, short sellers will likely feel pressure to cover. The high short interest has the potential to lead to a short squeeze.
Conclusion
While WNR has already had an impressive move so far in 2012, there are three reasons why WNR will continue to rally. The brent/wti spread, strong momentum, and high short interest are all reasons to consider going long WNR.
Disclosure: I have no positions in any stocks mentioned, but may initiate a long position in WNR over the next 72 hours.