The most devastating drought in over 50 years has shriveled crops and lifted grain commodity exchange traded funds. However, some analysts argue that the worst is already priced in.
"We've really gotten to the top end of the grain move," Spencer Patton, Steel Vine Investments Founder and CEO, said in a Fox Business article. "If people get in the game now, it's going to be a disaster. Investors should take profits. The only way I see corn and soybean prices moving to another level is if the drought gets dramatically worse. Right now, I think we're more likely to get a pullback."
Patton suggests investors should begin looking at companies that sell supplies to help farmers and ranchers recover if the grains market begins to correct.
"Deere (DE) and Monsanto (MON) are good plays," said Patton. "The companies will still see some upside even if grain prices fall. Strong demand for fertilizer will boost the stocks."
ETF investors can gain exposure to the equities side of the agricultural market through agribusiness funds like the Market Vectors Agribusines ETF (MOO) or the IndexIQ Agribusiness Small-Cap ETF (CROP). DE makes up 6.7% of MOO and MOS accounts for 4.9% of MOO.
The U.S. Department of Agriculture has assigned 1,584 counties over 32 states as disaster areas, with over 90% of areas suffering from the drought. The heatwave has boosted corn futures by 45%, their largest two-month rally since the last major drought of 1988.
"We've seen corn at all-time highs and soybeans pressing against that level," Patton added. "There's no doubt the drought is detrimental to the market."
Individual grain ETFs have saw heavy gains, notably the Teucrium Corn Fund (CORN), which vaulted 32.4% over the past three months. The Teucrium Wheat Fund (WEAT) jumped 20.3% and the Teucrium Soybean Fund ETF (SOYB) increased 8.3% over the same period.
Market Vectors Agribusines ETF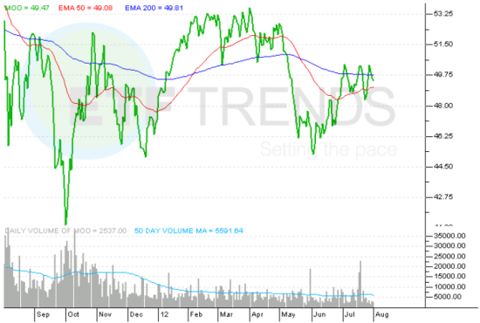 Max Chen contributed to this article.
Disclosure: I have no positions in any stocks mentioned, and no plans to initiate any positions within the next 72 hours.