Youku (NYSE:YOKU) reported Q2 results on August 6th.
Key highlights:
Revenue: $61 million, +96% y/y
Gross profit: $12 million, +45% y/y, representing 19.6% gross margin
Non-GAAP net loss, which exclude share-based compensation: $4.6 million, compared with $3.3 million net loss in 2Q11
Net loss per diluted ADS: $0.09 per share
Q3 revenue guidance of 70-80% y/y growth
Cash and cash equivalent: $546.6 million
What I liked: Original content continues to perform; Apple integration expands mobile opportunities
Youku has been ramping up on original content to become less dependent on pricey popular and exclusive content. In May, the company partnered with top Chinese satellite TV stations and music studios to produce "Legendary Me," an online music talent show. The first episode featured Zhou Ziyan, a 17-year-old singer-songwriter, and generated over 12 million viewings in the five days after the debut. As of today, the series has generated close to 130 million viewings.
"Lengendary Me" is similar to Sohu's (NASDAQ:SOHU) original talent show series, "Up Young." However, I do not view the two series as direct competitors given their unique styles and formats. For example, Sohu's "Up Young" features many young artists (eg. 17-years and younger) while Youku's "Legendary Me" features artists from various age groups.
Original content will be critical to margin improvement in Youku as it becomes a bigger revenue contributor. As of Q2, revenue from original and uploaded content accounted for 20% of the overall revenue, and rest consist of those from professional content.
In the recent Worldwide Developers' Conference, Apple (NASDAQ:AAPL) announced that the upcoming iOS 6 will feature Youku integration in China so Chinese users can seamlessly upload and share Youku videos. I view this partnership a strong positive for Youku's market leadership, especially after the merger with Tudou (NASDAQ:TUDO). It also expands Youku's mobile opportunities given the robust iPhone and iPad sales in China. For a closer look at the companies that will benefit from Apple's China strategy, please see my June 28th note titled "3 Companies That Can Benefit From Apple's Growth In China."
What concerned me: Decelerating revenue growth and weaker than expected guidance
Youku's revenue growth for this quarter is the slowest in the past year, despite its largest customers are from the FMCG segment.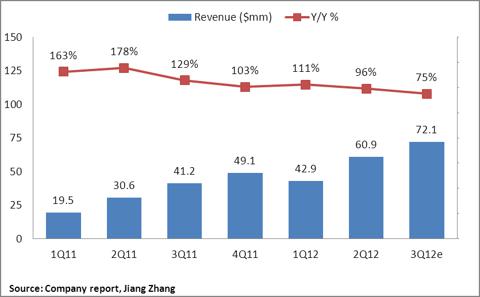 The guidance of 70-80% implies that revenue might be decelerating faster than expected due to the weak macro environment.
Quick comment on Youku-Tudou merger
The merger of Youku and Tudou is expected to be completed by the end of the month given that the board members of both companies are fully supportive of the merger. Upon the completion, Youku-Tudou will become the leader in China's online video market and has the ability to reach over 300 million weekly users. In addition, management estimates that $50-60 million of cost saving will likely to materialize within the 12 months post-merger.
Disclosure: I have no positions in any stocks mentioned, and no plans to initiate any positions within the next 72 hours.