Return to Blood In The Streets: Spain, Part 1
Return to Blood In The Streets: Spain, Part 2
Return to Blood In The Streets: Spain, Part 3
This is part 4 of a multi-part series on the Spanish (NYSEARCA:EWP) stock market. The logic is, again, the same: as Baron Rothschild once said, "The time to buy is when there's blood in the streets." The blood is certainly flowing in the European periphery.
In looking at the stocks, I'll try to gauge the sensitivity to internal demand, some factors important to their industries, the multiples they trade at and how the local stocks compare to U.S. listed alternatives in the same sectors. Obviously, to trade some of these stocks, investors would need an account with a full-service broker.
I will cover the stocks that are members of the Spanish Ibex 35 Index. This index has the following 35 constituents, and in this article I'll cover those bolded:

Abertis
Abengoa
ACS
Acerinox
Amadeus
Acciona
BBVA
Bankia
Bankinter
Bolsas Y Mercados
Caixabank
DIA
Endesa
Enagas
Fomento Construcciones
Ferrovial (OTCPK:FRRVY)
Gamesa (OTCPK:GCTAY)
Gas Natural (OTC:GASNF)
Grifols (NASDAQ:GRFS)
IAG

Iberdrola
Indra
Inditex
Mapfre
ArcellorMittal
OHL
Banco Popular
Red Electrica
Repsol
Banco Sabadell
Banco Santander
Sacyr Avllehermoso
Telefonica
Mediaset Espana
Tecnicas Reunidas
Ferrovial
Ferrovial is yet another construction company, showing that the Spanish market still has an overweighting of construction and financial companies. Ferrovial acts in construction (57% of revenues), toll road operation (5% of revenues), and services (38% of revenues).
Although Ferrovial presents itself as having a net cash position in the summary figures posted on its site, the consolidated financial statements present a very different picture with considerable debt. This was not the first instance where I saw this happening; seemingly, some companies decide to post their cash position at the holding level in their websites. Also, many of these construction companies have non-recourse debt, which really has a somewhat different treatment in terms of risk, but is debt nonetheless.
Ferrovial also holds 49.99% of BAA Airports Limited, an airport operator, after having sold 5.88% of this company. Selling this stake allowed Ferrovial to account for the rest using the equity method and thus deconsolidate the huge debt BAA carries.
Taking into account its earnings report for 2011, these are the multiples that Ferrovial trades at today (all values are in euros):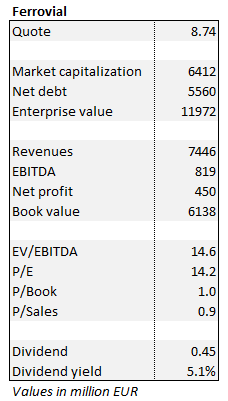 Although some Ferrovial particularities introduce some noise, such as the equity investment in BAA not being consolidated, it still seems that Ferrovial is considerably more expensive than the other Spanish construction companies, while having a risk profile that's also on the high side. As it stands, it doesn't look like a particularly attractive equity.
Gamesa
Gamesa was one of the overhyped growth stocks of the past, acting in the fast growing wind energy sector. The sector is now filled with huge competition (much like the solar sector), which results from the fact that these are undifferentiated products (it's about the same running an aerogenerator from A or B). Gamesa sells aerogenerators, maintenance services and wind park installations.
Oddly enough, Gamesa's Q2 2012 earnings read much like Amazon.com's (NASDAQ:AMZN). A large increase in revenues (+27%) is met with a plunge in EBIT and net earnings. This is no coincidence -- it's the result of acting in a growing market with huge competition and low margins, same as Amazon. But here, there is no forgiveness, and Gamesa's stock has been and continues to be punished into the ground.
Gamesa is not exposed to the Spanish economy, with 92% of its revenues taking place outside Spain. Forty percent of its revenues are coming from Latin America, with the U.S. representing 25% of sales, Europe 17%, India 14%, and China 5%. However, although it is not exposed to Spain, Gamesa has a problem in that it has a 25% exposure to the U.S. It creates a challenge for Gamesa in that, if Congress doesn't act, the production tax credit will expire going into 2013. This production tax credit pays 2.2 cents/kWh for a wind project's first decade in operation (adjusted for inflation). Its expiration should lead to a dramatic plunge in new wind projects in the U.S., especially when mated with today's very low natural gas prices. Logically, such a drop-off in activity would impact Gamesa's U.S. business.
Taking into account its earnings report for 2011, these are the multiples that Gamesa trades at today (all values are in euros):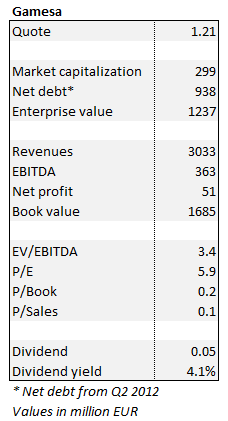 All in all, Gamesa's business is very unattractive. The company is trying to compensate by giving more weight to the installation and selling of wind parks, but that just reinforces how unattractive the sector is in spite of its so-called sexiness.
As it stands, the stock looks rather cheap multiple-wise, but at the same time, the business doesn't seem attractive, faces a significant challenge in the U.S., and doesn't seem incredibly well-managed. Accounts payable represent 50% of a year's revenues, and inventories, another 37%. This obviously turns into a significant debt load. Gamesa could become interesting if this working capital monster can be tamed.
Gas Natural
Gas Natural evolved from a natural gas distributor, into an integrated utility including power generation and distribution, through the acquisition of Union Fenosa. This acquisition made Gas natural the third largest electrical utility in Spain. Gas natural is diversified between Spain, Europe and Latin America, and its activities are utility-like to begin with, so less sensible to economic variation.
Taking into account its earnings report for 2011, these are the multiples that Gas Natural trades at today (all values are in euros):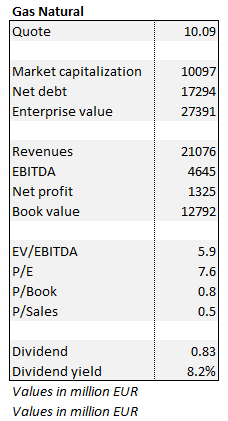 These multiples are more expensive than Endesa's, especially due to the higher net debt. I believe Gas Natural's higher dividend might be giving support to the stock at a higher level than Endesa's. But this makes Endesa a lot more attractive than Gas Natural.
Even though Gas Natural is more expensive than Endesa, it's still considerably cheaper than its U.S. counterparts, such as Duke Energy (NYSE:DUK), which trades at 19 times earnings, 1.3 times book value and yields 4.6%, or American Electric Power (NYSE:AEP), which trades at 10.2 times earnings, 1.4 times book value and yields 4.5%. This might be because of the quest for yield that's being influencing share prices in the U.S. market, as much as the punishment Spanish stocks are currently enduring.
Grifols
Grifols is a global pharma company with three segments: Bioscience, hemoderivatives (88% of revenues); Diagnostic (5% of revenues); and Hospital supplies (4% of revenues). Ninety percent of Grifols' revenues are from outside Spain, so the company isn't really subject to the internal demand dynamics that might arise from austerity. Indeed, Grifols' revenues were accelerating as of Q2 2012.
Grifols made a large acquisition in the U.S. during 2011, which now accounts for a large amount of debt on its balance sheet.
Taking into account its earnings report for 2011, these are the multiples that Grifols trades at today (all values are in euros):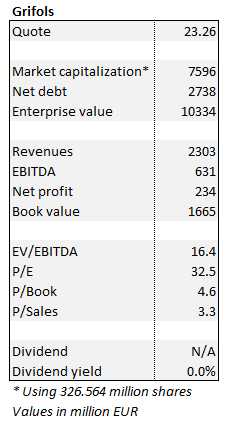 Grifols isn't affected by the Spanish economy, but it doesn't trade like it is, either. Its multiples are basically those of a regular growth company. Grifols also carries a substantial amount of debt from an acquisition. Nevertheless, its stock has been rallying heavily. It would seem the stock has clearly gotten ahead of itself, and as such, this is not really an opportunity.
For comparison purposes, Amgen (NASDAQ:AMGN) is showing similar growth, but trades at multiples that are around half of Grifols' -- except for price/book, which is 3.3 for AMGN.
IAG
International Airlines Group is a large airline company that is the result of the merger of British Airways and Iberia in January 2011. Due to British Airways being significantly larger than Iberia, IAG is diversified outside the Spanish market. Acquiring BMI added another layer of losses.
Taking into account its earnings report for 2011, these are the multiples that IAG trades at today (all values are in euros):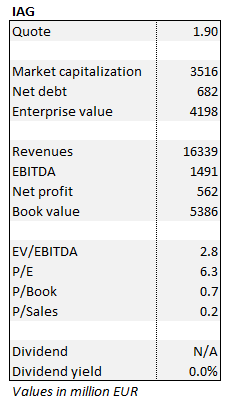 IAG's multiples are very attractive, though the business itself -- airlines -- has been horrendous over the long term. Also, one should take into account the significant off-balance sheet liabilities arising from pension plans and operating leases, which are not accounted for in the debt I considered.
An interesting fact here is that Bankia held 12% of IAG at 2011 year-end. The Spanish state has gained control of Bankia, and the impending sale of its holding might be pressuring IAG's share price downwards. The lack of a dividend also maintains pressure on the shares.
The airline business is capital intensive, and even if the companies generate operating profits and significant EBITDA, capex tends to eat up all cash flow, rendering free cash flow at zero or negative.
Speculatively, IAG might be an interesting way to get exposure to the global airline business. It trades considerably cheaper than Southwest Airlines (NYSE:LUV) , especially on a P/E basis. It's also cheaper than United Continental Holdings (NYSE:UAL) on a P/E, EV/EBITDA (marginally) and price/book basis. That said, all of the airline stocks here trade at very low EV/EBITDAs (between 2.8 for IAG, to 4.0 for LUV). Part of the EV/EBITDA undervaluation comes from the usage of aircraft leases, which if capitalized, would change the picture significantly.
Conclusion at this point
At his point, we found the following attractive equities:

2 construction and engineering companies -- Abengoa and ACS -- which, given their geographical diversification, might already be cheap enough to warrant inspection. Still, construction isn't usually the kind of sector that attracts great attention
Amadeus might also be interesting because of its long term prospects
Bolsas Y Mercados can be interesting on weakness due to the possible consolidation in the sector, where it would be a natural target while trading at reasonable multiples and carrying a large dividend yield
Endesa is very cheap for an electrical utility, and might even be cheaper than it looks if we take into account the tariff deficit. It seems a like a decent long term buy
Enagas might make sense for an income portfolio, due to its stable nature. But it's more of a fit for a local than a foreign investor
IAG might be interesting as a speculative bet on a global airline/economic recovery, since it presents low multiples on a sector that's already been punished worldwide. It can also be an interesting bet if crude were to drop due to excess supply (not motivated by a further economic impact), since fuel is the largest cost for airlines.
(to be continued)
Disclosure: I am short AMZN.