We wrote about American Capital Agency (NASDAQ:AGNC) after it went ex-dividend on June 19th. We then followed that report by researching and analyzing AGNC's July 17th secondary offering. On August 2nd, American Capital officially reported its Q2 2012 results after pre-reporting its unofficial estimated results for the period. We were amazed that even with the secondary offering, the company still had an estimated premium to adjusted book value of over 13% and that the company has even exceeded its July 17th pre-secondary closing price of $35.29 from time to time. We can understand the excitement though, especially in this yield starved environment, thanks to nearly four years of the Zero-Interest-Rate Policy as implemented by the Federal Reserve.
While we have moderated our enthusiasm on AGNC a bit, it is still one of our three favorite mREITs. AGNC's 2012 results were a far cry from its 2011 results, but at least it's not the next Chimera (NYSE:CIM), Thornburg (OTCPK:THMRQ) or Anthracite (OTC:ACPIQ).
AGNC enjoyed such a strong first quarter it issued 76M shares in March in a secondary public offering. Because of this rapid increase in outstanding shares going into the next period as well as the steadily flattening yield curve, AGNC was facing a tough challenge in order to top its Q1 2012 results. AGNC's Net Interest Income declined by nearly 6% on a linked-quarter basis and increased by 91.5% year-over-year. Net Interest Income per Share was $1.275 for the period versus $1.695 in Q1 2012 and $1.54 in the prior year's comparable quarter. At least the Q2 2012 Net Interest Income per share was slightly ahead of the $1.25/share quarterly dividend distribution. Three other factors that resulted in a sharp drop in Net Interest Income per share include:
Increased prepayments on mortgage-backed securities held
a 9% drop in the leverage ratio on an average during the period basis and on the period end basis.
The continued decline in the average coupon of its MBS holdings narrowing the Average Net Interest Rate Spread enjoyed by the firm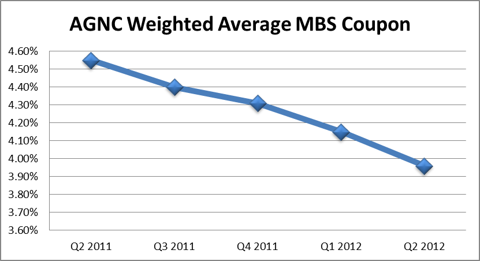 Source: American Capital Agency Q2 2012 Earnings Release
If AGNC was to cut its dividend in order to reduce its payout ratio, we are of the opinion that it won't cut dividends until next year. We believe it will continue to pay the $1.25 quarterly dividend for the rest of 2012 and cut it by 10% or less beginning in 2013. We believe that the company can maintain this dividend for at least two quarters based on its level of net interest income per share and its strong level of realized and unrealized gains. We also believe that the reboot of Operation Twist and a potential QE3 will push the company to try to lock in its interest income received on its bonds and swaps in order to mitigate a likely decline in net interest income. Even if the company cut its dividend by 10%, it would still yield nearly 13% and we believe that would still provide a satisfactory yield to reasonable and rational mREIT investors who are interested in a best-in-breed mREIT. We believe that investors who are looking for growth in Net Interest Income per share and Dividend Growth from mREITs are looking for needles in haystacks.
Even after taking into account the 2.2% decline in July 17th after-hours trading and the positive adjustment to book value from selling new stock at a price above current book value, we see that AGNC had an adjusted market premium to book value of 15.57%, which is another factor as to why we moderated our enthusiasm for the company.
We were pleased that the company's reported comprehensive income per share of $1.58 for the period was 5.3% higher than the $1.50 projected by the company when it released estimated information in conjunction with the secondary offering. AGNC is known for its below average CPR rates for its mortgage portfolio, and its Q2 CPR was 12%. We were disappointed that it had seen a sharp increase versus Q1 2012 levels, but at least it is back to a proper level of 8% for July. The company's GAAP-basis loss per share of $.88 was $.02 better than the company projected when it issued the secondary offering and this loss was due to unrealized losses in the fair value of AGNC's hedges. The reason why there is a wide disparity between the GAAP-basis loss per share and the solid positive comprehensive income per share of $1.58 is because the comprehensive income per share saw changes in the value of its mortgage backed securities reflected in other comprehensive income, which sometimes does not impact the income statement until the securities are sold.
AGNC harvested $417M of realized gains during the period and incurred $1.029B of derivative losses. AGNC also enjoyed $741M in unrealized gains collectively for gains on mortgage backed securities held and derivative instruments. AGNC's $741M in total unrealized gains flowed into the company's unrealized comprehensive income account, which is a subaccount of stockholders' equity. In short, the company had net realized and unrealized gains of $129M on its mortgage backed securities and derivative hedges.
We also noticed that the industry's largest mREIT Annaly (NYSE:NLY) saw a similar result as AGNC in that it reported a GAAP loss of $.10 per share due to $833M in losses on interest rate swaps. Annaly also had $646M in unrealized gains on MBS securities held. Annaly also saw a similar decline in net interest income per share from $1.02 in Q2 2011 to $.74 in Q2 2012.
We are disappointed that the Federal Reserve's ZIRP policy has drastically reduced the availability of high-quality income-earning assets. We believe that much of the newfound zeal from investors for mREITs is due to former savers who realized that they could not live on 1% for Treasury Notes and Certificates of Deposit. We reiterate that investors should realize that the generous yields that mREITs pay are due to the spread between interest rates on repurchase agreements and other financial liabilities and the interest rates realized on mortgage instruments that the manager invests in and the degree of leverage utilized.
We previously discussed the tax advantages that mREITs have versus bank stocks because mREITs are pass-through entities and are not taxed at the business level, unlike banks. Because dividends from a bank stock are effectively taxed twice at a direct and indirect combined tax rate of 45.5% whereas We reiterate our expectation that because mREITs are facing a flattening yield curve and may even trim per share dividend distributions, high quality mREITs like AGNC, MTGE and CYS can be counted on for 10-14% dividend yields. Unfortunately, we believe that expectation may be driving the recent success in mREITs even after the issuance of secondary public offerings.
In conclusion, we still see AGNC as one of our three favorite mREITs. With regards to the mREIT sector, our top choice is CYS Investments (NYSE:CYS) because that firm is trading at a much lower premium than AGNC. With regards to mREITs managed by American Capital (NASDAQ:ACAS), we would probably prefer American Capital Mortgage Investment (NASDAQ:MTGE), since it has a lower projected premium to book value. AGNC was our favorite however because of the recent increase in its CPR rate as well as its reduction in net interest income per share, we have rearranged our preferences in the mREIT sector and made CYS our top choice in the mREIT sector, followed by MTGE and AGNC as a strong #3. We also like AGNC to Annaly because even though both have below average CPR rates, AGNC's CPR rate of 12% is better than Annaly's 19%.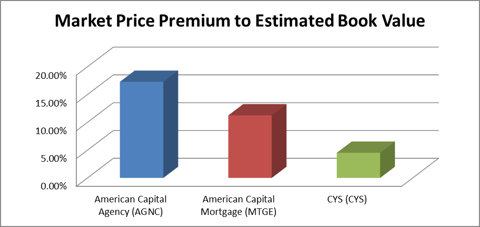 Source: Company Press Releases and Saibus Research Reports
Disclosure: I am long CYS.
Additional disclosure: Saibus Research has not received compensation directly or indirectly for expressing the recommendation in this report. Under no circumstances must this report be considered an offer to buy, sell, subscribe for or trade securities or other instruments.