Intel (NASDAQ:INTC) is one of my highest conviction holdings by portfolio weight, so I like following developments and analysis from bulls and bears alike. Seeking Alpha contributor Ashraf Eassa recently published an excellent article titled 3 Reasons to Love Intel's Management. In a discussion in the comments section, he brought up the following:
Intel's process advantage will only compound the hurt that a new, smartphone-focused microarchitecture that Intel can put on the ARM ecosystem. Oh, yeah, and the smartphone chips will now be on the "tick-tock" setup -- no more waiting 5 years for a micro-architecture refresh.
Intel's "tick tock" setup is an important issue for investors in Intel and competitors like Qualcomm (NASDAQ:QCOM) and ARM Holdings (NASDAQ:ARMH), yet it doesn't get enough coverage, in my opinion. For those unfamiliar with the term, here's an introduction from Wikipedia:
"Tick-Tock" is a model adopted by chip manufacturer Intel Corporation since 2007 to follow every microarchitectural change with a die shrink of the process technology. Every "tick" is a shrinking of process technology of the previous microarchitecture and every "tock" is a new microarchitecture. Every year, there is expected to be one tick or tock.
Clock Speeds Aren't The Only Thing Ticking
The reasoning behind Intel's tick-tock strategy is succinctly summed up by a May 2011 article by AnandTech. Emphasis mine:
By 2013 Intel's 22nm process should be very mature, which maintains Intel's sensible design policy of only moving to a new architecture or a new process, but not both at the same time in order to minimize risk.
Essentially, Tick-Tock is a model designed to ensure the accomplishment of two goals:
Continuous performance improvement
Focused improvement of one major "component" at a time
The importance of this focusing should be evident to those who work out regularly—one day you focus on certain muscle groups, the next day you focus on others. This allows you to perfect your technique and push yourself as hard as you can on individual areas, rather than applying a "half-hearted" effort to all areas. Intel first focuses on thoroughly perfecting a new architecture, then focuses on shrinking that architecture to a new die size. When it has perfected that new die size, it then returns its focus to modifying the process technology.
How will this play out in the mobile processor market? In a huge way. Here's why. Intel hasn't significantly modified Atom (mobile processor) architecture since 2008, and the same applies for many of its competitors (again, emphasis mine):
But there are problems with the A5X. It is manufactured using 45 nanometer architecture—architecture that Intel and [Advanced Micro Devices (NYSE:AMD)] were using for desktop CPUs back in 2008—and over the three incarnations of the iPad the size of the die has increased dramatically. The current A5X is 310 percent larger than the A4 processor that powered the first-generation iPad.

Intel could help Apple (NASDAQ:AAPL) change this. Its [Intel's] current line of Ivy Bridge processors is built using 22 nanometer architecture, but the company plans to have mobile processors based on this size of architecture available next year, with 14 nanometer architecture coming in 2014.
It's pretty clear that Intel's Tick-Tock methodology will be a pretty big deal in the mobile space. Apple's latest (Samsung-manufactured) processor is using 45nm technology, which has been described as simply "too big." Samsung's attempt to improve is based on a 28nm die, which won't hit shelves until the release of the next-gen iPad in early 2013. Clearly, Intel's ahead of the game—22nm mobile in 2013, 14nm mobile in 2014. This is the advantage of having a ton of fabs and the advantage of size. If competitors can't keep up, they'll be left behind. ARM may have the early lead, but it's the second half that really matters, and that's where Intel's Tick-Tock clock management will enable it to shine.
In conclusion, Intel's current valuation (P/E of around 11) and dividend yield (over 3.4%) combined make it a steal. Trefis believes Intel has a current fair value around $32, and based on even conservative growth estimates, Intel could be worth much more than that for long-term investors. Intel's proven tick-tock methodology and its dedicated fab capacity give it a very strong competitive advantage over industry players.
I initiated my Intel long position in late June at a cost basis around $26.50, and I plan to continue adding to my position as long as Intel stays in the current trading range. Investors betting on a pullback might consider writing puts in the $24-$27 range to collect Intel shares at an attractive cost basis between $23.80 and $25.80, depending on the selected strikes and "offset" profit from pocketed premiums.
Click to enlarge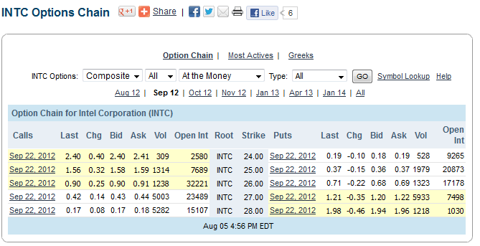 Source: Nasdaq
Again, thanks to Ashraf for his excellent analysis and the reminder to analyze the implications of Intel's Tick-Tock model on the mobile chip space. To borrow a line from a not-so-illustrious singer... Tick-Tock means Intel's party won't stop.
Disclosure: I am long INTC.
Additional disclosure: Long INTC Jan '14 $18 calls in addition to Intel shares. May initiate short position in one or more Sep '12 INTC puts over the next 72 hours.