We previously published a research report on Annaly Capital Management (NLY) in which we compared its high current dividend yield versus the dividend growth of BlackRock. We chose to analyze and evaluate Annaly against BlackRock because it was the largest mortgage real estate investment trust in the world and Annaly also has investment management subsidiaries and BlackRock is the world's largest asset manager and a former manager of an mREIT. We then followed that report by researching and analyzing Annaly and the two mREITs that Annaly's FIDAC subsidiary provided sub-advisory services for. On August 1, Annaly had reported its second quarter earnings results.
Annaly's Net Interest Income actually declined by nearly 15% year-over-year even though the company has increased its share count by 17% in the last twelve months. This explains the sharp drop in Net Interest Income per Share versus the prior year's second quarter. Annaly generated $.738 in Net Interest Income for Q2 2012 versus $1.02 in Q2 2011 and $.742 in Q1 2012. At least the Q2 2012 Net Interest Income per Share is still comfortably ahead of the $.55/share quarterly dividend distribution. We are more than aware that mREITs are seeing net interest margin spreads compress due to the Federal Reserve's extended policy of zero interest rates and Operation Twist.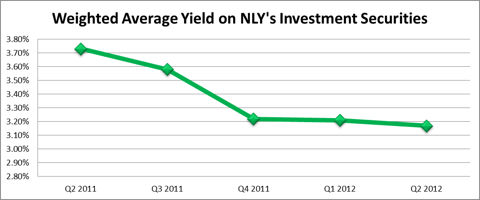 Click to enlarge
Source: Annaly's Last Five Earnings Releases
We noticed that Wells Fargo cut its rating from Market Perform to Underperform on Monday July 30. We agree with Wells Fargo that Annaly is still the bellwether of the mREIT sector due to its long track record and experience in a wide range of market sectors. Wells cut Annaly's rating because of concerns over the flattening yield curve and Annaly's 19% CPR rate. Wunderlich Securities also cut its rating on Annaly to Hold from buy.
We noticed that Annaly includes its interest expense for swaps in its realized gains and losses for interest rate swaps account for purposes of financial accounting and reporting. We found this to be unexpected as we would have expected it to be included in interest expense. Even if the company reported swap interest expense as part of its consolidated interest expenses and even if all the realized losses on interest rate swaps was really swap interest expenses, the company would still have generated $.51 in net interest spread income. At least we can see that it has leveled off after dropping considerably in Q4 2011.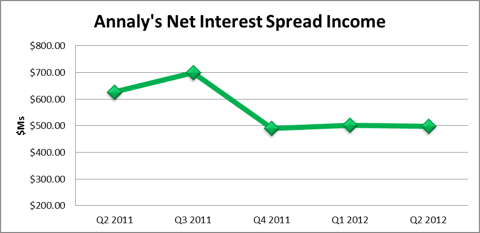 Click to enlarge
Source: Annaly s Q2 Earnings Release
We had expressed concerns that Annaly would cut the per share dividend distribution because it had done so for three straight quarters until it maintained the dividend for its Q2 2012 dividend declaration. We expect all mREITs to trim per share dividend payments by at least 3-10% due to the flattening yield curve within the next 12 months. One of the reasons why we see a flattening yield curve is because as CYS Investments' (CYS) CEO Kevin Grant pointed out, mREITs biggest competitor for assets is the Federal Reserve .
Even if Annaly was to cut its dividend by 10% right now, it would still provide an 11.4% dividend yield. That would still provide a satisfactory yield to reasonable and rational mREIT investors. We believe that investors who are looking for growth in Net Interest Income per Share and Dividend Growth from mREITs are looking for needles in haystacks. While Annaly is not as adept at generating outsized levels of capital gains as American Capital Agency (AGNC), American Capital Mortgage (MTGE) or even CYS Investments we saw that it generated $104.5M in total net comprehensive unrealized gains on securities offset by losses on swap contracts. We believe that Annaly's size and scale will enable it to support the dividend for a couple of quarters and trim it next year.
Annaly generated net comprehensive income for common shareholders of $549M in Q2 2012 ($.55 per share). We believe that is a more important figure for investors to dwell on that the company's GAAP-basis loss per share of $.10. The reason why there is a wide disparity between the GAAP-basis loss per share and the positive comprehensive income per share is because the comprehensive income per share saw changes in the value of its mortgage backed securities reflected in other comprehensive income, which sometimes does not impact the income statement until the securities are sold. NLY harvested $69.8M of realized gains during the period and incurred $611M of derivative losses.
NLY also enjoyed $647M in unrealized gains collectively for gains on mortgage backed securities held and derivative instruments. NLY's $647M in total unrealized gains flowed into the company's unrealized comprehensive income account, which is a subaccount of stockholders' equity. In short, the company had net realized and unrealized gains of $104.5M on its mortgage backed securities and derivative hedges. We also noticed that the industry's 2nd largest mREIT AGNC saw a similar result as NLY in that it reported a GAAP loss of $.88 per share due to $1.029B in losses on interest rate swaps. Annaly also had $741M in unrealized gains on MBS securities held. AGNC also saw a similar decline in net interest income per share from $1.54 in Q2 2011 to $1.275 in Q2 2012.
One of the reasons why we have held off with regards to Annaly for our portfolio book is because of the Constant Prepayment rates on Annaly's portfolio. While Annaly's portfolio's CPR rate is below that of the Fannie Mae and Freddie Mac MBS Universe, it is still pretty high at 19%. Annaly's CPR rate was unchanged from the prior quarter and increased from 11% as of Q2 2011. Annaly seeks to be seen as the most risk-averse mREIT. Considering that Annaly's FIDAC subsidiary is the sub-advisor of Chimera (CIM), we think that is a somewhat appropriate outlook for Annaly Capital Management, especially because Chimera hasn't filed its quarterly performance results since Q3 2011. FIDAC also provides sub-advisory services for CreXus (CXS), which specializes in commercial real estate loans.
While CreXus's Q2 2012 EPS of $.19 were less than its dividend of $.27 per share, we also note that CreXus's only outstanding interest bearing debt is a $19M mortgage payable. Considering that CreXus has $189M in cash on hand, we believe that the company will be able to cover it and its quarterly dividend payments. Annaly's CEO Mike Farrell mentioned at the Q2 2012 conference call that Annaly extended its average days-to-maturity for its liabilities to 216 days, which is 156 days more than the next highest mREIT. 12.4% of its borrowings have a maturity of greater than 1 year versus 4% for the industry. After taking into account the effect of interest rate swaps, NLY's portfolio of mortgage-backed securities and Agency debentures was comprised of 42% floating-rate, 7% adjustable-rate and 51% fixed-rate assets.
In conclusion, Annaly is the bellwether of the mREIT sector, due to its size. That does not necessarily make it the best in the breed. In our opinion, we believe that the best in breed mREITs are CYS Investments (CYS), American Capital Agency and American Capital Mortgage . Still, we note that Annaly is the biggest mREIT in the industry, has the most diverse experience with regards to economic environments operated in and operates with relatively low leverage. Annaly also offers a relatively low market price premium of less than 7% relative to its common stock book value per share which is lower than the 11.26% you see with American Capital Mortgage and 17.30% with American Capital Agency and we believe that Annaly and its affiliate CreXus are acceptable choices for conservative, first-time investors in the mREIT industry.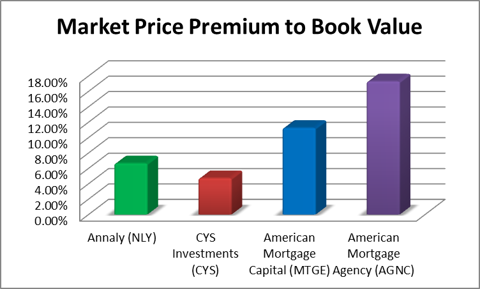 Click to enlarge
Source: Company Press Releases and Saibus Research Reports

Disclosure: I am long CYS.
Additional disclosure: Saibus Research has not received compensation directly or indirectly for expressing the recommendation in this report. Under no circumstances must this report be considered an offer to buy, sell, subscribe for or trade securities or other instruments.