The Baltic Dry Index, which measures changes in the cost to transport raw materials by sea, can be used to predict fluctuations in supply and demand for commodities as well as the prices of shipping company stocks. The index was cut in half from a peak in October to a January low, and it has been steadily rising back to its peak level. Not coincidentally, the demand for cargo containers has been going up as well, and there are shortages of the containers reported everywhere in the world, including the U.S.
A recent story in the Los Angeles Times reported on the problems caused by the container shortage at U.S. ports. Companies and agricultural producers with American goods bound for overseas can't find enough cargo containers and have to wait weeks to get space on ships headed to Asia.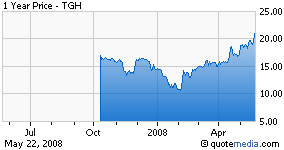 So that brings me to the company best placed to respond to and profit by the container shortage: Textainer Group Holdings (TGH), the world's largest provider of dry freight containers on lease, with a total fleet of more than 1.3 million containers. The company leases containers to more than 300 shipping lines and other leasers, including the world's top 20 container lines. Textainer has a worldwide network of 14 regional and area offices and over 300 independent depots in more than 130 locations. The company also resells containers, and this part of the business appears to be growing fast.
The stock price didn't go anywhere after the company's IPO last fall, and the stock plunged along with the market in November, following the Baltic Dry Index to a bottom at the end of January, and it has followed the Baltic back up. It jumped nearly 10% following its quarterly report on May 21st but has pulled back a bit. The company reported that total revenues increased by 22% to $72.2 million in the previous year's quarter, primarily due to a 337% increase in trading container sales. And I think there's still plenty more upside.
Disclosure: I hold shares (long) in TGH.