How do you reach customers? The challenge has been around as long as the markets. In a fast-paced specialized global economy, maintaining customer contact is no small feat, but Sykes Enterprises, Inc. (Nasdaq: SYKE) has built a rocketing revenue business by mastering the challenge.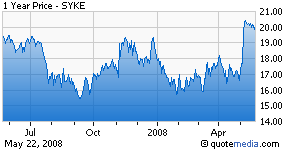 The company provides customer contact management solutions in the business outsourcing market. Its clients include Fortune 1000 companies and other organizations; its supported sectors are the communications, technology/consumer, financial services, health-care, transportation and leisure industries.
Sykes' self-proclaimed science-like service practices are now being deployed in health-care management. The company's TeleHealth services allow health-care professionals to communicate with each other on a range of patient issues including chronic symptom management, health information, wellness and mental health.
But the company's product line doesn't stop at health care. If you've ever relied on roadside assistance with that flat tire, deposited a check or had other online customer support contact with your bank, you may have unwittingly been using Sykes' technology. Worried about identity theft in today's tricky information economy? The company's got your back. Sykes is even putting its electronic know-how to work in card services, broadband, wireless, legal assistance and business support, among others.
Whether the client is offering tried and true customer service using a traditional 20th century vehicle such as the telephone, or is harnessing the speed of the Internet with email and electronic chat, Sykes implements tech-savvy innovations. If the organization is located in the Americas, Europe, Asia and Africa, it's in range of Sykes' services.
About two-thirds of revenue has been generated by the company's Americas segment, but this is likely to change. Riding on the burgeoning need for global outreach, the company intends to pursue its international growth in markets outside of the United States. In 2007 alone, Sykes' international operations spanned the globe from 26 customer contact management centers in Sweden, the Netherlands, Finland, Germany, South Africa, Scotland, Ireland, Italy, Hungary, Slovakia, Spain, China, the Philippines and other "gone flat" countries of the world. Sykes has also planted its operational flag in eight customer contact management centers located in Argentina, Canada, Costa Rica and El Salvador. By year end 2007, the company held cash balances of approximately $171.9 million in international operations.
Sykes also offers technical staffing and customer relationship management consulting to its large-scale client base, mostly among communications, technology, financial services, health-care and transportation firms.
On May 5, Sykes said earnings for the first quarter ended March 31 rose 31% from a year earlier to $0.38 a share, handily beating Wall Street's expectations of $0.26 per share. Net income soared 33% to $15.7 million, while revenues rose 21% to a record $203.7 million. Over the last 52 weeks, the stock has traded between $14.96 and $20.85. Shares closed at $19.87 on Wednesday.
Investors should note that retired founder John Sykes controls 26% of the company's outstanding shares, resulting in a smaller float and increased price volatility. If a client's online outreach or telephone services decline, penalty provisions and penalty free reductions of service can kick-in, which could quickly impact share price.
Still, sanguine Wall Street analysts are projecting a 19% average annual growth rate over the next five years. The company's price-to-sales ratio of 1.17 and sales-growth rate of 21.25% make Sykes a leader in its sector. Company guidance of $0.29 to $0.31 EPS for Q2 compares with actual earnings of $0.16 in the year-earlier period, while anticipated Q2 revenues of $205 million to $210 million are up from $168.4 million a year earlier.
The company receives consistent raves from analysts by continuing to add new customers while expanding services with existing customers. Meanwhile, the company continues to demonstrate steady margin improvements in operations. Is Sykes using its own products to fuel growth? A likely guarantee. Over the past two years, the company has grown its EPS by 87%.
The word on the Street: buy tech-leveraging Sykes Enterprises.
Disclosure: none