On May 25 we started our foray into risk-acceptable homerun seeking:
The purpose of the $33,000 American Portfolio is to be a learning tool for seeking homerun potential with acceptable risk.

So let's begin! First lets look at some of the investing themes that will guide our portfolio:

No Fluff. Every pick must have big ability to pop.

Dividends. We'll look for names that pay us to wait.

Options. We'll get income, leverage, and a hedge by buying puts and calls, and writing cash-secured puts.

Diversification. Acceptable risk means spread risk.

Long and Short. We'll be hedged against a correction with short positions.

Cash. We'll be cash-heavy to secure puts, guard against a broad market sell off, and buy on corrections.

OTC, Pink, and undiscovered. We'll be looking at major exchange-traded stocks as well as stocks that are not listed on major exchanges and have gone under the radar.
After 11 weeks let's do some analysis:
The $33,000 American Portfolio
JG Boswell (OTCPK:BWEL)
Our reasoning on a pink sheets pick, the Boz:
The largest single farm in America as a matter of fact and while they grow cotton profitably it is their water rights that provide the homerun potential in a thirsty California. They carry their land on their books at decades old values, a proper book value has them so much more valuable it is staggering. So why does it not go up 1000%? The value needs to be unlocked for that to happen. The third generation Boswell family has now taken the reins and sometimes the third generation is the one that "sells the farm." A look at their year on year balance sheets reveals that they might have started liquidating. Maybe. They don't tell you what they are up to, they are just fine leaving investors in the dark and are able to because they do not trade on a major exchange. The flip-side of that problem is our opportunity. In the meantime they yield about 3%, paying us to wait.
So far Boswell has ignored the vicissitudes of the broad market and drifted steadily higher, paying a dividend along the way. This play on massively undervalued California water rights just does not trade with the euro.
6 shares BWEL @ 717.00 = $4,302 (13.04% of the portfolio)
Last close $781, Dividend $24, $4,710 total, +$408, +9.5%
Waterfurnace Renewable (OTC:WFIFF)
Our play on housing has done well, sans recovery:
Housing has probably found a bottom and while we may not see a housing explosion the worst should be over. The problem is that the home builders like Toll Brothers (NYSE:TOL) have already run, Toll having almost doubled off its October lows. Waterfurnace however has not run. Here we have a compelling technology that plays on energy efficiency (using the earth's potential to retain heat and cold) wrapped in a stock linked to home building, two compelling trends and the stock remains cheap. Add to that a 6% yield and we are sold.
We missed the $.24/share dividend by a week but have had a nice return with housing yet to take off.
200 shares WFIFF @ 15.28 = $3,056 (9.26% of the portfolio)
Last close $16.88, $3,376 total, +$320, +10.5%
Alliance Grain Traders (OTCPK:AGXXF)
The little pulse-processor that could has run big for us and paid a dividend:
AGXXF processes pulses (peas, lentils, beans and the like) around the world and is a play on demand for pulses. As boring as that sounds these are great sources of protein-building amino acids and are the kind of thing that can feed the world and be trendy in the fitness magazines. This plays on what I think is a powerful trend toward veggiedom and yes, yields 6%.

150 shares AGXXF @ 10.78 = $1,617 (4.90% of the portfolio)
Last close $13.89, Dividend $22.50, $2,106.08 total, +$489.08, +30.2%
Solazyme (SZYM)
Last week we closed our position on SZYM and locked in a $2,200 profit. Was it the right move? The soul is mostly flat since then, down $.05 to close at $13.85.
Arch Coal (ACI)
We re-upped on our position:
Our existing puts expired and we were virtually put the shares. We will virtually sell those shares and put the money back to work at Friday's close. That's 1,300 shares we were put @ $8.00 costing us $10,400. Friday's closing price was $6.16 so that's $8,008 we can sell for, a difference of $2,392. We were paid $1,651 for our puts, so the loss on the trade is $741 ...

The October 20 (Happy Birthday Jason Brudereck) 2012 $7.00 puts have a bid of $1.40. That's 56 cents of time premium on the $6.16 stock, 9% profit in 3 months if Arch only stays flat. We will sell 8 puts for $1,120 and secure them with $5,600 cash ...

We originally bought 8 Arch Jan 2014 $8 calls, so we will double down now that they are cheaper and get another 8. The ask of $1.43 on ETrade means $1,144 spent.
Then all heck broke loose. Early last week Peabody (BTU) reported their disappointing second quarter results and decimated the coal stocks. Arch fell 20% on someone else's results! But they got it all back when they reported their own results that beat estimates Friday morning, have a look:
Arch has been a hot mess since we started, this surge could finally be the beginning of a bull run.
A) Original puts sold: -$741
B) 8 contracts ACI Oct 20 2012 $7.00 Put @ $1.40 = $1,120
Last Trade: $.98, $784 cost to close, +$336, +30%
C) 16 contracts ACI Jan 2014 $8.00 Call @ $1.78 = $2,848 (5.16% of the portfolio)
Last Trade: $1.85, $2,960 total, +$112, +3.9%
Amazon (AMZN)
Amazon reported a penny per share of earnings so shares rose to $237.32! We think this is a Netflix (NFLX) situation, it kept rising until ...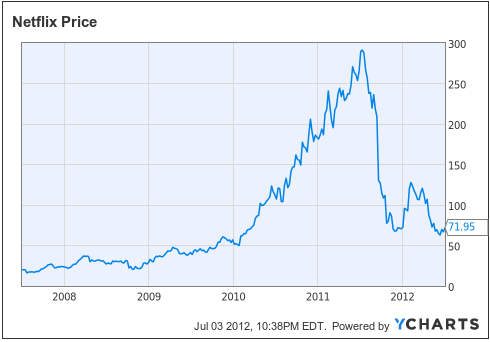 1 contract AMZN Jan 2014 $150.00 Put @ $16.90 = $1,690 (5.12% of the portfolio)
Last Trade: $10.40, $1,040 total, -$650, -38.5%
Salesforce.com (CRM)
We think this one, like AMZN, will never have earnings that justify the price.
1 contract CRM Jan 2014 $100.00 Put @ $14.90 = $1,490 (4.52% of the portfolio)
Last Trade: $14.20, $1,420 total, -$70, -4.1%
Biotechnology and Drugs
After we closed our Solazyme position we moved into bio and pharma:
Instead we are going to look to long term stories in the bio and pharma sectors for some plays that march to the beat of their own drummers. Bio and pharma stocks, perhaps more than any other sector, move on a company-specific basis and generally have little in common with the movement of the broader market. This sector does have many companies that cannot be held for long, often there are catalysts on approvals and deals that mean you have to be a nimble trader. We have found six companies, however, that we think have exciting long term stories:
We said these were stocks that would move independent of the broader market, and so far that has certainly been the case:
Every single one moved by more than 10%! Here's the breakdown of our common stock:
Antares 400 shares ($2,128 / $1,804) = -$324, -15.2%
Ibio 2,900 shares ($2,668 / $3,770) = +$1,102, +41.3%
MannKind 900 shares ($2,358 / $1,971) = -$387, -16.4%
Pluristem 700 shares ($2,366 / $2,660) = +$294, +12.4%
The two we sold puts on have sold off:
The $13 Oct 20 Puts are bid at $4.20 for ARNA, which currently trades at $9.52. We will sell 3 puts for $1,260 and secure them with $3,900 cash.

The SPPI Nov 17 (Happy Birthday Danny Devito) $17 puts are bid at $2.90, Spectrum currently trades at $15.88. We will sell 2 puts for $580 and secure them with $3,400 cash.
Arena's put has an ask for $6.00, so that would be the cost to close that put. Spectrum's is $4.30. So if we wanted to close those trades now that would be: ARNA: -$540, SPPI: -$280
Conclusion
The biotech and drug positions we took are not for the faint of heart, but we wanted to be free of the macro picture and debt crisis and these stocks did indeed move freely. We like all six of them, and if we get a double in one we may sell that rip and use the funds to buy the dip on another.
We also are keeping an eye on migraine play NuPathe (PATH) who recently got new management. In addition we are as bullish as ever on Arch and would add here if we got the chance. Obagi (OMPI) has sold off and we will look to pick up some of that as well - it may be bought out yet and at present levels looks like a good growth play on its own.
For now we stand at:
Total: $33,386.58