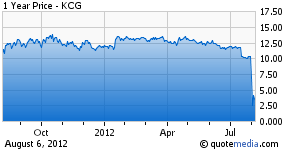 Monday was an extraordinary day in the financial markets as Knight Capital Group (KCG) closed a rescue financing that was very dilutive to existing stockholders. While retail investors love to whine and complain about dilution every time a public company raises money, true dilution is rare as hens teeth. The deal didn't go off at a discount to the market price, it went off at a discount to book value. So it really is worth discussing in greater detail.
Knight is a financial services company and one of the biggest market makers on Wall Street. It's a cash cow that's highly profitable in good years and bad. Over the last five years, Knight's reported net income and earnings per share were:
| | | |
| --- | --- | --- |
| Year | Net Income | EPS |
| 2007 | $122,240,000 | $1.18 |
| 2008 | $177,911,000 | $1.94 |
| 2009 | $117,102,000 | $1.24 |
| 2010 | $ 91,638,000 | $0.97 |
| 2011 | $115,237,000 | $1.21 |
At June 30th, Knight reported $1,081 million in working capital and $1,497 million in equity. Last week they suffered a glitch in a trading algorithm that generated $440 million of losses in a half hour and pushed the company to the brink of the abyss. Management suddenly found itself in a position where they had to either complete a rescue financing in record time or work out their problems in bankruptcy court. They made the smart choice and accepted a lifeline in the form of a $400 million placement of convertible preferred stock that restored working capital and assured business continuity.
After giving effect to the $440 million loss, Knight's pro-forma stockholders equity was $1,057 million before the rescue and each of its 98.2 million common shares had a book value of about $10.75. The preferred stock issued in the rescue is convertible into common stock at a price of $1.50 per share. When all of the preferred shares are converted into common, the total share count will be 364.8 million, which means Knight's fully diluted book value is now about $4 per share.
That $6.75 per share diminution in book value suffered by Knight's stockholders is real dilution. It's painful, but it's far better than a total loss. From the perspective of the rescue investors, however, it was a very attractive deal. They invested $1.50 per share on an emergency basis and received the equivalent of $4 per share in book value.
It would be a grave error to assume that I think Knight's management made a bad decision or acted unreasonably. They faced an impossibly difficult situation, made the hard choices and salvaged $4 a share in value for existing stockholders. Under the circumstances, I think they did a fine job.
The real value in the Knight rescue are the lessons an astute observer can glean about the mindset of investors who swoop in at the eleventh hour to rescue troubled companies. That mindset is consistent across all industries because regardless of where the money will be put to work, the investor's goal is always the same - to maximize his returns in light of the risk-reward profile and urgency of a particular investment.
For the last few months, I have been increasingly concerned over Tesla Motors (TSLA) rapidly deteriorating balance sheet. I regularly caution readers that new investors bring brass knuckles and baseball bats to price negotiations when companies find themselves on the financial ropes. I'm delighted to finally have a solid current example of just how brutal the negotiations can get when a company needs survival financing.
There are very few companies that can claim better financial contacts and relationships than Knight. After all, it's been a highly regarded club member for a long time. When Knight found itself backed into a corner, however, it knew what the cost would be and bit the bullet. The outcome was painful but not catastrophic.
At June 30th, Tesla had $30.6 million in working capital and $62.2 million in equity. Based on their second quarter results, the estimated balance sheet values at July 31st were a modest working capital deficit and $30 million in equity. By the end of September, both values will be deeply in the red. Despite its abysmal financial condition, Tesla's market capitalization was $2.98 billion, or roughly 100 times its estimated book value, at yesterday's close.
I believe Tesla's management team has probably been seeking additional financing for several months because it's the only responsible thing to do. I also think they've probably received several term sheets with discounts that were far deeper than management could stomach. I'm convinced it's only a matter of time until there's simply no choice.
Reckoning day will not be pleasant for Tesla's existing stockholders.
Disclosure: I have no positions in any stocks mentioned, and no plans to initiate any positions within the next 72 hours.