Rogers Communications Inc. (NYSE:RCI) investors are breathing easier now that Manitoba Telecom Services Inc.'s [MBT/TSX] consortium bid for wireless spectrum has collapsed.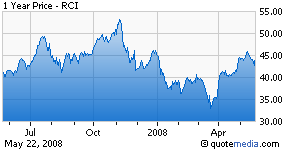 Rogers shares were up almost 7% or C$2.82 to C$44.81 in early afternoon trading Thursday, representing the biggest gain in the stock since the early days of April.
The stock's fortunes have been largely bound by the threat of a new national wireless carrier ever since the federal government announced in November that new wireless spectrum would be auctioned off.