"Dividend stocks are overvalued."

"Dividend stocks are undervalued."

"Dividend stocks are in a bubble."

"Dividend stocks are the only stocks worth considering."
These are all sentences that have been uttered by stock market commentators. Guess what they all have in common? They're all worthless.
I believe dividend growth investing is a great strategy, but I also believe that overgeneralizations are generally bad, if you'll excuse my slightly circular logic.
When talking about "dividend stocks," it's important to realize that the majority of major stocks are indeed dividend stocks. According to an excellent analysis by FactSet, which thoroughly covers all things dividends, 400 of the 500 companies in the S&P 500 (NYSEARCA:SPY) pay dividends as of June this year, making 80% of the S&P 500 "dividend stocks." And according to Heartland Funds, as of December 31, 2009, 45% of the stocks in the Russell 2000 Index paid dividends. While the data has probably changed since then, the point is still clear: "dividend stocks" comprise a huge universe of stocks with vastly varying qualities. (And as for valuation, FactSet's report, which I definitely recommend, finds that as a whole, dividend-paying stocks trade at a discount to non-dividend-paying stocks.)
Talking about "dividend stocks" like they're some special asset class is completely misleading, and misses the point of dividend growth investing. Barrick Gold Corporation (NYSE:ABX) offers a dividend and has done so for a very long time, but—with no offense to Barrick's management, because I picked the stock randomly—nobody in their right mind would discuss Barrick in the same sentence as Coca-Cola (NYSE:KO) or Procter & Gamble (NYSE:PG).
Dividend growth investing isn't as simple as throwing money at any corporation that offers a dividend. Rather, it's about finding quality companies that are likely to weather good times and bad; starting and growing an ownership stake in solid companies over the long term. Thus, "dividend stocks" as a whole are irrelevant to any investing strategy that incorporates dividends.
I selected several commonly discussed blue-chip "dividend growth" stocks across various industries:
Coca-Cola for the beverages industry
Procter & Gamble for consumer staples
Johnson & Johnson (NYSE:JNJ) for pharmaceuticals
Intel (NASDAQ:INTC) for technology
McDonald's (NYSE:MCD) for food service
Wal-Mart (NYSE:WMT) for retail
Let's compare valuations of these companies to the P/E of the S&P 500 as a whole. Data from The Wall Street Journal says that the TTM P/E of the S&P 500 is 15.46. Given this, McDonald's, P&G, and Wal-Mart, sport valuations fairly close to the overall index (P&G is a little borderline high). Intel has a significantly lower valuation. J&J and Coke have significantly higher valuations.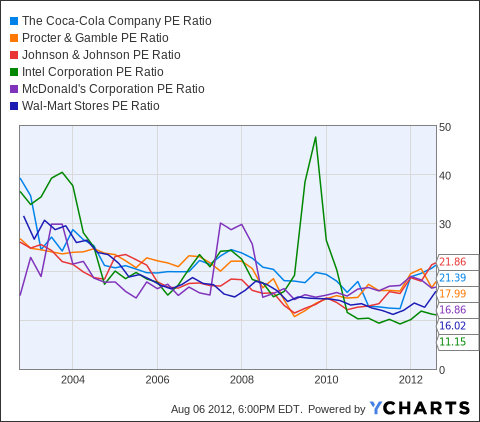 KO PE Ratio data by YCharts
Now let's check forward valuations. The S&P 500 trades at a forward valuation of 13.46. Based on earnings estimates for next year, the stocks mentioned trade at the following forward valuations:
Coca-Cola: 18.5
Johnson & Johnson: 12.66
Procter & Gamble: 15.7
Walmart: 13.9
McDonald's: 14.9
Intel: 10.3
With the exception of Coca-Cola and potentially Procter & Gamble, all of the above mentioned stocks actually look pretty fairly valued, especially in context of their historical TTM P/E ratios.
Conclusion
If I am going to dish it out, I'd better be able to take it, and the fact is, I am likely guilty of making generalizations about "dividend stocks." However, going forward, I'll try to refrain from doing so.
In some cases, it can be useful to analyze sectors as a whole. For example, I've noted that the utilities sector (NYSEARCA:XLU) is generally overvalued due to investors chasing yield, but as Joe Springer points out, there are still some values to be had. Unfortunately, "dividend stocks" are such a broad category that it's hard to make generalizations about their valuations, and as the FactSet research established, they're generally valued in-line with the market.
Focusing on specific blue-chip dividend stocks suitable for dividend growth investors, however, we see a wide range of valuations on both a forward and trailing basis. Investors shouldn't be scared off by headlines stating that dividend stocks are "overvalued," nor should they be encouraged by headlines stating that they're "cheap." As always, thorough analysis of individual stocks is required to determine if their valuations are justified. This is why I am wary of ETFs like the SPDR S&P Dividend ETF (NYSEARCA:SDY), because I see little difference between them and more general index funds.
"Dividend stocks" are too broad a category to analyze superficially. So next time you see a headline trumpeting the virtues (or pitfalls) of "dividend stocks," make sure you pay attention to their exact usage of the term—and don't let them get away with equivocating, and using arguments constructed on one definition to come to conclusions about every "dividend stock" out there.