As natural gas producers in the U.S. concentrate on more profitable oil production, and reduce drilling for natural gas, the prices of natural gas are experiencing a rebound. With warmer summers, the demand for coal from utilities will pick up, as coal becomes the cheaper fuel. This will benefit railroads like CSX Corporation (NYSE:CSX) that depend heavily on coal volumes to utilities, for revenues. We maintain our buy rating on CSX.
Natural Gas Prices
Natural gas prices have been rising. This has been due to a drop in supply and a rise in demand for power generation, and for other modes of consumption. The natural gas rig count is down to 518 (down by 4), while a hotter-than-usual summer has led to a rising demand for supplying power for air conditioning, as seen in the table below:
Click to enlarge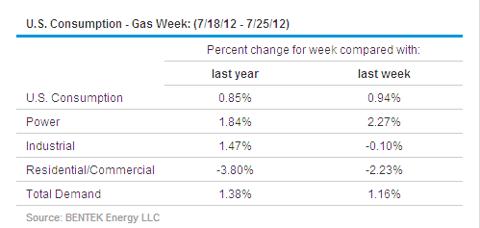 The higher natural gas prices can continue into winters if the weather is colder than usual and power is needed for heating. The Henry Hub Natural Gas Spot Price reached $3.15/mmbtu as of Sunday. This was an increase of roughly 14% over the last month, and 71% since April 20's low price of $1.84/mmbtu. There was also a 6.6% surge (to $3.214/mmbtu) in natural gas futures for delivery in September. The graph below shows the Henry Hub Natural Gas Spot Price trend over the last month.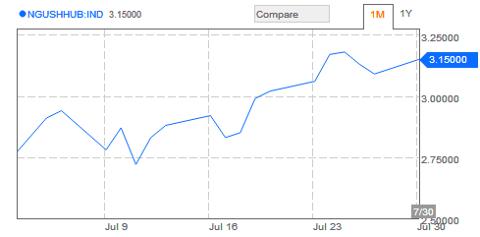 Effects on CSX
Rising Natural Gas Prices: CSX has the largest exposure to coal among its peers. Coal formed 31% of total revenues in Q12012. This was reduced to 27% in 2Q2012. Of the 27%, 46% went to utilities, compared to 55% in Q12012. Thus, Q1 and Q2 profitability was depressed due to utility coal head winds. In Q2, there was a reduction of 37% in utility coal volumes, which led to flat revenues YoY. CSX will benefit from rising natural gas prices, as utilities start burning more coal to generate electricity for the warmer than usual summers. As such, the utilities are unaffected by spikes in natural gas prices because they lock in the prices for years in advance, to protect themselves from price volatility. However, according to the CEO of CSX, gas prices have to be around $4-$4.5/mmbtu to encourage utilities to rely more on coal for power generation.
According to another article, from February to May, natural gas was the cheaper fuel for power generation by utilities. This has changed now with coal being the cheaper of the two.
Future of Coal in Power Generation: According to the EIA, coal will continue to be a major fuel for power generation. This could be good for the future outlook of CSX and other freight railways. The difference between coal consumption for electricity generation in times of low and high gas prices is 4%, as seen in the graph below.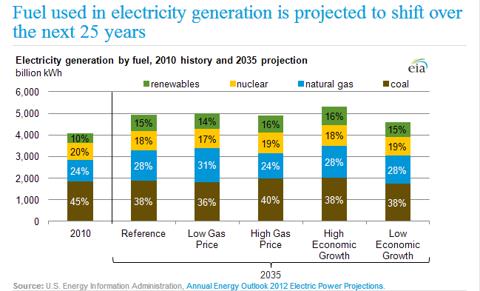 Q2 Results and Valuation
The company provided a tenth consecutive quarter with an increase in earnings (YoY). The Q2 EPS was $0.49/share, 7% more than the $0.46/share posted last year. The exports of coal (41% increase in volume YoY and now forms 40% of coal revenues), automotive demand and intermodal (international growth due to new Maersk business) products helped the company in getting this profit, despite coal supply to utilities dropping in view of low natural gas prices. Coal revenues dropped 14% in Q22012 due to a decrease in demand for utility coal.
The COO of CSX sees opportunities in transporting frac sand, crude oil and petrochemicals if the situation with regards to coal carloads continues to decline.
For the third quarter, the company had expected 21% of the total volume that the company handles to be negatively affected by emerging markets and utility coal. With rising gas prices, the company can end up generating more profits than it expects for the next half of the year.
According to the company's Q2 result presentation, CSX expects to complete its buyback program ($434 million balance left after Q22012) by the year-end. Furthermore, the dividend payout target is 30%-35% of TTM earnings. Currently, the payout ratio (NYSE:TTM) is 28%.
Trailing P/E

Fwd P/E

EV/EBITDA

Debt/

equity

Net margin

LTM

Operating margin

LTM

Div yield

Revenue growth rate (quarterly)

ROE

LTM

CSX

13

11

7

102%

15.8%

29.6%

2.4%

0.7%

21%

NSC

13

12

7

82%

17.3%

30%

2.2%

0.8%

19%

UNP

16

14

8

49%

18.2%

31%

2.7%

6%

20%

KSU

23

19

11

55%

18%

30%

2.1%

5.9%

14%
The PEG ratio for CSX is the lowest and the most favorable at 0.83, compared to Norfolk Southern's (NYSE:NSC) 0.85, Union Pacific's (NYSE:UNP) 1.13 and Kansas Southern's (NYSE:KSU) 1.22. CSX seems to be underpriced compared to its growth opportunities.
Since our last article, the CSX stock is up 4.8%. In the last three months, it is up 3% compared to Norfolk Southern, Kansas Southern, and Union Pacific - which were up 1.7%, -4.5% and 9.5%, respectively. To reiterate, we recommend buying CSX.
Disclosure: I have no positions in any stocks mentioned, and no plans to initiate any positions within the next 72 hours.