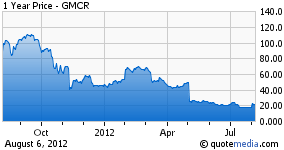 Green Mountain Coffee Roasters (NASDAQ:GMCR) released its Q3 2012 results, which came in better than expected on the bottom line but missed top line estimates. You all know the numbers by now so I won't waste your time recapping them here. Additionally, the company lowered its fourth quarter guidance and made an attempt at level setting expectations for the foreseeable future. This was probably the smartest move by management in the last 3 reporting cycles. Looking toward Q4, the company now expects total net sales in the range of $889.9 million to $925.5 million or net gross of 25% to 30% from $711.9 million in the fourth quarter of fiscal 2011. Management now anticipates fourth quarter 2012 non-GAAP earnings per diluted share in the range of $0.45 to $0.50 per diluted share, excluding the non-GAAP items. GMCR also revised its CAPEX spend for 2012 to reflect lower revenues and profitability. The company now expects to invest a total of between $475 million to $525 million in CAPEX in 2012, down from the prior estimate of $525 million to $575 million.
While the company did lower its Q4 outlook and full year guidance, shares of GMCR rose upon the release of its announced buyback program worth up to $500 million. As I stated already, the lowered guidance and level setting of expectations was a smart move by management. Furthermore, the company clearly detailed the reasons for lowering guidance for the general investing public, for which a greater sense of action on behalf of management was being displayed. Fran Rathke noted that prior forecasting methodology needed to change due to the dynamics of a maturing company. Let's look at the methodology and reasoning outlined by Fran Rathke on the conference call:
The company's prior forecasting of demand was flawed to some degree given the rapid growth of distribution and channel distribution segments, which have recently slowed in growth and diverged recently.
Once target channels reach a higher level of penetration, naturally, growth slows and forecasting demand needs to be more closely monitored and methodology for forecasting demand needs to be adjusted as GMCR is in the process of doing.
Temporary under utilization of labor and capacity, which primarily played out in the firm's fiscal second and third quarters and will also affect the fourth quarter, are another factor in the lower guidance issued. Naturally, utilization of labor and capacity are directly correlated to forecasting and the under utilization likely led to some unnecessary expenditure in the quarter, which should be remedied come Q1 2013 with a higher level of execution.
Lastly, the company's new forecasting methodology takes into account seasonality and ordering cycles and patterns which can shift QoQ. Since growing its grocery retail base, specialty and department store retailers have curbed their inventory levels, which are also taken into account under the new forecasting methodology.
Fran also touched on increased orders from retailers, which influenced Q1 2012 results as trade inventory levels at retailers spiked due to fear over GMCR's capacity constraints. Now that these constraints are no longer an issue for GMCR and its retail partners, a more normalized ordering pattern can be tracked, thus offering greater ability for the company to guide shareholders.
During the quarter, the company accrued $123.4 million or 41% increase in finished goods inventory, all due to an increase of Keurig brewers on hand. Inventory of single-serve packs was down 7% over last year's third quarter inventories. Sequentially, single-serve packs inventories declined $33 million from its second quarter amount. GMCR's goal for single-serve packs is to maintain an inventory level of 5 weeks and the company successfully achieved this goal in the most recent quarter ended. Although overall inventories increased YoY, it is notable that the company continues to address the delicate balance between supply and demand.
Now let's look at 2013 guidance issued. Fiscal year 2013, non-GAAP earnings per diluted share are expected to be in the range of $2.55 to $2.65, excluding the non-GAAP items as noted in the company's press release. For fiscal 2013, GMCR currently expects to invest $380 million to $430 million in CAPEX and is forecasting free cash flow in the range of $100 million to $150 million. Free cash flow will be a crowning achievement for GMCR if it holds to execution in 2013.
Incorporated into the fiscal 2013 guidance is the growth expectation of the Keurig Brewer system, which is expected to reach 17 million installed users. At the end of Q2 2012, the company estimated its user base to be roughly 11.5 million.
Here is another point of reference where we feel the CEO better defined and clarified the future efficacy of guidance and results: "We believe our outlook is realistic, but there is leverage in our business in either direction. So in our guidance we have identified a number of risk factors as Fran referenced that bring us to the mid-teens earnings growth rate. Should those risk factors vary materially from our assumptions, we will adjust our plans and actions accordingly. But again, we don't expect that." We can't stress enough the importance of such a statement from a CEO who has been marred for lack of forecasting insight in the past. A strong statement indeed and directed at the investing and shareholder community.
Now, for the patent expiration issue. Let's put this to rest once and for all and accept the statement of the CEO as fact and a jumping point toward more pressing matters the company will be facing. Larry Blanford said that the K-Cup patents will be expiring in September of 2012 and the company will likely face increased competition. However, he also noted that GMCR has been and will be prepared for this greater threat. The company's strength comes from its brand recognition and abundance of choices in flavors and price point for brewer systems. Competitors will have to at the very least match this competitive edge going forward to greatly disrupt GMCR's business. The company believes in its strength as a market leader and points to its relationships with current licensees as proof that they can add value to a private label entrants prospects in the space. GMCR will be adding to its brand partnership with Folgers and Starbucks (NASDAQ:SBUX) when they introduce these brands to the Vue platform later this year. Most importantly with regards to competition, the CEO has outlined the plan in place already to combat and even invite competition to some degree as the company feels they will gain more licensees and partnerships. Larry Blanford also states that the threat of competition is baked into its 2013 guidance. It's getting hard to be bearish here, folks. In all fairness though, and looking at this from a more objective point of view, I would have to say a plan is a plan until it becomes "plan B", and we have seen GMCR go from its original plan to a plan B before, arguably it is acting upon plan B at this stage of its respective business cycle.
If you are looking for a floor, the statements given during the company's conference call certainly played their role in creating one. It remains to be seen if that floor will serve its shareholders well. At this point we'd like to do a little in depth analysis regarding the possibilities for future results. Investors should always review the information offered on a conference call or filing and then extrapolate the possibilities from that point.
First and foremost, as long as the GMCR can continue to leverage SG&A, it will have the flexibility to manage profitability.
Secondly, the company is working diligently to offer products that meet the demands of the market place. For brand conscious consumers, the variety and range of specialty coffee brands in the Keurig system are unmatched. For value oriented consumers, GMCR has created and continues to create price points to appeal to their sensibilities and its offerings to these consumers are likely to continue to expand as the system demographics expand. In the fall, GMCR will launch Eight O'Clock brand K-Cup packs under their license agreement in grocery and mass channels that will appeal to the value conscience consumer.
Thirdly, new products and innovative technologies are on the way via the enhanced Vue product line and RFID technology as well as additional Vitaburst K-cups. Let's not forget about the new espresso maker launching this fall. The key to product launches is the theory of "in addition to as opposed to instead of". Fortunately, the new K-cup flavors and wellness line will be key tells on how consumers will advance sales and if they are buying in addition to. Ultimately, the benefits of product launches are seen in direct channel orders, meaning sell-in retailers. Retailers are inclined to add the new products to the existing line of products to advance the product segment and acquire customer loyalty. Product launches usually spell big new orders. As long as the manufacturer of the product can gauge the probable demand and thusly keep production costs in-line, profitability can increase greatly during a product launch cycle. We are hoping to see GMCR manage new product launches in a more profitable way going forward and believe that experience will serve the company well.
Becoming cash flow positive in 2013 will offer validation to GMCR's business model that it has been lacking over the last few years as costs have risen greatly do the nature of the business segment, coffee prices and linking supply with demand. In 2012 the company took action for what it feels will benefit the future of the company and although the stock price suffered greatly for it, the actions may serve investors better in the future as costs begin to moderate and even decrease over time.
My overall hypothesis for GMCR is that the shorts had it right, but only for 2012. In order for the short thesis to be credible long term, costs have to remain high, margins will have to continue to contract, competition will have to execute precisely and add value where GMCR hasn't and do a better job with production cost, CAPEX would have to remain at high levels if not increase altogether, GMCR management would have to repeat its mistakes from the past, and the overall market for single-serve brewers would need to contract greatly. I find it hard to believe all these factors would materialize in unison and to the degree it would need to occur in order to offset a more normalized growth pattern for GMCR. It was only logical that as GMCR expanded its distribution channels that the company would then be reliant upon its razor blades. Shifting from huge sell-in numbers as it expanded its distribution channels to moderated sell-in numbers was inevitable. If the company can maintain a 15-20% growth trajectory over the next several years, many would see that type of performance as admirable.
Moreover, and probably the most important takeaway from GMCR's quarterly report and conference call, is what shareholders should do henceforth. In my opinion the company is still taking a stab in the dark with guidance. By management's own admission, ordering due to channel divergence, coupled with seasonality and market maturation, has made forecasting demand more complex. The new methodology is based on the confluence of data at hand that doesn't support a trend and therefore is suspect to efficacy until proven otherwise. As a shareholder, I would want to see the new methodology proven to be effective and the company's operational cost savings measures executed. Additionally, GMCR and Capital Ladder Advisory Group, LLC. believe that competitors to GMCR will have more headwinds in the single-serve market than others believe. As an important piece to the 2013 guidance, we would also like to see GMCR's barriers to entry hold up as well before committing more capital to shares of GMCR.
Look for my next article that will recap a recent conversation between Capital Ladder's Research Analyst Martin Costa and two analysts covering GMCR regarding expansion. Can you imagine what would happen if GMCR partners with a multi-national company and advances distribution beyond North America? Although the company has yet to detail plans for international expansion, we would offer that they are certainly addressing this opportunity. While many investors believe that the current build-out was designed for greater capacity in North America, I would suggest otherwise. Some multi-national companies here in the U.S. don't have half of the square footage dedicated to manufacturing that GMCR has outlined so …
I guess it is comical that we spent the better part of the year focusing on the negative headlines related to GMCR that the future positives got relegated to the back of the conscience. I would encourage investors to read through GMCR's annual filing. There are some very telling statements as to where the company is heading in the future and deals that could very well be on the horizon. The risk/reward remains to be seen for investors as most of the company's plans are forward looking and execution of these plans and objectives will be crucial.
Disclosure: I am long GMCR.