Natural gas prices have been on a wild roller coaster ride this cycle. Having peaked at nearly $14 in 2008, prices came crashing down some 85% to bottom at $1.90 in April of this year. And they have bounced back nicely since then, rising almost 70% to $3.21 at the end of July. Then came Thursday's stunning 8% drop, the largest since September 17, 2009.
What Caused the Drop?
Two news events were negatives for natural gas. First, weather, which has been unusually hot was predicted to cool off towards the middle of August, which could reduce draws on electricity to run air conditioners. Natural gas, together with coal, as most readers will know, are the primary fuels used to generate electricity.
Second, the EIA reported higher than expected injection of natural gas into storage this past week of 28 bcf, when analysts surveyed by Platts had expected injection of 20 - 24 bcf.
In addition, profit taking after such a strong run-up should be expected.
Reasons to Believe This Is Just A Dip
Movements of natural gas into storage continue to suggest that the glut of natural gas is being removed. This was first written about here . That trend remains in place, in fact the trend is accelerating. We began this year's injection season (the period from April through October where seasonally production exceeds consumption resulting in natural gas being injected into storage) with a record glut of gas. Storage levels were 60% above the 5 year average. A significantly reduced natural gas rig count and steep year two production declines from shale wells gave rise to a deceleration in production that has taken that excess down to only 14.1% above the 5 year average.
So far this injection season, we have built inventories at 37% below the 5 year average rate of builds. But that trend of lower builds is accelerating. If you compare the more recent activity, you will see the current four week rolling average is 58% below the 5 week rolling average.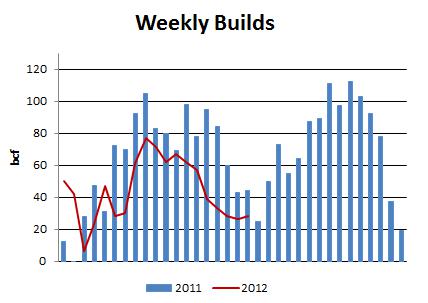 (Source: HardAssetInvestors.com)
This has significant implications for the removal of the glut of gas in storage. If we continue at 37% below the 5 year average for the rest of the injection season and add that to the current inventory of gas in storage, we will end the season at the beginning of November with 3,650 bcf in storage. That level is 37 bcf below the 5 year average. The glut will have been removed.
The rig count becomes the key piece of data to look at. The natural gas directed rig count has fallen precipitously from its 2008 peak of over 1600 active rigs to the most recent count of 498. That level is the lowest since 1999.
The key take away from this number is that it is below the active rig count required to sustain current production. It is estimated that between 700 and 900 active rigs are required to replace the natural declines from existing wells.
Gas is also produced from wells that are designated as oil or liquids directed. This "associated gas" has risen along with the increased oil rig count. But that production has not been enough to offset the decline in direct dry gas production and so total production remains below the January peak.
Until the rig count moves back up to the range sustaining production, we can expect the glut to reduce and prices to continue upwards to a level that will recover full cycle costs and yield producers a reasonable profit. Supply is the key issue here. Demand factors will determine how quickly the glut is removed, but reduced supply is the main driver. I believe that it was primarily demand factors of weather that spooked the market and induced the dip. Since nothing has changed with the main driver, decelerating supply, this week's drop in natural gas prices should be considered a dip and the upward trend should re-assert itself shortly.
The normal contango (front month prices lower than subsequent months) is largely out of the natural gas term structure and therefore makes The United States Natural Gas Fund (UNG) a worthwhile vehicle to trade this dip. Producers that have a significant natural gas exposure such as Encana (ECA), Exco (XCO), Chesapeake (CHK) and Anadarko (APC) could also benefit from any resurgence in the natural gas uptrend.