The recent earnings release by CF Industries Holdings Inc. (NYSE:CF) makes us reiterate our previous bullish thesis on fertilizer stocks. CF continues to be our favorite pick in this industry, as a result of its high nitrogen exposure, sound financial performance, and low-cost advantage due to cheap natural gas prices. Although the stock price has already appreciated by 40% on a year-to-date basis, we feel a further upside is yet to be realized. Our year-end 2012E target price for CF is $260, 28% above its current price of approximately $203. We continue to recommend high-dividend yielding nitrogen's Master Limited Partnerships (MLPs) as well like Rentech Nitrogen Partners LP (NYSE:RNF), Terra Nitrogen Co LLP (NYSE:TNH), and CVR Partners LP (NYSE:UAN).
Earnings Review
CF is one of the major fertilizer players in the U.S., having two prime segments - Nitrogen and Phosphate. Yesterday, it reported its earnings for 2Q2012, according to which its EPS climbed by 24% on a year-over-year basis as a result of strong demand for nitrogenous fertilizers, along with a gain on natural gas derivatives. However, its earnings missed Wall Street's expectations as a result of the recent demand dip after the spring planting season finished.
Its 2Q2012 per-share earnings were $9.31, relative to year-ago levels of $6.75. Its adjusted EPS was $8.65/share, slightly short of the consensus estimate of $8.91/share. Revenue also dropped to $1.74 billion, showing a YoY decline of 4%, while the analyst expectations were $1.95 billion.
The low price of natural gas was one of the main reasons why CF's profit improved by such a large margin, as compared with the last year. This is because this factor resulted in a reduction in supply costs by a significant amount (29%) in its nitrogen unit.
The U.S. Midwest drought helped reduce corn yields and augment corn prices, which benefited fertilizer companies in general and companies with high exposure in nitrogen (like CF) in particular. This is because corn crops require the application of nitrogen the most. However, so as to bolster productions, farmers had already bought high amounts of fertilizer in February and March, and so, a temporary demand dip was experienced by CF this quarter. Still, the company is optimistic about its future growth potentials, citing "robust application of ammonia fertilizer this fall and high plantings of corn in 2013."
Valuation & Target Price
The following table compares CF with its major competitors, Potash Corp (NYSE:POT), Mosaic Company (NYSE:MOS) and Agrium Inc. (NYSE:AGU), from a valuation's perspective.
| | | | | |
| --- | --- | --- | --- | --- |
| | CF Industries | Potash Corp | Mosaic Company | Agrium Inc. |
| Forward P/E (1 Year) | 9.83x | 11.27x | N/A | 9.75x |
| PEG Ratio (5 year expected) | 0.51 | 0.91 | N/A | 1.14 |
| EV/EBITDA (TTM) | 4.07 | 9.96 | 6.94 | 5.44 |
| Dividend Yield (%) | 0.8% | 1.3% | 1.7% | 1.1% |
| Share price performance (YTD) | 40.34% | 4.3% | 13.69% | 41.92% |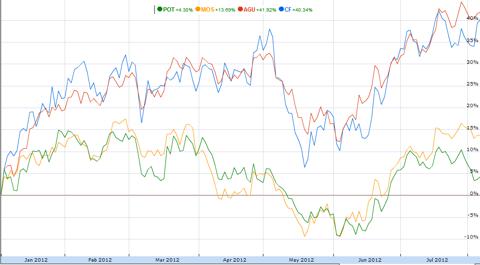 Source: Google Finance
The share price of CF has already appreciated by a large margin on a YTD basis. Still, its lucrative growth prospects and the following calculations make us favor the stock. This is because the stock is currently trading in its early $200s, below its target price of $260, calculated on EV/EBITDA basis.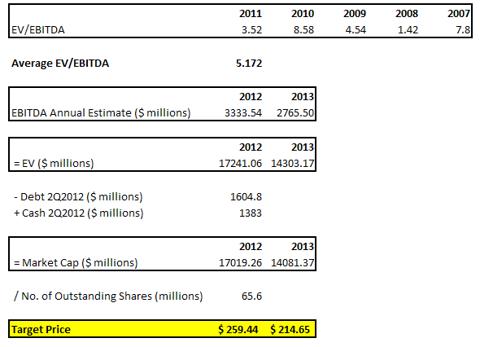 Disclosure: I have no positions in any stocks mentioned, and no plans to initiate any positions within the next 72 hours.