FedEx Corporation (NYSE:FDX) is facing a perfect storm that is likely to send the stock down even further in the near future. The company already lowered its fiscal fourth quarter 2008 earnings guidance to a range of $1.45 to $1.50 per share from a range of $1.60 to $1.80 per share, citing further escalation in fuel prices and the impact of the weak economy on its domestic express and LTL services.
Since that happened, oil has proceeded to soar even more, recently hitting as high as $135 per barrel. For some reason, management believed that energy costs wouldn't go higher and that the economy wouldn't get weaker. Clearly this was incorrect as recent events have shown.
There is a strong chance that estimates will be lowered again. As we already mentioned, energy prices have escalated further since the announcement and customers are adjusting their purchasing habits finally. FDX will likely experience multiple contraction as well. It is currently trading at a premium to its main competitor which should be corrected soon. Analysts have been busy cutting estimates. Next year's estimates have been slashed $1.00 per share to $6.22 over the past 90 days.
Finally, the chart is looking bearish as well. Preliminary support is around $84, with the next line of defense around $80. We see the stock eventually falling about 10% to $80.
Aggressive investors might consider owning the FDX July 90 Put Options which closed yesterday at $4.73. If we have made The Correct Call and FDX trades at $84 by July 1, the contract would be valued near $6.28. At $80 per share, investors would see their money nearly double.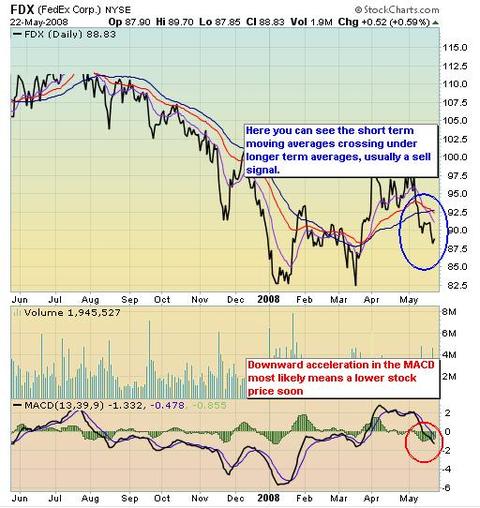 Disclosure: None.