We wrote about Facebook (NASDAQ:FB) and couldn't see much reason to buy the shares, but what about Zynga (NASDAQ:ZNGA)? Shares of Zynga crashed on poor results. What's going on?
Business model
Zynga is in the social gaming industry. This is a relatively new industry, so we have to wait and see how it develops, but Zynga already is the undisputed leader, it held seven of the top 10 games on Facebook as of June 30, 2012.
Zynga offers free gaming, people can play what they like. However, if they're getting used to a game and good at it, they'll experience limits. To circumvent those, they have to buy virtual goods. These "bookings," as they are called, are therefore more common in older, more established games.
In fact, once the a game becomes mature and users decline, Zynga reinforces "pulls monetization levers" (in the words of Morgan Stanley), that is, the users who remain are likely to be the ones hooked and willing to pay small amounts to keep on playing. Yes, this is a bit like a drug pusher, but much of the business world works like this (what is advertising else than one big tease?) and apparently it is effective.
Another thing to realize is that social games are usually an order of magnitude cheaper to make (compared with console type games), and they have a much broader audience. Another characteristic is the high fixed cost, near zero marginal cost nature of the business typical of internet business in general. These games can also become viral in nature, in which case marketing becomes very cheap.
Earnings disappointment
After its shares had already fallen steeply, an earnings miss was about the last thing it could use, a quick summary:
(Non-GAAP) EPS was just 1 cent where analysts expected 6 cents, on average
Revenue was $332.5M, where analysts expected $343.1M
Bookings of $302M (up 10% from last year)
The company lowered outlook to reflect "delays in launching new games, a faster decline in existing web games due in part to a more challenging environment on the Facebook web platform, and reduced expectations for Draw Something." Full year non-GAAP EPS is expected to be between 4 and 9 cents. Since it earned already 7 cents per share in the first two quarters that means a flat second half of the year.

Click to enlarge
The company blamed the earnings disappointment on:
Changes to the Facebook platform that entailed emphasizing new games over existing ones and engagements for existing games no longer showing up in users' news feeds. But these changes weren't made until June, so how much these are responsible for the earnings disappointment isn't clear.
A new game was delayed
Draw Something didn't perform as expected.
Zynga launched six new games in during the quarter (three web-based games and three mobile games) but with modest success. In the last couple of quarters, Zynga's older games (where much of the bookings, that is, monetization have to come from) have continued to lose users at a much higher rate than before, which has made Zynga's user growth ever more dependent on its new games.
This is largely due to those Facebook's changes, which favor new games over old games, so this decline will possibly continue, going forward. These developments actually highlight the risks in the business model.
Risks
One of the main risks is the low entry barriers in the industry. While Zynga is the clear market leader, others can steal Zynga's thunder, as has happened with The Sims By Electronic Arts (NASDAQ:EA), for instance. However, having a prominent place at Facebook and having its own platform at Zynga.com does help somewhat in aggregating viewers to its games
Dependence on hit games. This is a similar risk as the first one and it's mitigated somewhat by the platforms and being the biggest.
Dependence on Facebook is very high still (in the order of 90%), which is why Zynga is building out its own platform and diversifying into Apple's (NASDAQ:AAPL) iOS and Android platforms. Other platforms like Google+ and Windows Mobile could offer even more opportunities. The company could use Facebook as a test ground and move the successful games to other platforms
IP, Zynga was sued last week by Electronic Arts for copyright infringement for The Sims Social, an EA game that also runs on Facebook
There is even a class-action suit for disgruntled shareholders (although invariably, the lawyers take most if not all, we have some experience)
Competition
There is competition from companies like Electronic Arts Incorporated , Activision Blizzard Incorporated (NASDAQ:ATVI), THQ Incorporated (THQI), and Glu Mobile Incorporated (NASDAQ:GLUU). As it happens, Motley Fool compared these companies on some metrics, which even with the shares at $2.70 isn't terribly flattering for Zynga, it comes last in growth. Two (EA and ATVI) are already profitable, and Zynga has the worst net profit margin.
Growth opportunities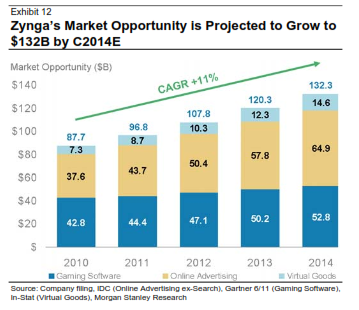 While the quarterly figures were disappointing, we believe there are plenty of growth opportunities left for the company:
Social media continues to grow and Zynga is well placed on the biggest of these, Facebook. It could also increase its user base on Facebook (currently in the order of 25-30%) when the company increases the number of games and languages in which they are offered.
With 34% of users coming from outside the U.S. (up from 29% in 2009), there is plenty of international growth potential left.
Zynga's own platform on Zynga.com is now live (although even here it has to share 30% of revenue with Facebook)
Mobile. The company grew its mobile footprint five-fold to 33 million daily active users, making Zynga the largest mobile gaming network. Games dominate the top app categories in mobile (see figure below)
Unlike the console game market, online social gaming has some network effects that, at least to a certain degree, reduce the random nature (the dependence on hit games). Zynga is much larger than any of the competition (as large as the next 14 ones combined, according to AppData's daily average users). This size provides opportunities to cross-promote games and collect more data on user preferences.
Cross-platform. Zynga announced it's "Zynga with friends" network, which enables people to play against one another on different platforms (Facebook, iOS, Android, Zynga.com, etc.). This could enable Zynga to monetize its massive reach on the web and mobile platforms without needing to continue to launch new games to make money.
Poker with real money. It already offers online poker with play money, but this isn't very lucrative, despite it being the largest platform around. It only generates $2.50 per user a month, while real-money poker can reach $300 per user per month. It will start offering the latter in the first half of 2013, but in the first place to customers outside the U.S., although that might very well change in due course when online poker gets legalized in the U.S.
Advertisement, a $38B market. Little noticed, but this was the part of revenue that actually grew by 170% in that last, disappointing quarter
It can capture a significant share of the virtual goods industry, the fastest growing segment in the gaming industry (estimated to be $7B)
There is the possibility Facebook might make an offer for the company in order to improve it's own monetization efforts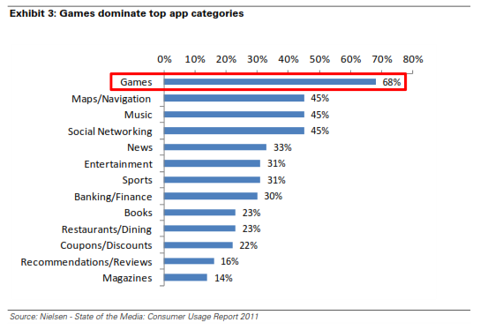 Click to enlarge
Cash and cash flow
While Zynga generates considerable operational cash flows, these are usually outweighed by investments (the company has also taken over some 20 other companies over the years, a bit of a hit and miss strategy, although it enabled Zynga to become the biggest social gamer by far and reaping some network effects).
However, the $1.6B in cash, cash equivalents and short-term investments the company had at the end of Q2 provides an enormous buffer and investment kitty. It also represents more than 75% of the market capitalization ($2.07B).
Conclusion
Social gaming is a big industry and a growing one. However, like the film industry, it's somewhat random, and entry barriers are relatively low. To a certain degree, Zynga can protect itself against being the biggest by far and having a big platform and a prominent presence on a much bigger one (Facebook).
The unpredictability of the success of games became manifest this year, but one could argue that this could very well be a lull, rather than something structural. If that turns out to be the case and figures pick up again, the shares aren't expensive, certainly if one takes the enormous amount of cash in consideration.
On the other hand, with the growth in social networking in general and social gaming in particular, one could argue that Zynga's growth figures are pretty poor. That is indeed what many executives themselves seem to think as there are some considerable insider sales.
However, on balance, with the large cash balance, the dominant position in the nascent social gaming space and the move into online poker for money, we think that there is a good chance the fortunes will turn. While this is not one of our top conviction buys like InterOil (NYSE:IOC) or Ellie Mae (NYSEMKT:ELLI), we think in the longer term shareholders are unlikely to lose from here, and have a good chance of making some money.
Disclosure: I have no positions in any stocks mentioned, but may initiate a long position in ZNGA over the next 72 hours.