Over the course of my investment career, I have discovered that while I learned many things in business school, Main Street had lessons that you don't need a HP12C to apply.
My wife's family is from Greece, and one time my father-in-law (a chef) told me: "If you want good Greek food, eat where the Greeks eat."
I suppose that this can be extrapolated to many cuisines, but it can also be extrapolated to the investment arena. For example, recently, I wrote an article on a new preferred issue by Vornado Realty Trust (VNO) and noticed that they owned approximately 12% of a triple net lease REIT, Lexington REIT (LXP). Vornado has sharp management, and if they think there is something valuable in Lexington, it is worth taking a look - "eat where the Greeks eat".
Lexington Realty Trust is a self-managed and self-administered real estate investment trust that acquires, owns, manages and provides financing for a geographically diversified portfolio of predominately single-tenant office, industrial and retail properties, including build-to-suit transactions. The Company also provides investment advisory and asset management services to investors in the single-tenant area. As of March 31, 2012, the Company had equity interests in approximately 185 consolidated properties in 39 states.
Why is Lexington Realty attractive to Vornado? Let's take a look at the REITs characteristics.
Geographic Diversification: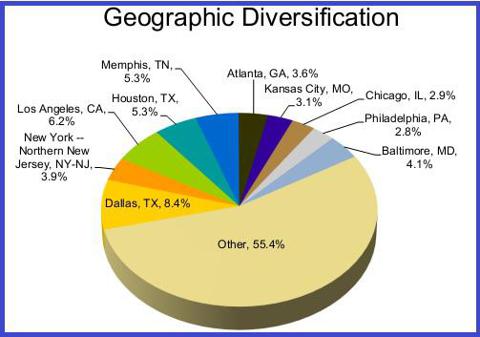 Click to enlarge Source: Company presentation
As the above chart shows, the REIT is geographically diverse, with its largest concentration in Dallas, Tx. This geographic diversification helps mitigate regional risks within the portfolio.
Property Diversification:
Most triple-net REITs have focused on freestanding retail and restaurant tenants, but Lexington has gone in a different direction, helping to diversify a triple-net investment portfolio.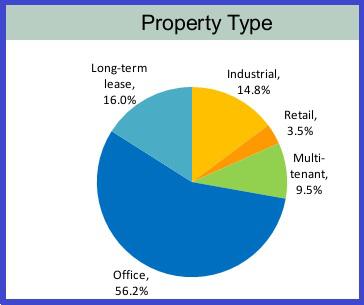 As the graph shows, retail is the smallest rent contributor, which helps smooth rent and income volatility.
Tenant Diversification: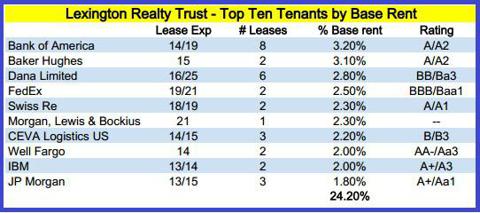 Click to enlarge
As the table above shows, Lexington has a virtual who's who of tenants. Even with this tenant list, the REIT has chosen to mitigate the tenant risk by keeping tenant concentrations low and of high quality. A look at the quality characteristics of the REIT gives an investor a feel for the quality bias of this REIT: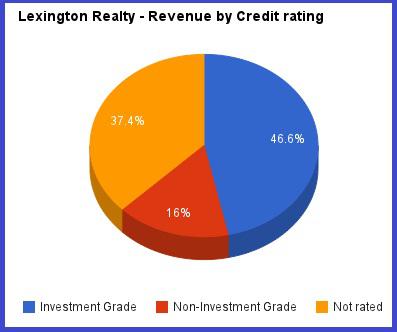 Nearly half of Lexington's tenants are rated investment grade, adding to the stability and the consistency of rental revenue and therefore net operating income.
Financials:
With an overview of the business profile of Lexington, let's look at their financials and see if they are equally attractive.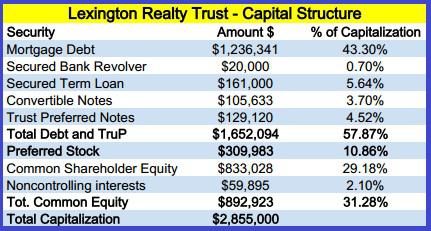 Lexington is generally conservatively capitalized, but I would prefer a lower ratio of secured debt in order to unencumber more of their properties.
Bank Debt:
On January 13, 2012, the Company procured a $215,000 secured term loan from Wells Fargo. The term loan is secured by ownership interest pledges by certain subsidiaries that collectively own a borrowing base of properties. The secured term loan matures in January 2019.
The company has also recently refinanced its $300,000 secured revolving credit facility with a new $300,000 secured revolving credit facility with KeyBank. The new revolving credit facility has the same security as the new secured term loan. The new secured revolving credit facility matures in January 2015 but can be extended until January 2016 at the Company's option. With the consent of the lenders, the Company can increase the size of the secured revolving credit facility by $225,000 for a total secured revolving credit facility size of $525,000 by adding properties to the borrowing base or admitting additional lenders.
Preferred Stock:
The following table lists the preferred stock of Lexington's triple net peers: National Retail Properties (NNN) and Realty Income (O), CapLease (LSE) as well as two recent issues by Vornado Realty and Public Storage (PSA).

Click to enlarge
As the table shows, Lexington's preferred stock is cheap to peers, although it is currently redeemable and the company could redeem them cheaper at current market rates and given current demand. It is also worth noting it is cheap to Vornado, a significant stakeholder in the REIT. Of all the preferreds in the peer group, CapLease is the cheapest by far.
Equity:
The following table compares the current equity metrics of Lexington versus its peer group.

Click to enlarge
As is shown by the table, Lexington and the smaller peers (those companies that are not Realty Income and National Retail Properties) still trade at a discount to NAV and have outperformed their larger peers. Lexington at 9.6x FFO and a 2.7% discount to NAV is somewhat undervalued and has further room to appreciate.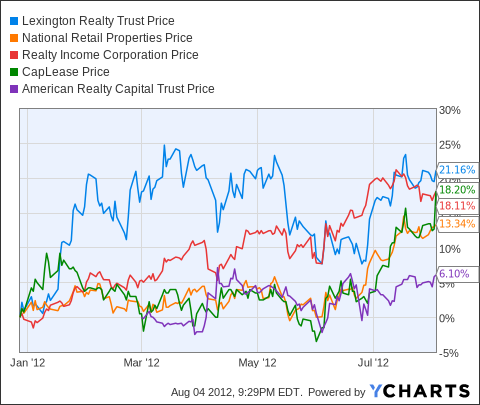 One thing that investors are drawn to right away is the significant reduction in the dividends of the company: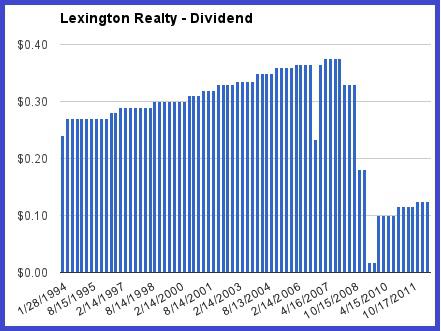 The dividend got cut from $0.33 to $0.02 at the height of the financial crisis. While many cut their dividend to conserve whatever cash they could, this would be considered extreme. Unless it was for a different reason. During this period, Lexington decided to "right size" their property portfolio by divesting non-core and less profitable businesses. This divestment program can be shown in the change to the company's balance sheet: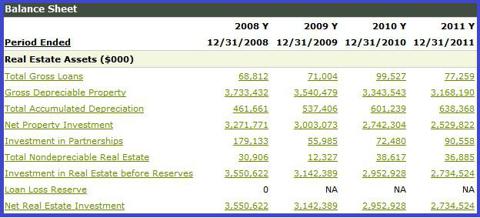 Click to enlarge
Source: Company site/SNL
And again by the reduction in debt and the balance sheet strengthening: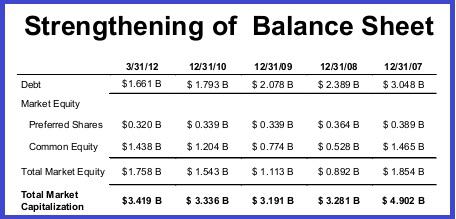 Due to the reduction in non-core and underperforming assets, I have less of a problem with the dividend cut as it is now supported by a stronger portfolio. Lexington has also begun re-growing their dividend to the appropriate level.
The Vornado Connection:
On December 31, 2006, Newkirk Realty Trust was acquired in a merger by Lexington. Vornado owned 10,186,991 limited partnership units (representing a 15.8% investment ownership interest) of Newkirk MLP, which was also acquired by Lexington as a subsidiary, and was renamed Lexington MLP. Lexington MLP is accounted for on Vornado's books utilizing the equity method. The Lexington MLP units are exchangeable on a one-for-one basis into common shares of Lexington. We record our pro rata share of Lexington MLP's net income or loss on a one-quarter lag basis because we file our consolidated financial statements on Form 10-K and 10-Q prior to the time that Lexington files its financial statements. (Summarized from Vornado's 2007 10-k.)
So Vornado has had an interest in Lexington since December 31, 2006 and has not sold their shares in the company. Lexington has been additive to Vornado's bottom line and could be held longer. While the stake is sizable, I do not feel that Lexington is being held back by a Vornado share overhang.
Bottom Line: Lexington Realty Trust is a REIT that has recreated itself as a smaller more focused triple net REIT - focusing on its core competency rather than number of acquisitions. The balance sheet is clean and the operations are well run, which makes for a strong investment foundation. The shares are cheap to their larger peers (more than size should account for) and should continue to outperform the sector. The preferred stock is attractive, but one must keep in mind that it is currently redeemable and should be able to be redeemed at lower yields. As such, the LXPPrC is the preferred of choice as it trades at a discount to par.
Additional disclosure: This article is for informational purposes only, it is not a recommendation to buy or sell any security and is strictly the opinion of Rubicon Associates LLC. Every investor is strongly encouraged to do their own research prior to investing.