FTI Consulting (NYSE:FCN) is a diversified, global consulting firm whose stock has been absolutely pummeled in the last few months. After two quarters in a row of disappointing earnings, the stock has fallen almost by half, from a high of $45 a share back in January to a 6-year low of around $23 a share. At only 10x estimated 2012 earnings, and at a whopping 13% free cash flow yield, the stock is exceptionally cheap.
Basics:
Shares: 42mm
Price: $23.10
Market Cap:$975mm
Debt, net of cash:$654mm
TEV:$1,581mm
EBITDA 2012e: $250mm (excluding $25mm of stock based compensation)
Capex 2012e: $31mm
Cash Flow from Operations guidance 2012: $150-175mm
2012 FCF / Share: $3.00
Company:
From the 10K:
"We are a leading global business advisory firm dedicated to helping organizations protect and enhance their enterprise value in difficult and increasingly complex economic, legal and regulatory environments. We operate through five business segments: Corporate Finance/Restructuring; Forensic and Litigation Consulting; Economic Consulting; Technology; and Strategic Communications. We work closely with our clients to help them anticipate, understand, manage and overcome complex business matters arising from such factors as the economy, financial and credit markets, governmental regulation and legislation and litigation."
FTI has a mix of pro-cyclical businesses, such as their Strategic Communications and Technology divisions, and some countercyclical segments, namely the Restructuring group and the Forensic and Litigation Consulting group. Some of their projects are quite involved, and hence lead to some lumpiness in their numbers.
Importantly, given the mix of segments, FTI should weather a downturn quite successfully. Below is the EBITDA generated from each segment in 2011:
| | |
| --- | --- |
| Corporate Finance/Restructuring | $98 |
| Technology | $77 |
| Forensic & Litigation Consulting | $69 |
| Economic Consulting | $67 |
| Strategic Communications | $27 |
| Corp OH | ($66) |
| TOTAL 2011 EBITDA | $272 |
In general, consulting is good business. Leverage is low, returns on equity (ROE) average 10%, capital expenditures are low, cyclicality is limited on an aggregate basis, and FTI's revenue and EBITDA have grown nicely since 2005. Below is a chart of the past decades revenue. Note how the business held up quite well in 2009.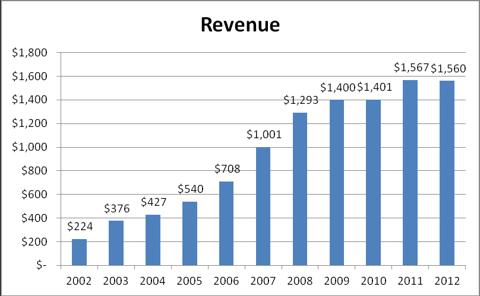 Click to enlarge
Next is a chart of the company's Earnings Before Interest and Taxes (EBIT). Note the peak was actually in 2009 as restructuring work peaked that year (including representing the Lehman Brothers creditor's committee for example).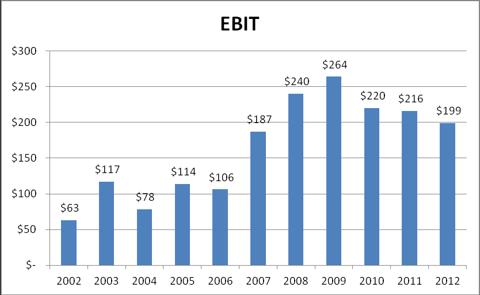 Click to enlarge
With such a variety of segments, it's hard to exactly pinpoint why, but generally consulting fees have been pressured in recent years, impacting margins as you can see in this chart: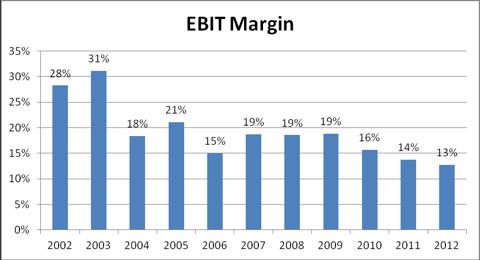 Click to enlarge
Recent Performance
Oddly enough, FTI's business is one that performs best at extremes in the cycle. For example, in 2006, the bull phase of the market was beginning to wind down, yet it was too early in the cycle for restructuring/bankruptcy work, which kicked in during 2008 and 2009. Today, I believe we are seeing somewhat of a similar wind-down of the pro-cyclical businesses, and the beginnings of the ramp-up in the restructuring business.
In fact, on the company's conference call last week, management noted that 2 large technology projects are rolling off this year, but given the economic weakness worldwide today, that lost business hasn't been replaced. Technology division revenue fell 16% year over year in the quarter, and while the Restructuring segment generated 9% yoy growth in the quarter, it was only enough to offset declines.
All in, revenue was flat (currency adjusted), and while margins improved somewhat from Q1, EPS again disappointed Wall Street. Backing out unusual charges, including a 10c revaluation gain, netted only $0.50 in Q2 earnings per share, well below the $0.56 street estimates. Note that the company's reported $0.60 EPS figures are inflated by gains that should be ignored.
Looking longer term, EBIT from the restructuring segment totaled $162mm back in 2009, obviously a peak year for restructuring/chapter 11 advisory work. Last year, restructuring EBIT totaled $79mm, less than half its peak two years earlier. Assuming a similar cyclical meltdown in 2013 or 2014, it seems quite likely that restructuring work could ramp up more than enough to offset declines in the other businesses.
In fact, the numbers suggest that perhaps FTI is more of a countercyclical play, something that I would deem as quite attractive in such uncertain times.
Going Forward
Management cut 2012 guidance when they reported Q2 numbers last week. EPS is expected to range from $2.15 to $2.35. Part of the guidance cut was actually due to an anticipated Lehman success fee that has slipped now into 2013. That $5mm fee move implied 10c in lower EPS for 2012, but now implies 10c in improved EPS for 2013.
2012 revenue guidance stands now at $1.56BB, roughly flat compared to 2011. Cash flow from Operations in 2012 should range from $150 to $175mm (they did $174mm in 2011). The good news here is that free cash flow per share should equate to $3.00, implying a 13% FCF yield on the stock at current prices. In doing this math I excluded $25mm of estimated stock based compensation for 2012.
Seasonality
Interestingly, FTI stock tends to perform extremely well in the second half of any given year. 2008 was an understandable exception. But generally speaking, the stock seems to trough every year around this time, then rally in the second half. I can only assume that this is because cash outflows tend to be front end loaded (due to a January bonus cycle), and business collections back end loaded.
Indeed, FTI burned $57mm in Cash Flow from Op's in the first half of 2012. But noting management's cash flow guidance of $150-175mm for 2012 implies that Cash from Op's in the second half of 2012 should come in at roughly $224mm. With a convertible bond due in July, the company used existing cash, plus drew down $75mm on their revolver to pay it off at maturity. On the call, management emphasized that once they pay back that $75mm revolver drawing, they then intend to embark on their stock repurchase program.
Assuming the $224mm of cash comes in evenly throughout the back half of 2012, then they should be able to pay off that $75mm revolver by mid to late August. That means the stock repurchase program authorized in June should mean actual support for the stock likely in the next few weeks.
The size of the stock buyback program is also noteworthy. The company plans to repurchase a whopping $250mm of stock over the next two years, which is simply a huge amount given that their market cap is $975mm as of today. They could retire 25% of the float at these prices! For some context, any buyback program that could reduce shares by even 10% is generally one I consider quite big.
They won't need to borrow either to repurchase shares. Free cash flow (CF from Op's less capex) will probably approximate $135mm in 2012, providing adequate cash to fund $125mm of buybacks per year. Given the large FCF yield on the equity (13%), it clearly makes a lot more sense to invest cash in their own equity than to make an expensive acquisition too.
Finally, given the back end loaded nature of their cash flow, its possible that the company will repurchase up to $100mm+ of their own stock, just in the next 5 months. Again, that is quite a lot for a $975mm market cap company.
Valuation
At its core, this is a margin improvement story, as well as a play on the economy either falling back into recession, or the economy improving. In either case, buying this stock at both a cyclical low (as margins are at all time lows at this point in the cycle), as well as at a valuation low, means there is significant upside to owning this assuming either one of these normalize. If both normalize, which actually seems like a highly probable case, then the equity could easily be a double.
First on the margins. Here is a look at FTI's compensation expense as a % of revenue, compared to a group of financial advisory peers:
Click to enlarge


Click to enlarge
(To calculate comp expense, I added SG&A and CGS, then subtracted out rent, D&A, R&D, and advertising expenses).
FTI clearly needs to rein in compensation expense, and while management has not targeted a specific margin level (ala Lazard for example), they did recently (and ironically) do a bit of in-house restructuring. Namely, they eliminated 115 or so staff members, which should reduce comp by $28mm on an annualized basis. I think there is at least 300 bps to 500 bps of margin improvement that seems likely as restructuring activity improves and as the staff cuts (enacted last month) begin to kick in.
Now on the valuation. Over the past 10 years, FTI stock has traded at a low of 8.5x EPS (today), and a high of 31x earnings. The average since 2002 is a 22x P/E ratio, and even in 2011, FTI's equity traded at 18x earnings. In 2009, FTI traded at a respectable 17.5x earnings. The theme of investors bidding up a stock to peak multiples on peak earnings, and then trough multiples on trough earnings resonates here.
Even assuming that their consulting businesses remain at lower margins than in the past, and hence lower P/E multiples, I think it's fair to say that 10-15x is a reasonable range for FTI stock going forward. The current multiple (at 8.5x) seems exceedingly overdone.
Here is my range of valuations: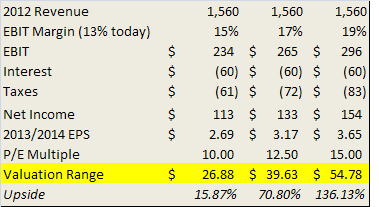 For reference, take a look at many of the comps of FTI, trading on average at 13.6x 2013 EPS. I left out Lazard as it's a mix of restructuring and asset management, so is not really a pure play. Trian has recently acquired a big stake in Lazard, with a similar margin improvement thesis.

Click to enlarge
Downside
The downside case is one whereby restructuring activity stays low as well as margins continue to fall. Worst case could be mid to high teens on the stock if a "limp along" economy persists for the next few years. While I somehow doubt that there isn't another wave of restructuring activity in the next two to three years to bump up earnings, it is a possibility.
Upside
In the valuation above, my base case is approximately a $40 per share valuation and 12.5x earnings. I didn't even factor in stock repurchases in any of the valuations above. If the company did manage to repurchase $250mm of stock at say $30 per share, then 8.3mm out of 42mm shares would be retired, meaning EPS could easily be $3.90 in a couple years, just with some margin improvement and flat revenue.
An average comp multiple (13.6x) on $3.90 in EPS would imply a $53 stock. At its peak in late 2008, FTI traded over $70 per share, and even last year reached $45. I don't think these are crazy valuations, it may just take a couple years of patience. Good luck.
Disclosure: I am long FCN.