Agency mREIT investors can thank FBR Capital Markets for the sell-off this week. FBR downgraded Annaly Capital Management (NLY) on Monday, warning investors that Annaly could cut its dividend soon.
Wow...thanks for the insight, Einstein!
Annaly has already cut its dividend three times in the past five quarters.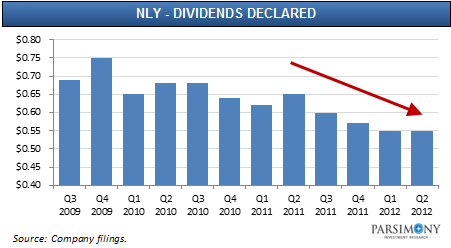 We don't know about you, but as long time Annaly shareholders, we have already prepared ourselves for future cuts.
The Current Environment is Ideal for Agency mREITs
As we highlighted in a recent article, we think mortgage REITS, particularly agency REITs, continue to be a suitable investment for investors seeking good risk-adjusted yield. Agency mortgages are guaranteed by government-sponsored entities (implying limited credit risk). Conversely, non-agency securities do not carry a similar implied guarantee, making them inherently more risky due to the higher relative credit risk.
Even though interest rates are lower than they were three months ago (i.e., the yield curve has shifted to the right), the current yield curve is still very steep, which is an ideal environment for mREITs.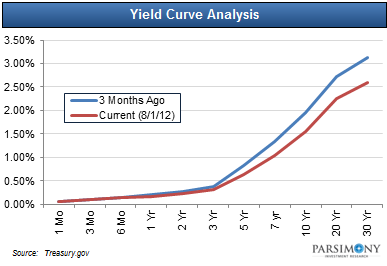 If the economy remains stagnant and interest rates remain low (as expected), mREITs should continue to prosper.
Note: A mortgage REIT's principal business objective is to generate income for distribution to its stockholders from the interest rate spread (i.e., the spread between the interest income received on its mortgage-backed securities and the cost of borrowing to finance its acquisition of mortgage-backed securities). In other words, the slope of the yield curve is one of the main factors that drive mREIT profits.
Investors Should Buy Agency mREITs on the Dip
We believe that this pullback is offering investors a great opportunity to add to their agency mREIT positions. In fact, two of our favorite mREITs, Annaly and American Capital Agency (AGNC), are currently in the "Buy Zone" (see graphs below).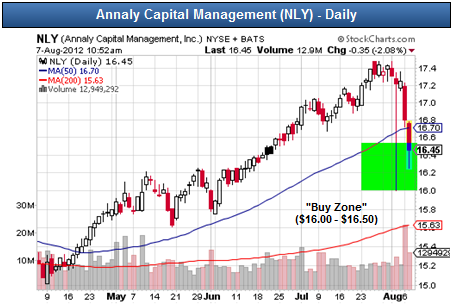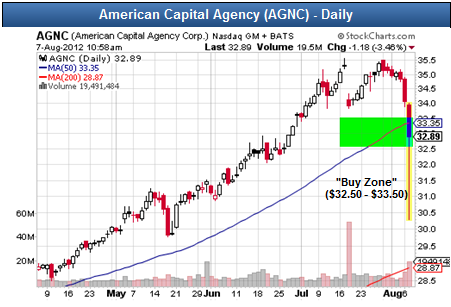 Conclusion
While future dividend cuts are a real possibility, we believe that agency mREITs will continue to offer investors great risk-adjusted yields (10%+) for the foreseeable future (18-24 months) and we would be a buyer on any meaningful pullback.