On June 27, O'Reilly (ORLY) warned of weak June sales and a weakness in the Auto Parts Industry; as a result, its shares dropped 22%. AutoZone (AZO) also fell by 6%. Although ORLY had cut its same store sales estimates, it was able to perform better than analyst estimates for its earnings in the quarter ending July 2012. The same can be expected of AutoZone. As the company matures, same store sales will see a slower YoY increase, but the long term outlook for AutoZone seems promising. Moody's has also recently upgraded AZO's outlook to positive from stable. We recommend buying AZO because of its stability and earnings surprise history.
Business Overview:
AutoZone , an automotive parts retailer, had 4,910 stores as of May 2012. 43 new stores were added in the last quarter, which brings the year's total of new stores to 97 so far. AutoZone also takes advantage of the boom in e-commerce and sells through its website, autozone.com.
It operates in two segments, namely Auto Parts Retail and Other. The Other segment includes the online business, as well as businesses like ALL DATA, which deals in software for repair information and diagnosis. 98% of revenues come from auto part stores and 2% from the Other segment. Gross profits from both segments have been rising over the years.
On a categorical basis, revenues come from failure (batteries, belt), maintenance (brake, oil filters) and discretionary (seat covers) services. Over the years, revenues from discretionary services have been decreasing.

Click to enlarge
Financial Performance:
Gross margin was 51.6% in 3Q2012, compared to 51.2%. The operating margin for the last quarter was 20.2%, compared to 19.9% in the same quarter a year ago. The net margin was up 0.3 percentage points in Q32012, as compared to last year. The margins have been expanding over the years; operating margin's 5-year average is 17.7%.
The company has a history of beating revenue and earnings estimates of analysts, as can be seen in the tables below. The first one gives revenue (in $ millions) surprises, while the second gives EPS surprises. The Q4 earnings release is scheduled for September 18.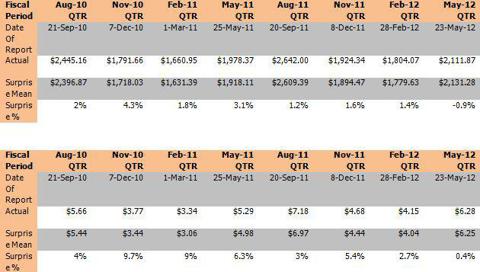 Click to enlarge
Sales growth has been slowing as the business matures. This can be seen from the same store sales figures in the chart below.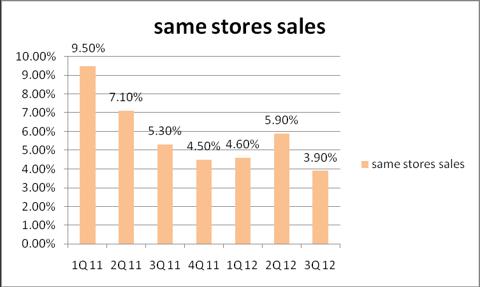 Click to enlarge
Debt does not seem to be an issue. Long term debt as a percentage of total capital was 164% in 3Q2012, compared to 151% a year ago. The (total debt-cash)/EBITDA is 7.2. There are $3.25 billion in bonds outstanding, 9.23% ($300 million) of which are maturing in 2012. On July 25, Moody's changed its outlook from stable to positive, while reaffirming Baa2 rating for AZO's unsecured debt. This is a medium grade long term rating with a moderate credit risk. The cash flow from operations is $798 million YTD, which will be sufficient for covering debt. Last year this figure was $897 million in 2011 and $741 million in 2010. The interest coverage ratio is 9.
Inventory turnover for 3Q2012 has been the same over the last three years, at 0.4. For the whole year, it is 1.7 compared to O'Reilly's 1.5 and Advance Auto parts' (AAP) 1.5.
Bearish scenario:
Few factors that can put pressue on AZO's shares are as follows:
The competition in auto parts industry rises from ORLY, AAP etc.
The gas prices rises which would lead to less driving of vehicles and hence less wear and tear.
The discretionary segment of revenues like new car seats would suffer if economic situation worsens.
Maturity might hurt the margins as expenses of stores rise faster than the revenues.
Valuation:
The stock is up 12% YTD. This is 9% less than the 52 week high value of $399.
The long term growth rate for EPS is 16.6% compared to ORLY's 16.9% and AAP's 14%.
The forward P/E for AZO is 14x compared to competitors like ORLY's 17x and AAP's 11x. Below is the valuation based on a forward P/E of 14x and a trailing P/E of 16x.

*calculated by applying 16.6% growth rate to earnings.
To reiterate, we recommend buying AutoZone because of its future outlook and earnings surprise potential.
Disclosure: I have no positions in any stocks mentioned, and no plans to initiate any positions within the next 72 hours.