The degree of financial repression in developed sovereign debt markets is historically unprecedented. The only similar low-interest rate environment was Japan after the Ushinawareta Junen, or "lost decade." Japan has still yet to recover from their ongoing bout of "zombification." Never has such a haphazard, easy-money policy pervaded the entire developed, overlevered world.
Not So Safe Havens: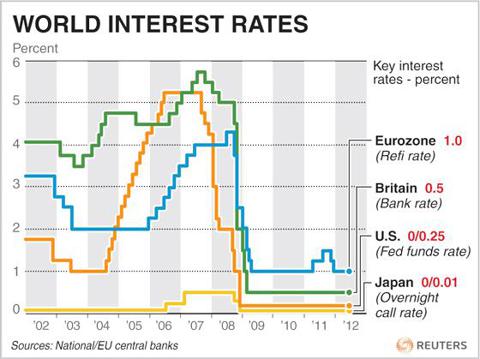 In this parched desert of funny money, there is at least one imperfect but overlooked oasis: Australian debt. The market is liquid, but not voluminous enough to accommodate the massive money flows of investment and central banks, so is often ignored in the media. Fortunately, this gives smaller, more agile investors an edge.
Fiscal Fundamentals
Australian debt to GDP is 7.8% net (collateralized by gold, forex, SDRs, other reserve assets) and 23% gross (not including unfunded liabilities).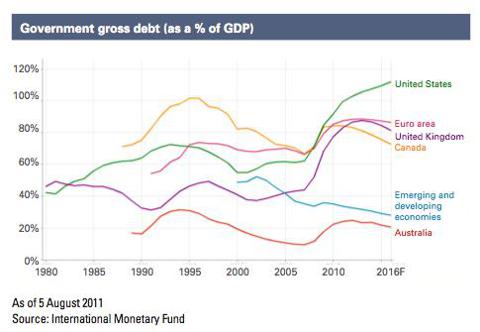 4.3% YoY GDP Growth.
1.2% Official Australian Inflation Rate.
The Australian 10 year is at 3.26%. Compare this to the U.S. 10 year at 1.5%.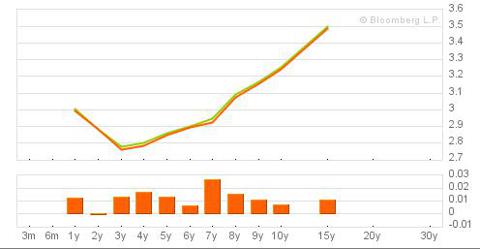 Real rate of return (nominal rate - inflation rate) =
Australian 10-year
(3.26 - 1.2) = 2.0 %
U.S. 10-year
(1.5 - 1.7) = -0.2 %
Bear in mind, the U.S. inflation numbers are artificially low due to government manipulation. The Australian inflation rate may be similarly misleading. (shadowstats.com)
Australian Jobless Rate: 5.2%.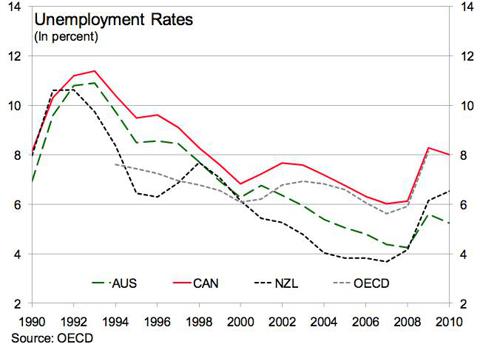 Currency Risk
The Australian dollar has been appreciating for decades, in tandem with the commodity boom. The trend will continue proportional to Chinese demand, and will receive a boost when the renminbi is internationalized and valued upward.
Eventually, with a stronger RMB, the AUD will not need to be devalued as much in order to help exports. However, the AUD is extremely strong at present and the Reserve Bank of Australia is desperate to devalue.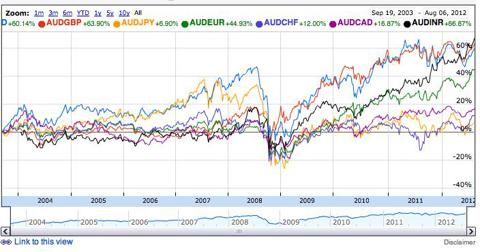 The RBA has been cutting rates in recent months. If the global economy continues to falter, expect lower rates.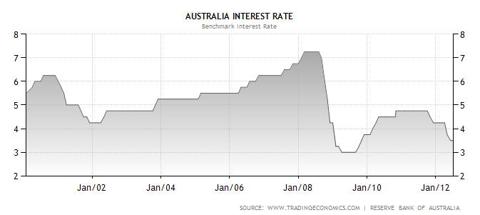 Australia has very favorable terms of trade (due to commodity exports, including hydrocarbons, industrial and precious metals)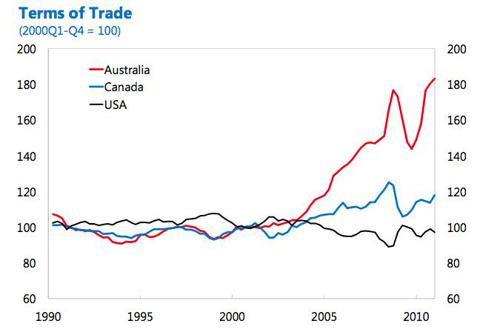 Aussie bonds have been seen as a risk-asset due to the Australian dollar's correlation with commodity prices and Chinese growth. Long term, this may be good, as commodities preserve value in the face of competitive currency devaluation. However, global downturns invariably hurt the Aussie dollar.
This may change going forward, if the Aussie's safe-haven status counteracts the effect of declining commodity exports. In the contraction beginning in April, the AUD has been uncharacteristically resilient. Investors may be catching on to the attractiveness of Australian bonds.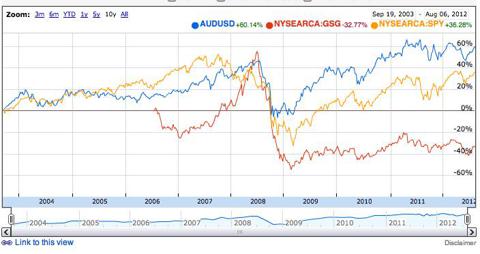 AUD/USD vs. Goldman Sachs Commodity Index ETF vs. SPY
Australian assets are a proxy to Chinese growth; the worse China does, ceteris paribus, the weaker the AUD. will be.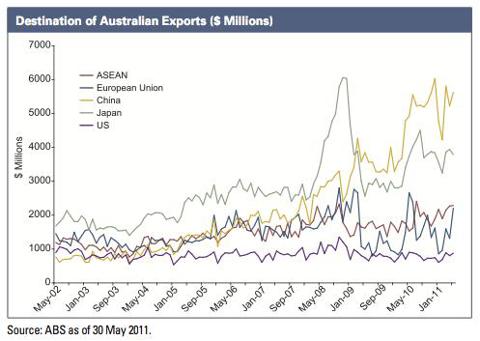 Even the central bank of Kazakhstan has been stepping up purchases in recent months:
In the past month, say traders, the central banks of Germany, Switzerland, Kazakhstan, the Czech Republic and Vietnam have either bought or are considering adding the Aussie to their foreign exchange reserve portfolios.

In fact, Switzerland, which has been dubbed the "new China" because of the huge forex reserves it has amassed, started buying the Aussie nine months ago, according to local media reports and has established a trading panel of banks to oversee buying of Aussie-denominated assets.

"Six years ago we used to talk to less than nine central banks," says Richard Grace, chief currency strategist at Commonwealth Bank of Australia. "Today we speak to more than 50 and we know they are adding the Aussie to their reserves." [Financial Times]
The RBA governors love to brag that they have "flexibility," which is true. Australian rates can go lower in the event of an (impending) downturn, unlike Germany, U.S., U.K., Japan, et al. The RBA is not out of bullets, unlike the Fed.
Tactical
AUD is very strong, it's better to buy dips, anticipating or in tandem with RBA easing. There is serious currency risk of the AUD against the dollar: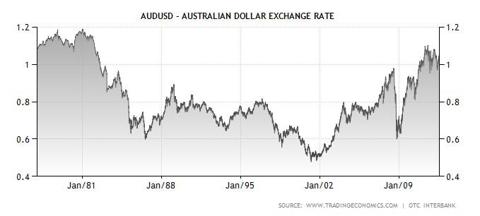 Beware the Real Estate Bubble
Australian house prices are quite elevated.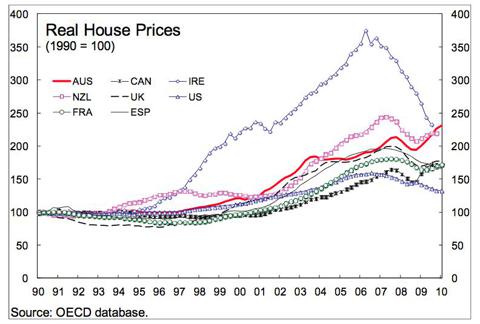 How does this affect bonds? If history is any example, a popped real estate bubble will cause the Reserve Bank of Australia to lower rates to ease the hangover, dissuading mortgage bankers from jumping out of the window.
If mortgages are defaulted upon en mass, AUD will evaporate, contracting the money supply, decreasing velocity and driving up the exchange rate. This could be good for bonds in a several month-time horizon, but the RBA would swiftly intervene and lower rates (maybe even to ZIRP status). The RBA might bail out the banks who hold these mortgages, which could be negative for the AUD.
But these banks, upon receiving the money, will do what with it? Just what U.S. banks have done: store excess reserves as government bonds. They will not lend in a contracting economy. This is, of course, to assume the U.S. and European kleptocratic-cowardice banking model is observed down under.
There is also the possibility that the Australian bubble is much more tame than others. This may in part be explained by high immigration. One can only hope.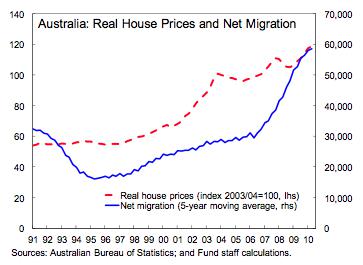 Key Points on Australian Debt
Australia has very low public debt, and non-government debt actually overshadows public.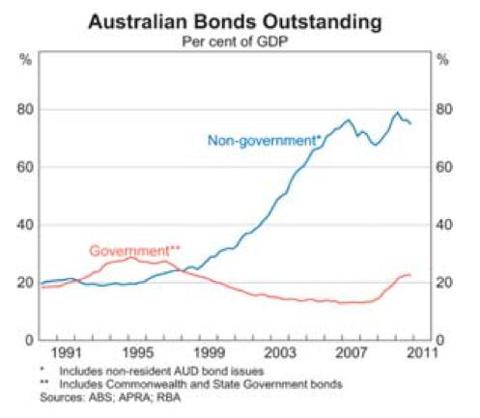 The non-government bond market can be divided into four categories:
Australian financial institutions (banks, insurance, etc.)
Corporates (Non-financial)
"Long-dated asset backed" = mortgage backed collateralized debt obligations (risky)
Kangaroo Bonds = AUD denominated bonds issued by foreign companies.
Almost all corporate bonds remain investment grade. This is not due to any superhuman prudence on the part of Aussie bankers, but merely because Australia's housing bubble i) is not as dramatic as that of the U.S., Spain, Ireland or Iceland, and ii) it has yet to fully burst. Australia's high savings rate will continue to flow into fixed income. All the money invested in companies participating in the mining boom will hide in Commonwealth government securities.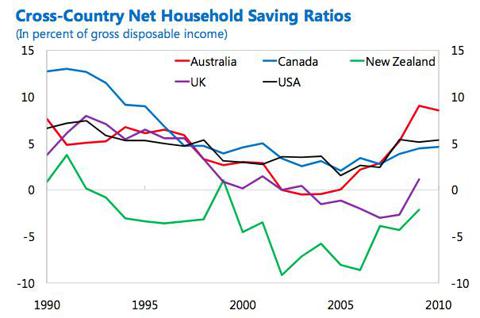 Australia already has a high household debt level, which may be a headwind to growth going forward.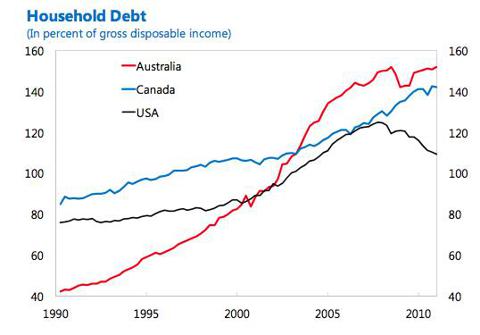 Fortunately, for now, non-performing loans are relatively low: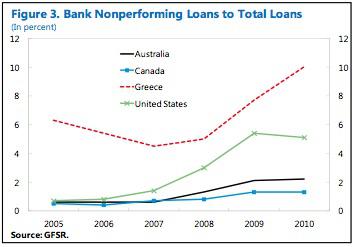 Note: Kangaroos may be undervalued.
According to PIMCO's Michael Dale:
In the second quarter of 2011 the average size of bond sales in Australia by overseas borrowers shrunk considerably as new bank capital rules from the Basel Committee on Banking Supervision (Basel III) cut demand. Under Basel rules coming into force by 2015, banks must hold enough assets that can be converted into cash to meet their needs for 30 days in a sudden crisis.

The Australian Prudential Regulatory Authority (APRA) announced in February 2011 that only sovereign and semi-government bonds were traded in sufficiently 'large, deep and active markets' to meet the criteria of 'Liquid Assets'. The regulator's ruling caused yields on kangaroo bonds sold by some supranational issuers to rise relative to state government debt. (Dale, page 4)
Their loss is our gain; banks can't use Kangaroo bonds as reserves, but private investors can.
Service-Based Fragility
Australia, like most of the West, is decidedly a service-based economy. But really there is no such thing as a "service-based" economy; services hardly contribute to the balance of trade, and scarce few (i.e. medicine) are fundamental in the hierarchy of economic needs.
The mining sector has been booming in the last few years, however.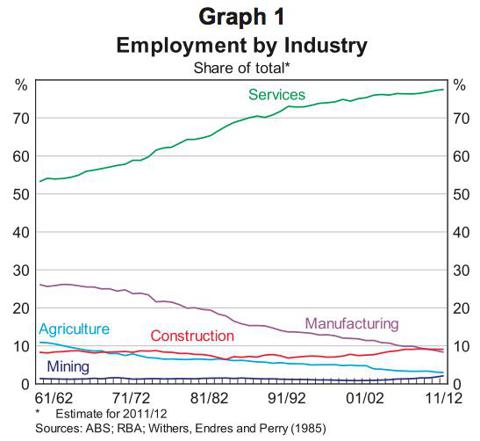 What does this absence of manufacturing and tangible production mean for risk managers?
The mining and declining industrial sectors could go on supporting the luxuries of the service sector, but that is contingent upon global growth and high commodity prices.
If incomes significantly declined in Australia, an event-horizon of disaster would take hold. Services are elastic and the paradox of thrift would occur should the economy become limited to domestic consumption exclusively. Australia would not do well under autarky.
This portends well for bonds, however. Deflation and debt-destruction would strengthen the AUD, but the subsequent commodities sell-off would weaken the exchange rate. It is unclear which force would win out in the end.
However, two trends remain intact:
Australia does not have a government debt problem and,
Long-term, as the Renminbi is inevitably valued upward, there is diminishing incentive to devalue the AUD.
Ultimately, Australian anything is a trade for commodity bulls.
Investment Vehicles
There are several Australian debt funds. Some of the better known include:
Aberdeen Asia-Pacific Income Fund (NYSEMKT:FAX) 5.3% yield
PIMCO Australia Bond Index ETF (NYSEARCA:AUD) 3.53% yield
FAX has a higher yield, more risk, and it is a closed-end fund. FAX has much higher average daily volume than AUD and has been around for decades. Both PIMCO and Aberdeen are very well-reputed institutions.
Warning: Do not buy Australian MBS unless you are a vulture investor or sophisticated prop desk interested in picking up dimes in front of a steamroller. Imagine buying MBS tranches prior to Lehman - very risky.
Another Warning: The Australian bond market is mostly OTC; if there is a serious freeze, these securities are riskier than open exchange-traded securities.
Investment Case Balance Sheet
| Bullish | Bearish |
| --- | --- |
| Low Debt/GDP | Housing Bubble |
| Low Inflation | Serious Currency Risk |
| Niche Market | China Slowdown |
| Great Terms of Trade | High Private Debt |
| Lower Rates to Come | Silly Accents |
Recent Rate Cuts

Australian bonds appear short-term overvalued (along with the broad risk market), but dips should be bought sooner rather than later, because the RBA will be driving rates lower and investors might miss the boat. This is an opportunity to simultaneously front-run the central bank and hide in a relatively safe haven. The $7.00 - $7.25 level shows strong support.
Otherwise, investors should buy precious metals ((NYSEARCA:PHYS) and (NYSEARCA:PSLV)), select equities and other high-quality debt securities.
The post-Great Moderation period, or "New Normal" is not friendly to buy-and-hold investors, but with a return-of-capital mentality they can weather the storm.
With dollar reserves widely dispersed in Chinese, Japanese, Brazilian and other surplus nations, it is likely to assume that there will come a point where 2% negative real interest rates fail to compensate for the advantages heretofore gained in buying sovereign bonds.

China, for instance, may at the margin shift incremental Treasury holdings to higher returning commodity/real assets which might usher in a gradual or somewhat sudden reconfiguration of our current dollar-based credit system.

Together, there is the potential for both public and private market creditors to effect a change in how credit is funded and dispersed - our global monetary system. What that will look like is conjectural, but it is likely to be more hard money as opposed to fiat-based, or if still fiat-centric, less oriented to a dollar-based reserve currency. In either case, the transition is likely to be disruptive and an ill omen for seafaring investors. [Bill Gross, PIMCO Insights]

Insanity in individuals is something rare - but in groups, parties, nations and epochs, it is the rule. [Nietzsche]
REFERENCES:
1. Dale, Michael. The Australian Bond Market: A Profile for Defensive Investors. 2011. PIMCO Australia.
2. Jang, Byung Kyoon and Sheridan, Naimh. Bank Capital Adequacy in Australia. 2012. IMF Working Paper.
3. Basu, Suman et al. Australia: Selected Issues. 2011. IMF Country Report.
4. Lowe, Phillip. The Changing Structure of the Australian Economy and Monetary Policy. 2012. Reserve Bank of Australia.
5. Tumbarello, Patrizia and Wang, Shengzu. What Drives House Prices in Australia? A Cross Country Approach. 2010. IMF Working Paper.
Disclosure: I am long FAX, PSLV, PHYS and adding to these positions at price targets.