Open Table Inc. (NASDAQ:OPEN) reported earnings on August 2, 2012 after hours. The stock was at $34.15 at the close of the regular trading session on August 2, 2012. The stock price popped dramatically in after hours trading as it reported. Monday August 6, 2012 it closed at $40.29. Plus it was up to $40.95 in after hours trading Monday, after it announced a $50 million share buy back program. Such a huge move up within a few days is normal for great news; but OPEN's news was not great.
The share buyback program announced is typical for a stock that is not likely to move up much in the near future. It is a gesture that says the company is trying to boost or stabilize its share price by buying back some of its stock. It means the company has no great new expansion plans on which to spend its money. It means this growth stock is not likely to grow quickly. It means it is a sell at its overly high P/E of 44.23. It means an aggressive trader may wish to short or buy puts on this stock near term to fade this short squeeze rally, which is likely to fall quickly back to where it started from.
With the world economic situation trending downward, cutting back on expansion seems reasonable. A company doesn't want to spend on expansion when the world is contracting, unless the company's expansion is highly profitable. OPEN's new international expansion is not. Results from OPEN's international operations, which are mostly European, have been a bottomless money pit for OPEN thus far. For Q2 2012 international non-GAAP adjusted EBITDA were -$0.8 million compared to a -$0.5 million a year ago.
Why did OPEN's stock pop so much then? The reason is likely an HFT/momentum trader mediated short squeeze. If I am correct, this short squeeze should be just about over. The big short squeeze was possible because OPEN's short interest is 55.60% of its float. With this amount of short interest, the HFT/momentum traders simply "spin" the earnings news into what they think investors want to hear. Then they run the stock up to undeserved heights as many of the shorts try to cover quickly to avoid near-term pain.
How realistic is the upsurge? Not very. From the prior quarter to this quarter, institutional investors have sold 90.49% of the shares they owned in OPEN. These folks are long term investors. They don't normally trade in and out of stocks. They trade out when there is something seriously wrong with a stock. When you see a 90%+ exodus, these conservative, long term investors are seeing something wrong with OPEN. The Q2 2012 results should do little to change that.
In Q2 2012 Net GAAP income year over year fell to $5.7 million ($0.25 per share) from $6.3 million ($0.26 per share) in Q2 2011. According to CNBC's Herb Greenberg, this was the first quarter of negative earnings growth. This occurred in spite of +15% year over year revenue growth (i.e. margins were lower). It was only in "adjusted earnings" that OPEN beat by $0.05 with $0.42 per share versus the year ago adjusted figure of $0.37 per share. The company also raised its non-GAAP FY2012 guidance to a range of $1.54 to $1.66 (or a midpoint of $1.60). This was $0.03 better than the prior adjusted FY2012 earnings estimate midpoint of $1.57 per share. However, the midpoint raise is notably less than the $0.05 adjusted beat by OPEN in Q2 2012. This sounds negative to me.
A major reason for the "adjustments" to OPEN's GAAP income was stock-based compensation. In other words OPEN "adjusted away" compensation paid. This kind of accounting hand waving should be illegal. I am not against a tax break for stock compensation. However, to tell investors that you are not really spending money on employee compensation when in fact you are is anathema to me. Such accounting "adjustments" are tantamount to not accounting for pension plans, health care plans, or even salaries as primary costs. Those are all benefits to the employee. They are all expenses to the company. The stock based compensation dilutes investors' ownership stake in the company. It is a real cost too.
Bear analyst Brad Safalow of PAA Research states the growth metrics are deteriorating. He points to the decrease in growth of diners seated per restaurant from 11% in Q4 2011to 5.2% in Q2 2012 as a prime example.
OPEN is trying to expand outside the US. The international expansion is a signal to investors that good US expansion opportunities are fewer and farther between. The two charts below of Installed Restaurants and Seated Diners demonstrate some important points.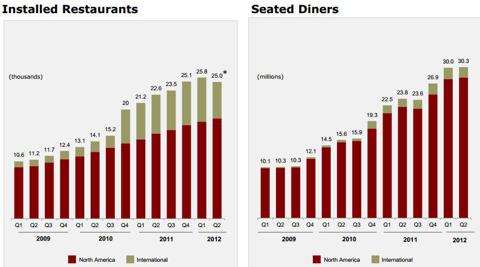 The very small gray areas on the tips of the Seated Diners bars show that OPEN is getting very little value out of its large expansion in international restaurants. In fact, International operations have been losing money for several years. The steady gradual increase in the number of North American Installed Restaurants (the red part of the bars) tells you that the number of North American restaurants is still increasing. However, the "rate of increase" is diminishing. The relatively consistent small increase each quarter is a smaller and smaller percentage of the total number of North American Installed Restaurants (i.e. slower growth).
Further, the US economy has itself been slowing down (from GDP growth of 2.0% in Q1 2012 to GDP growth of 1.5% in Q2 2012). OPEN's growth in North America seems likely to slow further or disappear altogether near term, especially with the fiscal cliff looming at the end of this year in the US. Even in a good US economy the US growth would likely be slowing. Our current worsening economic times should exacerbate that situation significantly.
OPEN is a sell at this time. It is trading at a P/E of 44.23 and an FPE of 21.21. To my mind the FPE is highly in doubt. Europe seems bound to worsen. The US seems bound to slow further. Analysts' estimates for earnings are far too high under the current economic circumstances. Further even the "overly optimistic" average analysts' Next 5 Years EPS Growth per annum estimate for OPEN of 23.16% doesn't justify OPEN's 44.23 P/E. As a comparison, Schlumberger Limited (NYSE:SLB) with a comparable average analysts' Next 5 Years EPS Growth per annum estimate of 21.58% trades at a PE of only 17.99. Continental Resources Inc. (NYSE:CLR) with a comparable average analysts' Next 5 Years EPS Growth per annum estimate of 25.00% trades at a PE of only 18.84. OPEN's earnings and revenues are much more at risk than the earnings and revenues of either of SLB or CLR.
Yes, OPEN is an internet stock, but it should still have some backbone to its earnings and revenues estimates. OPEN is not seeing accelerating growth; it is seeing decelerating growth. With the economy worsening, it may slow to a halt or worse. Investors should sell OPEN's short squeeze rally. If you are an aggressive investor you may consider shorting the stock. The two year chart shows that OPEN has already fallen from a recent high of $115.30 to its current $40.29, and it is still in a downtrend.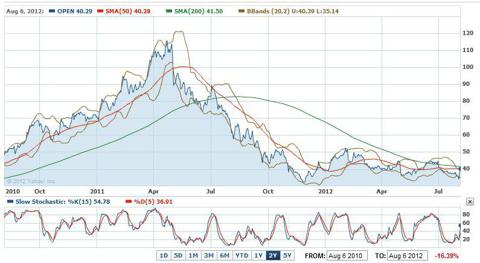 The slow stochastic sub chart shows that OPEN is neither overbought nor oversold at the current time. The main chart shows that the 50-day SMA is firmly underneath the 200-day SMA (a sell signal). The recent low of $34.15 is a possible level of near term support. You should be able to short OPEN safely down to that target. Depending on the US and world economies, you may wish to short OPEN much further. OPEN is as much a cyclical stock as restaurant stocks. Many high multiple restaurant stocks such as Chipotle Mexican Grill (NYSE:CMG) and Starbucks (NASDAQ:SBUX) are already in retreat. OPEN seems destined to join them. Its P/E is higher than either of the above named stocks' P/E's.
The share buyback program is non-committal so far. OPEN did not specify the time frame of the buying, or when it would start buying. OPEN could well wait for the stock price to fall considerably from its current level before it buys even one share. In fact the wording of the 8-K announcement seems to indicate that the company will wait for the stock price to fall, so it will be able to buy more shares at a reduced price. The buy back program is not a good reason to bid the stock up in the near term; it is not a good reason to hold the stock. OPEN is a sell.
Note: Some of the fundamental financial data above is from Yahoo Finance.
Disclosure: I am short OPEN.