Carrefour (OTCPK:CRRFY) is the second world-largest supermarket retailer after Wal-Mart (NYSE:WMT) and the largest in Europe. Carrefour operates through four grocery store formats: hypermarkets, supermarkets, cash and carry and convenience stores. Carrefour is based in France but has operations across Europe, Asia and Latin America.
The company business can be split between a mature European business and a growth franchise in emerging markets. Despite the high growth achieved in emerging markets, France still accounts for 43% of sales and still generates more than 70% of sales in Western Europe (including France). Last year, the company proceeded with the spin-off of its hard-discount unit, Dia, with the goal of restructuring its business portfolio and increase shareholder value.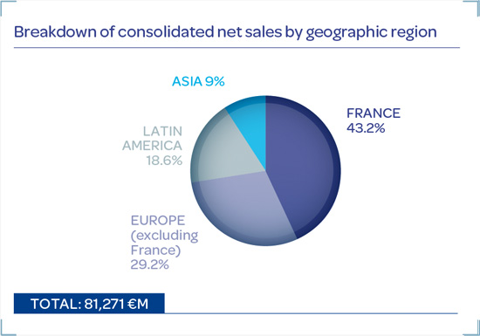 Click to enlarge
Source: Carrefour
Over the last years, Carrefour has struggled to be competitive and systematically failed its business goals, resulting on three different CEOs leading the company since 2005. It implemented three turnaround plans over the last few years, but failed to improve the business performance leading to the issue of several profit warnings. Unsurprisingly, this has resulted on an awful performance on the stock market.
From the peak reached in 2007, Carrefour's share price has tumbled by around 70%. More recently, the stock price appears to have reached a bottom, supported by expectations of a new turnaround plan and some stabilization in the business key figures, especially in France.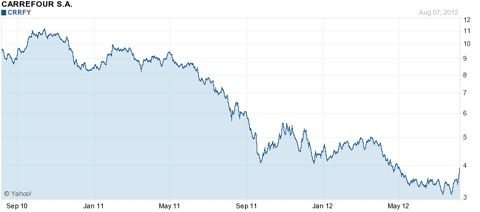 Click to enlarge
Source: YahooFinance
Additionally to weak share performance, recently Carrefour cut its dividend payments to shareholders after the dividend cut from €1.08 ($1.34), per year over the previous four years, to €0.52 ($0.64) per share regarding 2011 results. However,given the current stock price Carrefour's dividend yield of 3.2% is still attractive.
Domestic Issues
France has a fragmented hypermarket industry, which resulted on margin pressure to all operators in recent years and all operate currently at a low margin level of around 2-3%. Carrefour domestic operations have been a laggard over the last few years, with sales trends deteriorating and continuously losing market-share. Its business has suffered from fierce competition, mainly from E.Leclerc which has the goal of overtaking Carrefour to become France's leading food retailer in 2015.
Over the last few months, Carrefour's underperformance has been driven by poor execution, aggressive competition and uncompetitive pricing. The company started to raise prices last year, which led to sharp losses in market share and even lower operating margins due to high fixed costs, leading to EBIT down 32% to €862m ($1,070m) in 2011 and an EBIT margin down 86bps to 2.2%, the lower margin achieved since 2006.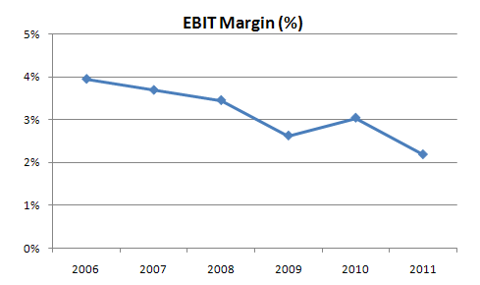 Click to enlarge
Source: Bloomberg
Moreover, its main competitor has been increasing consistently its market-share for more than four years and still remains 4% cheaper than Carrefour. Despite Carrefour's €2bn ($2.5bn) of investment since 2008, it's still losing market-share and continues to be perceived has more expensive than competitors.
Turnaround Plan
Despite the measures implemented over the last few years, the business performance at Carrefour clearly shows that the company was heading on the wrong direction. This performance has cost Lars Olofsson the CEO job, who was in charge only since 2009. Georges Plassat took over as deputy CEO of the Carrefour Group on 2 April, ahead of assuming the post of CEO on 18 June 2012.
With a new management team on board recently, the company should present shortly a new strategy. As the new CEO has affirmed, a business turnaround will need at least three years. A first step has already been taken, from Carrefour's sale of its Greek operations to its local partner. Going forward, Carrefour should concentrate its operations on a smaller number of countries where it can be a market-leader.
One of the main issues Carrefour needs to resolve is how to become more competitive domestically, namely with its main competitor E.Leclerc, which is obviously difficult to achieve given that the two previous CEOs failed to do despite strategies for better buying, more own label products and a move to a single brand.
To unlock value for shareholders Carrefour is likely to (and has attempted before without much success) sell part of its real estate holdings. This could also serve to finance its investment (capex) on stores, improve pricing or reduce debt. Additionally, a separate listing of its emerging-markets assets, mainly the Latin American ones, could also add value some value through better valuation of these assets.
Valuation
Unsurprisingly, Carrefour currently trade at a discount to its retail peers. The weak business performance and several failed attempts to turnaround the business, resulted on investors' skepticism and lower valuations.
Comparing Carrefour's multiples to European and global peers like Wal-Mart, Casino-Guichard (OTC:CGUIY), Ahold (AHONY.PK) and Tesco (OTCPK:TSCDY), shows how big can be the upside potential if the new management can solve Carrefour's woes.
| | | | | | | | |
| --- | --- | --- | --- | --- | --- | --- | --- |
| Company | Market Cap ($b) | P/E Ratio (NYSE:X) | P/BV | P/Sales | EV/Sales | EV/EBITDA | EBIT Margin |
| Carrefour | 13.6 | 12 | 1.64 | 0.13 | 0.25 | 5.20 | 2.71% |
| Wal-Mart | 252 | 15.1 | 3.66 | 0.56 | 0.67 | 8.60 | 5.94% |
| Casino-Guichard | 10 | 12.9 | 1.18 | 0.22 | 0.46 | 5.90 | 4.05% |
| Ahold | 13 | 10.3 | 1.94 | 0.35 | 0.4 | 5.82 | 4.45% |
| Tesco | 41 | 9.6 | 1.46 | 0.4 | 0.48 | 6.80 | 5.6% |
Source: Bloomberg
Conclusion
With a new CEO steeping in, the expected new business strategy can be very positive for the company and trigger a better sentiment towards Carrefour's stock. The new plan is expected to be presented at the end of the month together with the half-year results.
Although investors will require some positive track-record to re-rate Carrefour business, its current depressed valuation already reflects investors' very low expectations. In case the new CEO can successfully transform Carrefour business the upside potential, mainly in a medium to long-term basis, can be very high given the current discount to some of its peers.
Disclosure: I have no positions in any stocks mentioned, but may initiate a long position in OTCPK:CRRFY over the next 72 hours.