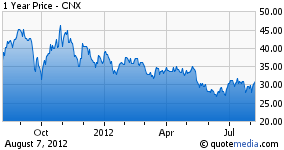 With the natural gas surplus having depressed the coal sector, let us continue to examine the coal industry participants to play a rebound. Consol Energy (CNX) is a large and respected company. Being both a coal and natural gas player, often Consol finds itself ignored by investors. Should Consol be in your coal basket?
Consol has a solid natural gas position in the Marcellus and Utica. Consol's joint venture with Noble Energy (NBL) showed a market value of Consol's Marcellus acreage of $3.3 billion. Their Utica joint venture with Hess (HES) shows an inferred value $600 million. Year end 2011 proved reserves were an impressive 3.5 tcf. Second quarter 2012 production was 410 mmcf/d.
While the natural gas division is the growth engine, Consol's main business with a long operating history is coal production. Consol holds approximately 4.5 billion tons of proved and probable coal reserves, with 62% located in northern Appalachia.
Consol's coal earnings in 2011 was $933 million of the company's $1.5 billion in cash flow. For the year met coal had higher profits than thermal coal. Consol can be described as a coal company with substantial other assets.
Many coal companies like James River (JRCC) and Arch Coal (ACI) are in a precarious position, dependent upon a significant industry turnaround for survival. Consol's clean balance sheet includes debt of $3.1 billion.
Yet investors may lose interest in owning shares of Consol from here. With a market cap of $6.8 billion, Consol has an enterprise value of $9.9 billion. Consider the underfunded pension obligations of $3.3 billion and the stock becomes downright expensive.
The long lived, low cost natural gas operations are remarkable but ought not have the same perceived value in the new shale gas world. Robust natural gas production is the ironic problem for Consol's coal business. With met coal overtaking thermal coal in profitability last year, suddenly Consol is leveraged to Chinese growth.
Management and Consol bulls will point to the cash continued to received from the JV's and from selling of non-core assets. The pieces such as infrastructure, facilities, coalbed methane and shallow gas assets are fine, but a few hundred million dollars here and there is not meaningful next to the enterprise value.
Consol is a fine company which, unlike many peers, avoided getting crushed in the coal market depression. With a small dividend, rich valuation and no catalysts on the horizon, however, Consol shares are a weak play on a recovery in the coal market.
Disclosure: I have no positions in any stocks mentioned, and no plans to initiate any positions within the next 72 hours.