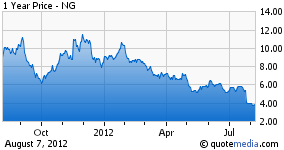 In a recent article I posed the question "Is NovaGold A Long-Term Buy At These Levels?" Today I put my money where my mouth is, and initiated a position in NovaGold (NYSEMKT:NG), as I have been bullish on the stock and on the gold miners in general.
Why did NG sell off so hard? We all know by now that NG had been selling off in recent months with all of the other gold miners, [see any of the major gold miner indexes, (NYSEARCA:GDX), (NYSEARCA:GDXJ), (NYSEARCA:NUGT), etc.] given that the price of gold has been under pressure due to a stronger dollar and potential deflation risks. The largest gold ETF (NYSEARCA:GLD) is just about flat for the year. But then the announcement came after Barrick Gold's (NYSE:ABX) poor quarter, with respect to the Donlin Gold Project, and NG was taken out back and shot. For me, the selling was overdone, as the relative strength index reading on the stock touched a 23, well below the 30 level considered the cutoff for overselling, and in my opinion, the long term prospects of NG are intact for investors with a five to ten year horizon.
After opining why I felt it was a good long term buy, I also investigated which major institutions are holding NG, and what insiders are doing. There are a few hedge funds holding positions in NG. John Paulson's hedge fund held just under 32 million shares, accounting for approximately 11% NG's float as of March 31st, 2012. During Q2, they added another 3.8 million shares.
Seth Klarman's Baupost Group, famous for successful long term investing, is also is holding a significant position in NG. For the quarter ending in March 2012, Baupost owned approximately 10 million shares, representing 3.6% of the company's float. They also added to the position in Q2, in May. Baupost has been accumulating shares of NG since of 2011. It is likely they have continued to their purchasing after the substantial share depreciation following the sell-off as the long term prospects of the company remain in place. Other hedge fund managers holding NG include Louis Moore Bacon, John Griffin and Murray Stahl.
Insiders at the company have not been buying or selling shares this year or last. While I would like to see insider buying as a strong indicator of future strength, the lack of insider selling is in my opinion a good sign for the future.
At current share prices of $3.80, I initiated a position, for the long term. While it is speculative, I think the company's assets could be a possible takeover target. I also believe that the stock will move with the gold mining sector [as measured by , (GDXJ)] higher, should the sector return to favor with wall street, a catalyst being the a likely QE3 by the Fed. Finally, the long term prospects make the company a buy for the potential growth over the next five to ten years.
Disclosure: I am long NG. Initiated position today (8/7/12)