Isn't it interesting the CEOs of so many American companies that could directly and substantially benefit from natural gas transportation are so quiet on the subject? Often it seems as if T. Boone Pickens is a lone wolf howling at a moon that couldn't be less interested.
One company in a great position to benefit from NGT is General Electric (NYSE:GE). GE's existing compressor and energy businesses are a perfect fit for re-industrializing America via the infrastructure needed to power NGT.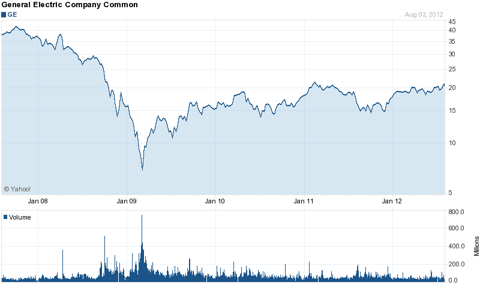 Click to enlarge
Recently I wrote an article published on Seeking Alpha titled Why Exxon Mobil Should Support Natural Gas Transportation. As so often happens on Seeking Alpha the comment section of that article was a lively debate full of good information. It's one reason I enjoy Seeking Alpha so much. Anyhow, user "Milhouse" left me a comment disputing my stated opinion that the U.S. government is not doing anything to support, adopt, and embrace NGT. As evidence to back up his claim Milhouse posted two links.
The first link was to a Business Week online article GE To Develop Home Fueling For Natural Gas Vehicles. The article states:
"GE will team with gas processing company Chart Industries Inc. and the University of Missouri to develop an inexpensive home refueling station that would connect to home gas lines, compress the gas and deliver it to vehicle fuel tanks. The project will receive $2.3 million through an Energy Department program called the Advanced Research Projects Agency for Energy."
"The goal is to create a home fueling station that could sell for $500 and fuel a car in less than an hour."
This is great news as current home garage refueling appliances are priced in the $5,000 range - far from the reach of an American middle class already wracked by a tough economy and high gasoline prices. Who knows, maybe GE will team with American car makers to bundle the appliance with the purchase of an NGV made in America. The bundle should also include installation of the device by the local natural gas utility company. And name a company that would benefit from this more than General Electric? Ok, perhaps Exxon Mobil (NYSE:XOM)...
The second link was a government article describing multiple "project MOVE" initiatives:
ARPA-E PROJECT SELECTIONS - METHANE OPPORTUNITIES FOR VEHICULAR ENERGY (NASDAQ:MOVE) TECHNICAL DESCRIPTIONS
There are several very interesting projects on this list. I sure hope taxpayer money is used in a productive way and that these companies and institutions actually come out with usable market products.
So I stand corrected, the government is doing something to support NGT.
Solving nat gas transportation's chicken-n-egg problem (no NGVs to use refueling stations, no refueling stations for an NGV). By manufacturing a low-cost home refueling appliance and then bundling the product with the purchase of an NGV would reap huge benefits for GE. Jump-starting the build out of the nat gas transportation infrastructure would be very bullish for several of GE's business units, including:
GE Compressors - GE's compression solutions range from small, rotary vane compression units to equipment for the highest power, pressure and flow, operating in the most difficult environments. GE supplies complete solutions including engineering, equipment, turnkey units and contractual maintenance services. Their experience includes all types of fluids including air, nitrogen, hydrogen, carbon dioxide, natural gas and other hydrocarbons, as well as corrosive, explosive and toxic environments.
GE Gas Pipeline Solutions - In February of 2011, GE completed its $3 billion takeover of Dresser Industries. As a result, the Gas Pipeline Solutions segment of GE Oil and Gas can provide customers with core infrastructure and pipeline integrity components, systems and services. The company can connect pipelines with natural gas consumers through custom designed Dresser couplings and fittings; highly engineered Dresser FloSystems measurement and regulation stations; and high pressure repair products and solutions. Since Solomon R. Dresser met the early drillers' need for a safe and reliable packer coupling, Dresser pipeline solutions has grown to a robust portfolio of over 1,600 patents.
GE Oil and Gas - GE Oil and Gas is a world leader in advanced technology equipment and services for all segments of the oil and gas industry, from drilling and production, LNG, pipelines and storage to industrial power generation, refining and petrochemicals. GE Oil and Gas also provides pipeline integrity solutions, including inspection and data management, and designs and manufactures wire-line and drilling measurement solutions for the oilfield services segment.
Adopting natural gas transportation would also create many jobs at the companies which produce natural gas. Exxon Mobil and Chesapeake Energy (NYSE:CHK) are the two largest producers, respectively, of natural gas in America. And we cannot forget the leader in the nat gas transportation field - Clean Energy Fuels (NASDAQ:CLNE). CLNE is focusing on the long-haul trucking sector and a build out of the Natural Gas Highway.
There is no better way to leverage America's #1 economic advantage against all other countries on Earth: our 2+ million miles of natural gas pipeline distribution network combined with our abundant natural gas reserves. Americans could be saving millions of dollars everyday by refueling with cheap and clean domestic natural gas instead of expensive and dirty gasoline refined, in part, from foreign oil. At the same time it would create millions of new jobs and would be very bullish for infrastructure companies like GE and CLNE and domestic natural gas producers like XOM and CHK.
Disclosure: I am long XOM.