Micro-Cap ETFs Will Have Their Day (It's Just Not Today)
Lately, mid-cap ETFs have surged on ahead of all the other caps. Bringing up the rear are the microcaps.
Five years ago, that wasn't the case and microcaps, those companies with market capitalizations between $55 million and $500 million, were soaring to new heights. But Murray Coleman for Index Universe says that with the category in a slump, even an "adventurous contrarian" considering a microcap fund may find many choices among the latest ETFs.
iShares Russell MicroCap (NYSEARCA:IWC) has the broadest of the portfolios, offering 1,300+ stocks with $277.3 million in assets. It's down 9.4% year-to-date.
PowerShares Zack's Micro Portfolio (NYSEARCA:PZI) has $96.2 million in assets, and the underlying index is monitored weekly. It uses a modified equal weighting system and ranks companies based on relative value and momentum characteristics. It's down 10% year-to-date.
First Trust Dow Jones Select Micro (NYSEARCA:FDM) has $15.8 million in assets and follows an index by Dow Jones. Technical and fundamental factors are considered, such as size, liquidity, profit margins, earnings momentum, and historical returns. It's down 4.9% year-to-date.
Since they're so volatile, why mess with microcaps? Coleman points out that over longer periods, this category has shown itself to be a higher flier than regular small-caps. This can make them compelling for investors with iron stomachs.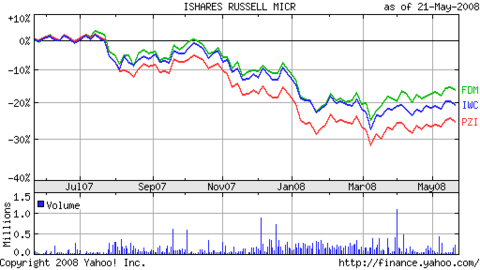 Emerging Markets ETF Weighs In On the Small Caps
ETF provider State Street Global Advisors delivered the first cap-weighted, small-cap emerging markets ETF last week.
The SPDR S&P Emerging Markets Small Cap (NYSEARCA:EWX) tracks an index of 1,660 holdings, reports Heather Bell for Index Universe. Of the 25 countries in the fund, Taiwan makes up the largest portion with 31.9% of the holdings. China is 7.8%, India is 6.5%, South Africa is 6.5% and Brazil is 6%.
WisdomTree has the WisdomTree Emerging Markets Small Cap Dividend Fund (NYSEARCA:DGS), however, it's dividend-weighted. Taiwan is the largest country represented in that fund, as well.
There are other international small-cap ETFs, which focus primarily on developed markets: