Seeking Alpha readers are well aware of how anemic job growth has been. But, despite a nascent recovery in jobs, Paychex (NASDAQ:PAYX) service revenue reached an all-time high last fiscal year.
From 2003-2007, an average of 157k new jobs were created in the U.S. each month. July's 163k reading, the highest in 5 months, follows a spate of below average monthly rates, including a 64k reading in June.
But, encouragingly for Paychex, employment has continued higher, albeit at a disappointing pace. The following chart shows the trend in non farm payroll since the trough in early 2010.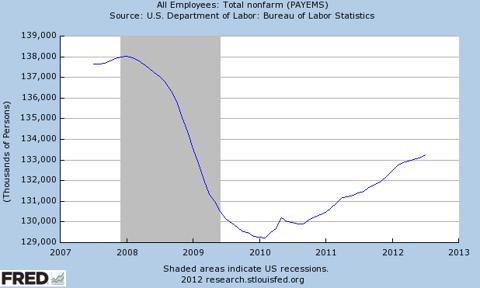 Click to enlarge
Overall, the economy has recovered a bit less than half the losses from 2008's peak to its bottom in February 2010. Yet, Paychex service revenue hit the highest in its history as checks per payroll gained for a 9th consecutive quarter.
Paychex continues to make most of its money from payroll services. The segment saw its revenue increase by 5% to $1.5 billion in FY12.
But, it's seeing faster growth in selling related services to its client base. Human resource services revenue grew 13% in FY12 to $676 million. And, sales of its health and benefits services increased 24% to $52 million as search marketing and CPA referrals drove 23% more applicants.
The increased business drove $707 million in cash flow from operations, which helped the company's cash and investments climb to $790 million at quarter end, up from $671 million the prior year. Even more enticing, the company remains debt free.
Paychex guidance offers a fair degree of upside, particularly if the economy strengthens on improving housing or additional global stimulus. But, even if it doesn't, the company still expects FY13 sales growth of 3-4% for payroll services and 9-11% for human resource services. Overall, the company expects total service revenue to grow 5-6%. As a result the street is looking for 6% EPS growth in FY13 and another 8% in FY14.
Given the company offers economic growth, with the potential for leverage on any improvement, shareholders may find it makes sense to buy shares in August for upside into fall. Over the past 10 years, shares have traded higher 9 times through the 3-month period ending in October.

Click to enlarge
Regardless, a strong balance sheet, good growth prospects and a healthy 3.9% dividend yield make Paychex an intriguing alternative.
Disclosure: I have no positions in any stocks mentioned, but may initiate a long position in PAYX over the next 72 hours.