EyeTrackShop, an eye-tracking research company based in Europe, conducted a study on Facebook's (NASDAQ:FB) mobile ads in July and came up with the following conclusions:
Facebook users have a 3%-13% chance of seeing an ad located below the fold on smartphones.
Ads on tablet devices can be seen by 18% more people and result in 29% longer viewing time than smartphones, given their larger screen size.
Ad recall rate was lower on both smartphones and tablets compared with desktop ads.
Click to enlarge images.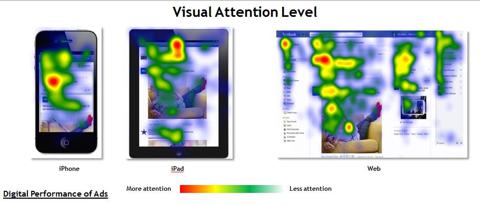 Click to enlarge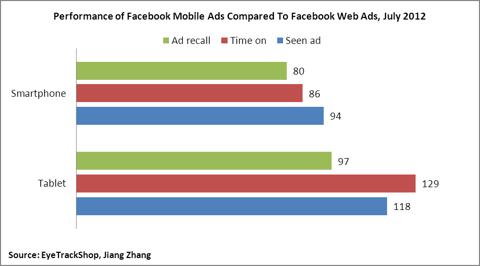 Click to enlarge
Lower ad recall rate was primarily due to the smaller screen size on mobile devices because users often miss the ads as they scroll down their mobile homepages.
This study adds another layer of uncertainty to Facebook's mobile monetization, but I believe the negative impact of smaller screen size on ad recall rates can be addressed in the future due to the following:
Handset makers are increasingly introducing smartphones with larger screen sizes; and
The proliferation of affordable tablet devices.
Larger Smartphone Displays
Smartphone screens are getting bigger to meet users' needs regarding web browsing, emails, and gaming. For example, the screen size of the Samsung Galaxy smartphone increased by 50% over the past three years from 3.2 inches to 4.8 inches in the recently launched Samsung Galaxy S III model.

Click to enlarge
Samsung (OTC:SSNLF) is not the only handset maker that is increasing the size of the smartphone display. Rumors have surfaced that Apple's (NASDAQ:AAPL) upcoming iPhone 5 will also have a longer display to compete with Samsung's Galaxy S III.
In my view, the current low ad recall rate on smartphones will be rectified as handset makers gradually increase the smartphone display size, which may lead an acceleration of Facebook's mobile ad revenue in the future.
Worldwide Tablet Growth
The proliferation of tablet PCs should bode well for Facebook's mobile ad revenue as ads on tablets can be seen by 18% more people and result in 29% longer viewing time than smartphones. According to IDC, worldwide tablet shipments will be 107.4 million units this year and will reach 222.1 million by 2016, representing a CAGR of 20%.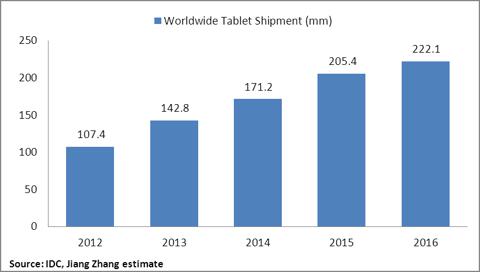 Click to enlarge
Specifically, tablets from Samsung and ASUS will likely become bigger contributors to Facebook's mobile ad revenue as users look for a low-cost alternative to the iPad. I note that in Q2, Samsung and ASUS tablet shipments grew by 117.6% and 115.5%, respectively, while iPad shipments grew 84.3%, according to IDC.
Low recall rate of Facebook's mobile ads is addressable given the secular growth in both smartphones and tablet PCs. However, near-term challenges will likely to continue weigh on the stock price. Hence, I remain "equal weight" on Facebook shares and maintain my $25 price target.
To see my DCF analysis, please refer to my Aug. 1 article titled "Facebook Model Update: Lowering Price Target; Remain 'Equal Weight'."
Disclosure: I have no positions in any stocks mentioned, and no plans to initiate any positions within the next 72 hours.