Market Recap: The market had another up day to make it three in a row as a lack of headlines meant more "risk-off" trading. The market is enjoying this upward momentum right now as the jobs data and ECB action continues to spell upside. Bond yields have been dropping, and the euro has been moving up in strength. That movement causes the dollar to drop, making equities more attractive. There was no major economic data out, but the market cheered on good results from CVS Caremark (NYSE:CVS) as well as Fossil (NASDAQ:FOSL). Earnings have been mixed this earnings season, and the market liked what it saw from these two companies. All in all, though, this move is on speculation the ECB will get something done, one nice tick up in jobs data, and a lack of bad news...not exactly the makings of a strong rally.
Moving into tomorrow, the market is looking at a day for the potential to correct. We will finally get some more concrete headlines, and as the allure of jobs and ECB die down, the market will be more likely to see profit taking as there are still major macro-concerns out there. Earnings from Disney (NYSE:DIS) and economic data highlight tomorrow as well as more developments in Europe.
Two Trades
Two trades we are watching right now are options trade in Starbucks (NASDAQ:SBUX) as well as short in Under Armour (NYSE:UA). We like the looks of selling premium in SBUX. We just upgraded our PT last night to $62 for the next twelve months, and we believe the company is at a great buying point. The stock showed a bottom at $43, and we do not see much more downside for the stock. The company has a lot of fundamental strength, and it was not long ago that the stock was pressing $60. We can make around 25% selling the 42/41 bull put spread right now on the company, and we believe that level is very safe right now. On the other hand, UA is way ahead of itself. The company has moved well above our expectation for the company, and we believe it's going to lose its footing here soon. If the market moves down a bit, UA will really see some correcting as it has just been getting chasing traders into it that will sell as quickly as possible. The stock is worth $50 we believe right now over the next 12 months.
Trade #1: SBUX, Sep22, 42/41 Bull Put Spread
Trade #2: UA, Short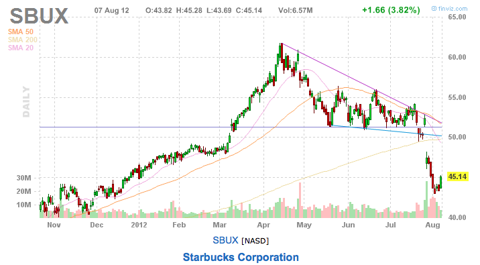 Tomorrow's Outlook
The market gets some data to move on tomorrow finally as well as some interesting earnings. The most important report is Disney as it is a bellwether for consumer spending, but we also have interesting earnings from Express Scripts (NASDAQ:ESRX) and Priceline.com (NASDAQ:PCLN) in after hours. Tomorrow, we get intriguing earnings from Macy's (NYSE:M) for one of our first looks at department stores as well as Dish Network (NASDAQ:DISH) and Ralph Lauren (NYSE:RL). As for data, we get Crude Inventories and Labor Costs data. The most important economic data tomorrow is German Trade Balance, the Bank of England's Inflation Report, and German Industrial Production. The Inflation Report will move the euro, which moves the dollar. If we continue to see strength in the euro, we should see the equity market stay solid. At the same time, we need to be expecting some profit taking to occur in the market at some point soon.
Oxen Group Moves
We had a great day in the market as we were able to take a number of our long-term positions off from our Extended Value Portfolio. Budweiser (NYSE:BUD), Teradata (NYSE:TDC), and Wolverine Worldwide (NYSE:WWW) all hit targets. BUD and TDC hit target #1 for 10%+ gains, while WWW hit our second target for a 23% gain. The holding time of WWW and TDC was both less than one month to get those gains. We also were able to sell our long in Ternium (NYSE:TX) we entered yesterday in our Goldman portfolio for a 3% gain as well as took a slight gain in our Biogen (NASDAQ:BIIB) long. We added a short in Liberty Property (LRY) as well as the above SBUX trade. We also added a long in Atmel (NASDAQ:ATML) to Goldman Portfolio at market close.
We have the following positions:
In our Short-Term Equity Portfolio we are long Carnival (NYSE:CCL), Dollar Tree (NASDAQ:DLTR). We are short Pall (NYSE:PLL), Omnicare (NYSE:OCR), and Liberty Property .
In our Options Portfolio, we are long Starbucks , Apple (NASDAQ:AAPL), United States Oil (NYSEARCA:USO), Monsanto (NYSE:MON), Dollar General (NYSE:DG), Home Depot (NYSE:HD). We are short Tiffany (NYSE:TIF) and Adobe (NASDAQ:ADBE).
In our Earnings Alpha Portfolio, we are long Apple , Disney (DIS), and American Eagle Outfitters (NYSE:AEO). We are short Dell (NASDAQ:DELL). We have a reverse iron butterfly in F5 (NASDAQ:FFIV). We have reverse iron condors in Coinstar (NASDAQ:CSTR) and Facebook (NASDAQ:FB).
In our Goldman Sachs Up/Down Paper Portfolio, we are long Qualcomm (NASDAQ:QCOM) and Atmel .
Chart courtesy of finviz.com
Disclosure:
I have no positions in any stocks mentioned, and no plans to initiate any positions within the next 72 hours.