Introduction
There is a growing disconnect between shareholders and management within the mining industry.
"Investors are demanding capital discipline to increase shareholder returns while miners are looking to use cash from record results to develop new projects."
Steve Ralbovsky, U.S. mining leader at PwC is supportive of the management of the mining companies.
"This disconnect was driven by a number of factors, including the fact that the mining industry is a bellwether for the global economy and, with the European debt crisis and fears of a slowdown in global growth during the second half of the year, stocks have been highly volatile. In spite of these factors, we believe the demand story remains robust and long-term growth in emerging markets is more significant to the mining industry than short-term jitters in the developed world."
Investors are clearly not buying the demand story. They want to see higher dividends and more stock buy-backs. They want to see the mining industry defer capital investment. The purpose of this article is to examine these greatly differing views, and answer the question: What should the investor do now?
2011 - It Was a Very Good Year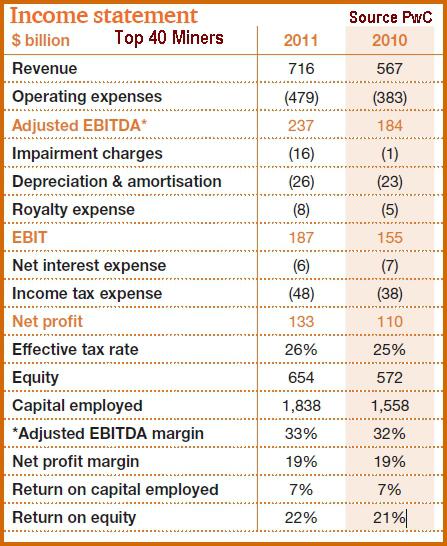 PwC (Price Waterhouse Coopers) named its well-respected annual industry report, "MINE - The growing disconnect; Review of global trends in the mining industry-2012." Released in early June, it is better known as "Mine 2012" and it focuses on the world's top 40 miners, investors in mining and the disconnect between miners and their investors.
The mining industry has shown increases in revenue and profit each year since 2002, with the exception of 2009, which was a down year. In 2011, the Top 40 posted record revenues of over $700 billion along with record net profit of over $130 billion, increases over 2010 of 26% and 21%, respectively. Returns to stockholders were up 156%.
The Dichotomy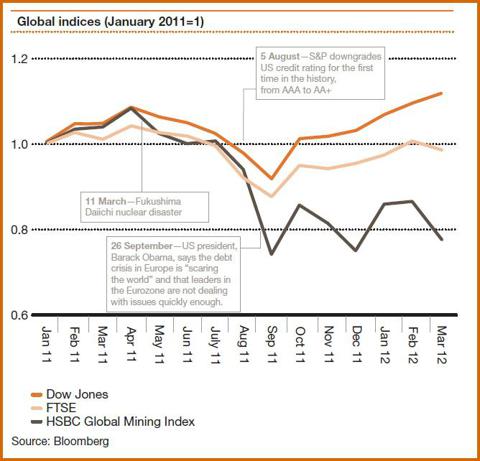 Click to enlarge
The mining industry contends that future supply is its biggest concern. Industry executives lined up $140 Billion in expansion projects for 2012 alone; some of these funds are for initial work on long-term expensive projects. Investors fear that industry concerns about supply are exaggerated. However, mining is very capital intensive and the cost to develop a new Tier 1 Property is high. For example, Rio Tinto's (NYSE:RIO) gargantuan project at Oyu Tolgoi in Mongolia, a resource discovered in 2001, received final approval from the government in 2009 and it will come on-line in 2013. It will reach full production in 2018, 17 years after discovery.
I wrote about problems in Mongolia in an earlier article, "The government makes, and then retracts regulations; the rule making process is not participatory or transparent…" Another problem is that the mine will depend on electricity imported from China, and relations with that country and Mongolia are troubled. In addition, the investment needed to bring this mine to production, estimated at $9.5 Billion, has now ballooned to $13.2 Billion according to MINING.com.
"Shareholders are desperately concerned about CAPEX inflation. CAPEX inflation without a concomitant increase in the underlying price of the commodity is not good and at the moment we are seeing commodity prices flat to down," analyst Des Kilalea at RBC Capital in London said.
The fact that this mine has at least a 60-year productive life does not seem to excite investors. Missing the cost estimates by a factor of three is bound to concern investors, the owners of the company.
Miners recite the litany of issues facing supply: structural changes to cost bases caused by decreasing grades and increasing input costs, changing fiscal regimes and resource nationalism, ongoing disruptions to production and remoteness of certain locations and increasing capital expenditure requirements to bring supply to market. While the Australian government has granted approvals, stockholder pressure caused BHP Billiton to defer the project at the Olympic Dam copper mine. It requires a $30 Billion CAPEX and has a long development time. It will take five or six years just to remove the overburden, the soil on top of the ore deposit.
Resource Nationalization
A growing risk is that of resource nationalization, such as Argentina's nationalization of the Spanish oil company YPF Repsol this year. That, with increased taxation of natural resources has the power to destroy companies. In Australia, its taxes and in Indonesia, the government is telling miners that they must cede 50% of their ownership to the government. Restrictive labor laws are prevalent in developed nations. Currency risks are greater in undeveloped regions. Rwanda and Mongolia are two countries with policy instability and often change the rules. Nationalization goes hand in hand with environmental issues in the Philippines and Peru. Miners are outsiders that plunder the resources of nations.
Quality of Ore Grades
Demand for minerals expanded as the industrial revolution spread. Since the early 20th Century, exponential population growth accelerated demand. At this point, all of the low hanging fruit, the easy to access ores and energy is gone. Recent exploration and development focuses on some of the least accessible places on the earth: The Gobi desert of Mongolia, dark jungles of the Congo and the arctic. In long operating mines, the top quality ores are long gone, and the expense of bringing metals to market is much greater.
Cost of Mining
The increased costs of mining are many. They include higher energy costs, increased labor demands, strict environmental regulations, higher costs of employee training, increased taxes and the remoteness of resources from markets. However, the prices of the products of mining, commodities such as energy coal, iron ore and copper, are not set by the costs. Rather, they are set by the supply and demand of the marketplace. Overproduction causes prices to fall, sometimes below the cost of production. Heightened demand causes higher prices and eventual shortages. Tightened supply, occasional shortages, can cause wide swings in prices, and highly volatility markets prices may increase at an increasing rate when demand driven.
Are miners overestimating tightness of future supply in their desire to invest more capital in future production? Could they, rather, return more cash to investors in the form of dividends and stock buybacks?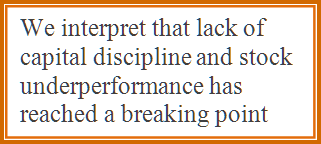 The Financial Post reports that two gold mining chief executives have been dismissed in less than a month, and no one would be surprised if more are shown the door soon. The abrupt firings of Tye Burt from Kinross Gold Corp. (NYSE:KGC) and Aaron Regent from Barrick Gold Corp. (NYSE:ABX) show that investors and boards are fed up with management teams that can't control runaway costs and capitalize on a strong gold market.
These executives have spent billions of dollars on high-risk acquisitions and development projects in recent years, while simply failing to create value for shareholders. As gold miners put more focus on careful capital allocation and investor returns, boards want new people running the show.
"We interpret that lack of capital discipline and stock underperformance has reached a breaking point in the mining sector and we expect further management changes to come," Deutsche Bank analyst Jorge Beristain wrote in a note.
The Commodities Super Cycle
This is a theory of high demand for basic materials, especially copper steel and coal, which are required for the rapid industrialization and urbanization that has taken place in China, as well as the demands of that country's rising middle class. Is that over? Perhaps demand is lower in China now but demand will move toward Africa and to that continent's emerging countries.

Click to enlarge
The commodities super cycle, as a concept, began coming to the fore about a decade ago, around the same time that China began its massive industrial leap forward. Over the last 10 years we have seen significant growth in the prices of hard commodities.
The Mining Investor
Perhaps a miner might describe the ideal investor in natural resources as a long-suffering and patient owner, who trusts in the ability of management to make good appraisals of future demand and invest wisely to meet those demands. However, today's investor does not embrace the idea of a $30 Billion investment which provides zero return in the following five years; which is made on the hope of future demand which might never materialize. Is the investor in Vale (NYSE:VALE) supposed to work with a different set of metrics than the investor in Coco-Cola (NYSE:KO)? It is hard to argue that, for a dollar is a dollar.
The case of BHP Billiton and Blackrock
An excerpt from a March Seeking Alpha article illustrates the dynamic presented above. BHP (NYSE:BHP) has yet to make a final decision on the expansion of the Olympic Dam uranium-copper-gold mine at an estimated cost of $27.4 billion. Its largest shareholder, BlackRock, Inc. is not happy with the possibility. BlackRock holds about 5.7% of the miner in its $14 billion World Mining Fund. Yesterday, it trimmed holdings in BHP Billiton Ltd., after expressing concerns that the company's Olympic Dam project and recent shale gas purchases may curb returns. Catherine Raw, who heads the BlackRock fund said yesterday,
"Some of the decisions they are making are very good in terms of long term strategy but are you going to make money from it in the next three years, which is our investment horizon?" Raw, a fund manager at BlackRock, said yesterday in Hong Kong. "I struggle to understand how they are going to do that."
Well, of course, no major Greenfield copper mining project started today is going to produce any returns in the next three years. BHP Billiton is doing exactly as it has done before and acting completely within its stated strategy. BHP Billiton's CEO, Martius Kloppers said in February,
"We are going to continue to invest through the cycle," The company will continue to "live within our means, which means we are only going to invest the cash flow that we generate out of our base assets over time."
Echoing this February statement is a remark this July by another miner. Recently commenting on Southern Copper Corporation's (NYSE:SCCO) first six-month results, Chairman German Larrea said,
"Looking beyond the current volatile markets, the medium to long-term outlook remains positive for metals, as strong demand growth from China and the emerging economies is poised to continue."
The question remains, "but are you going to make money from it in the next three years?"
Stock Market Fears
Stock market fears in the second half of 2011 centered on two main concerns. The first is the European debt crisis; the second, the global economy is slowing and may be entering a long period on slow growth. There are scores of specific issues. US unemployment is at about 8%, German industrial production is near zero growth, China's growth rate has slowed to a 7% annual increase at best. China is 40% of the world copper market, the leading user of iron ore, metallurgical coal and energy coal. While the need of a build-out of infrastructure in emerging nations is unquestionable, the demand is not high in the lackluster global economy.
The Case of Vale
The effect of the China manufacturing slowdown is illustrated by citing a report published in MineWeb July 26, 2012.
Brazil's Vale became on Wednesday the latest victim of China's economic slowdown after second-quarter profit tumbled because of slowing demand for iron ore that will spill over into the coming quarters. Net income at the world's largest producer of the mineral hit its lowest level in more than two years, underscoring its dependence on Chinese purchases of its flagship product. Profit also plummeted after a weakening Brazilian currency lifted debt servicing costs and the costs of derivatives for hedging. Vale earned $2.662 billion in the quarter, down 58.7% from a year earlier.
Vale's disappointing earnings performance may continue into next year as the global economy stagnates and demand for metals loses traction. Slowing growth in China, which fueled a commodity market rally created a bonanza for Vale, is weighing on iron ore prices. A global surplus is developing.
Vale's cost of doing business may also climb in coming years as Brazil's government, seeking to assert more control of the nation's natural resources, exacts a greater toll from the country's biggest exporter through taxes and royalties.
The Brazilian real's 11 percent drop helped boost Vale's debt-servicing costs (US dollar denominated bonds) and charges related to fluctuations in currency and derivatives prices, but failed to generate significant revenue gains or cost savings.
The Investment Opportunity and Concluding Opinion
The depressed economy may have created an overreaction on the stock market, driving share prices even lower than justified. Multiples are near all-time lows. Prices are at the low end of their range. One might say, "Mining stocks are on sale."
However, the short-term situation looks worse every day. The 2012 Q2 results that are rolling in on a daily basis indicate that extreme caution is the prudent course of action. Part 2 of this article will provide a detailed survey of them. The stock market proves to be an accurate forward-looking indicator this time. Miner after miner is announcing major losses. With few exceptions the current situation and outlook is dismal in the short to intermediate term.
The stockholder is seeking higher dividends and stock buy-backs and mine management is seeking increased CAPEX. The disconnected parties need to moderate their demands in light of the soft economy and Q2 results. While mining management is correct about long-term supply issues, stockholders are correct in requesting reduction of CAPEX in this time of economic stress. I give BHP Billiton credit for reversing their stance on the Olympic Dam project, which is now deferred to 2014.
Individual investors must consider their holdings in light of their short term and long-term goals. Anyone new to the mining industry is warned, it is a very volatile industry and betas are very high. I would not overweight the sector. I believe the most prudent strategy for the individual investor or institution today is a hold the strongest players in the industry for long-term gains, gains that might not be fully realized for 5 years or until a decade from now. These superior miners remain profitable and continue to pay good dividends. The mining executives are exactly right with their predictions of future supply shortages and the opportunity for great returns.
My clear first choice is BHP Billiton (NYSE:BBL).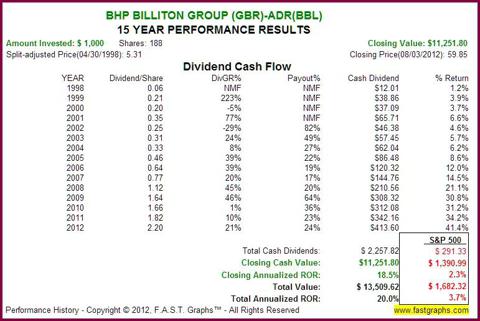 Click to enlarge
It stands out as the exceptional miner. They are the largest; diversified by geography and product, most of their important assets are in the safer countries. Management is superior and they have a strong balance sheet and a commitment to ever-increasing dividends. Other good choices could be Southern Copper (SCCO), Rio Tinto and Freeport McMoRan (NYSE:FCX). I urge caution in the case of Vale (VALE) at present, though it has a good long-term record. This is a time for extreme due diligence. However, the returns in mining can be some of the best on Wall Street.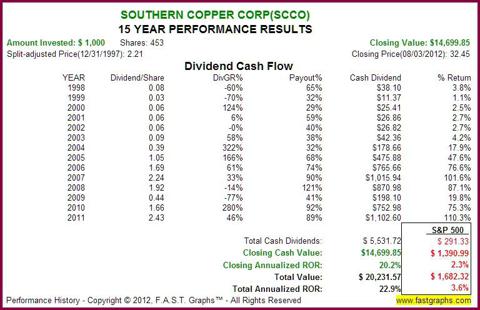 Click to enlarge
I believe that the 20% Rate of Returns (ROR) speak for themselves. I invite you to compare that to each of your top 10 holdings. I believe an opportunity of the highest kind exists for the addition of a top mining company to your portfolio. The fact that it is a difficult time for the industry and sector is an opportunity for future riches.
The below table of the ten largest miners studied for the PwC report is provided as a starting point for the reader's evaluation of the top mining companies. The top 5 of them are included in an 18-month chart. A second chart displays 5 widely held North American miners. A complete list of the 40 Top Miners may be found on page 47 of "Mine 2012", may be downloaded. The report is worth reading and is in total 60 pages in PDF format

Click to enlarge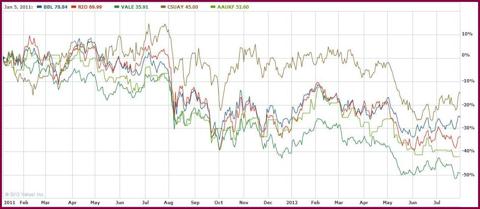 Click to enlarge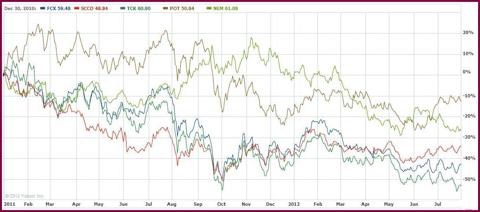 Click to enlarge
Author's Note: Some 2012 Q2 results are in at this time, but others will not be reported until August 8 in the case of RIO Tinto and August 22 in the case of BHP Billiton. Of those that have reported, year over year sales are as follows: Vale, down 27%; Anglo American, down 10%; Freeport McMoRan, down 23% and Southern Copper, down 8%. I will provide an industry wide performance article near the middle of September.
Disclosure: I am long BBL.