Despite late session intraday weakness over the past couple of days AUD/USD continues to hold onto its recent gains. The Reserve Bank of Australia held its key cash rate at 3.5% during yesterday's session but cautioned that they are looking at "a more subdued international outlook than was the case a few months ago."
No doubt in a world of relative value the Aussie owes its current strength to concern over that sober international outlook. That 3.5% cash rate is a bit better than you can earn in similarly rated instruments in Japan, the U.S., or Europe. The U.S. stock market, to which the Aussie is so tightly correlated, is another benefactor of financial relativity and reached a 3-month high today, not far from the 2012 highs set back in March and April.
Both Australia and the U.S. are benefiting from better housing numbers, and improving consumer financials - people save more when they are scared, i.e. they increase 401(k) contributions. Both the Aussie and the S&P 500 have also shifted their secondary patterns higher over the last 2 weeks, which makes buying a dip all the more attractive.
We prefer buying into uptrends following corrections - dips - which from a position stand point, leaves us on the sidelines for now. From an intraday perspective we found the afternoon sell-side in AUD/USD attractive today which is odd because the higher time frame patterns are all pointed up. This divergence is likely another reason to stay on the sidelines from a position trader's perspective - that, and it's time for a much needed vacation!
Click to enlarge.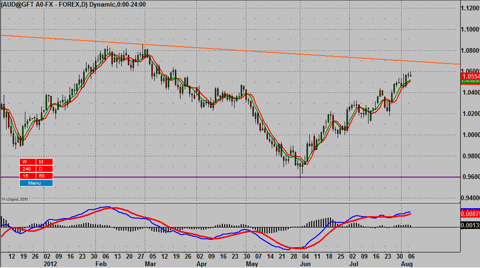 Figure 1. AUD/USD Daily Chart
With the Aussie shifting its secondary pattern higher last week, the Euro followed suit by shifting its day to day pattern higher. We suspect Mario Draghi's conversations with the Bundesbank are behind the uptick. The timing of selling this rally, however, may be tricky because of the August dog days -- another reason for taking a break from the markets, along with taking a vacation.
Given all the bad news the Euro has absorbed we have to start considering that it has actually held up fairly well. Should August deliver a short-squeeze in the Euro, we can't rule out a move on 1.2660 near-term with 1.2800 not far behind that. See Figure 2. And unlike the Aussie which has been showing bouts of intraday weakness, the Euro has been showing healthy intraday patterns.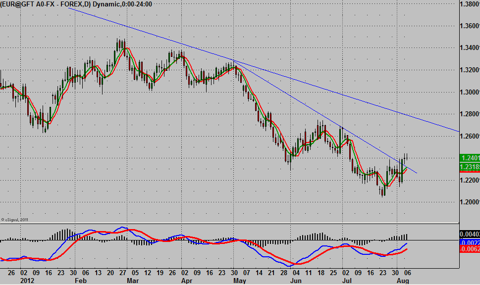 Figure 2. EUR/USD Daily Chart
What also starts to loom ominous for Euro bears is the decidedly bearish seasonal for the greenback - selling rallies in August and September, i.e. buying dips in the Euro - has a pretty good history to it. See Figure 3. If the Euro does not reach our downside target of 1.1900 by mid-September we may have to revise. Keep in mind John Paulson and a slew of smarter than the devil hedge fund operators are short the Euro in a big way, and the pattern the last couple of years has been for central bankers to clean the hedge funds out, along with creating losses on bona fide hedges, in favor of more stable markets. Looking forward to September!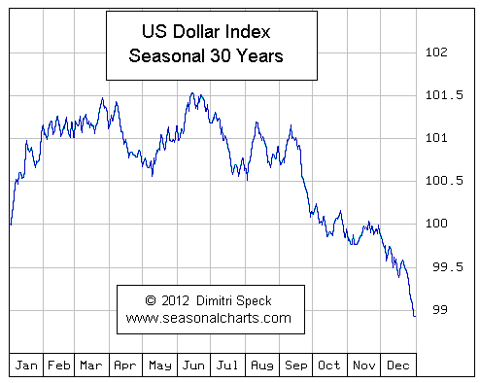 Figure 3. U.S. Dollar Index Seasonal
Strength in the Canadian Dollar today has been just enough to brush us out of initial long positions in USD/CAD just above that 1.0000 level. U.S. stock market strength is telling us the timing is off for a long USD/CAD position which we liken to a hedge. And hedging, and hedge funds, have not been working so well. We can revisit USD/CAD above 98.00, but likely not till closer to the end of August, or perhaps even closer to the end of the quarter.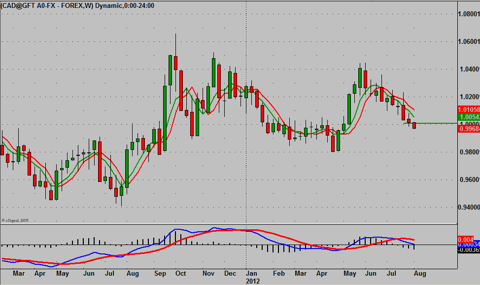 Figure 4. USD/CAD Weekly Chart
Disclosure: I have no positions in any stocks mentioned, and no plans to initiate any positions within the next 72 hours.
Disclaimer: Trading involves risk of loss, and is not suitable for all investors.