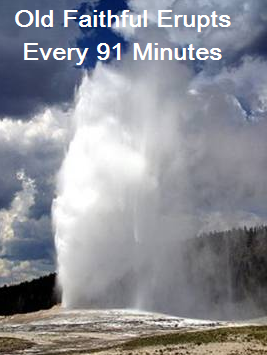 There was news from overseas as German Factory Orders fell 1.7% vs .8% expected and Italy reported its fourth consecutive month of economic contraction. No worries, printing money will take care of it. Meanwhile the Swiss are struggling to maintain the franc's peg to the euro at 120. As a result of interventions the SNB has accumulated $490B in forex reserves. Somehow they'll have to find a way to unload this but that's "down the road" so no worries. Finally Spain states it will refuse a bailout if there are more conditions so beggars can be choosers?
Bulls are struggling to explain stock market rallies to the media and Ben Lofthouse, portfolio manager at Henderson Global tried: "We've seen a defensive rally." My interpretation, "defensive" means not wanting to be left out which is all I can glean from this.
There wasn't much news Tuesday to account for any stock rally but that's maybe what bulls needed-no news is good news day. Things are quiet in the eurozone even for protestors, after all most Europeans take August off completely.
The Fed lent bulls a hand by doing another repo for $600M which follows on the first done last week in four years. The Fed is operating in stealth mode to add reserves to trading desks. Also Boston Fed Governor Rosengren advocated in the media the Fed should immediately cut the Fed Funds rate to zero and launch QE (bond buying) that was open-ended-to infinity and beyond?
In ETF news if you care, Scottrade's ETF experiment with FocusShares ETFs will be ended. It seems they've been struggling to raise funds and have been crowded out by the big three (iShares, Vanguard and SPDR). Along the same lines the Financial Times (not linkable) reported that Russell Investments has been cutting back on its ETF staff and perhaps ambitions. And, just the other day DirexionShares shuttered 9 of its funds for lack of investor interest. With the rapid issuance of new products, especially linked to common indexes, it shouldn't surprise these kinds of things would happen.
U.S. stocks rallied once again with the S&P 500 (SPY) breaking above $140 resistance levels led by technology (XLK), materials (XLB) and financials (XLF). It seems given the lull in disastrous eurozone news bulls are now thinking everything is going to be okey dokey over there and more QE will rescue markets leading to prosperity. Some have suggested based on statistics that a rising market in an election year predicts the incumbent will be reelected-just sayin'.
The dollar (UUP) was slightly weaker once again as thoughts of more dollar depreciation via QE can take it low. (You might remember, "protecting the purchasing power of the dollar" is one of the Fed's two primary mandates, not that anyone's paying attention since inflation calculations are a mystery.)
Bonds (IEF) fell to another bout of "risk on" thinking as did gold (GLD). However with the dollar weaker commodities (DBC) were stronger. You may have noticed you gas bill jumping at the pump lately which is another less positive effect of deliberate dollar destruction.
Volume once again was incredibly light. Monday's volume for SPY was only 83M shares, like a half day of trading. Tuesday things did pick up a little and breadth per the WSJ was positive.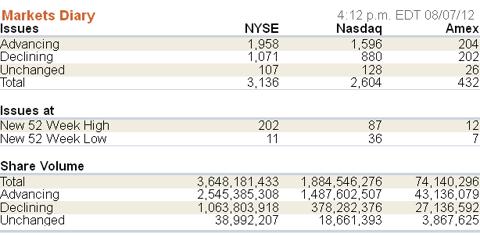 Click to enlarge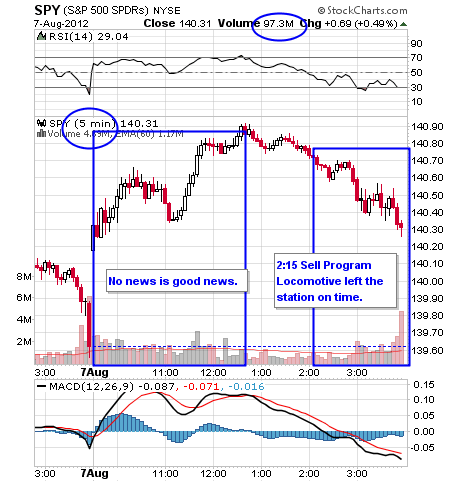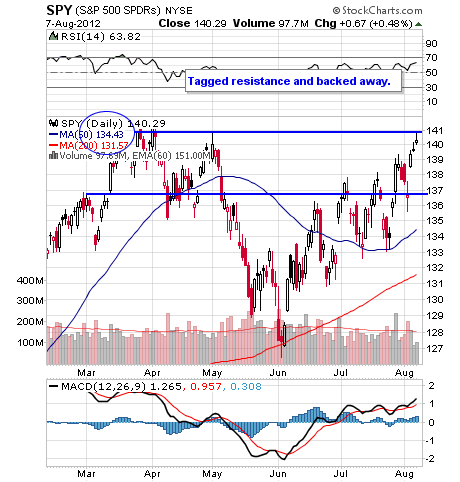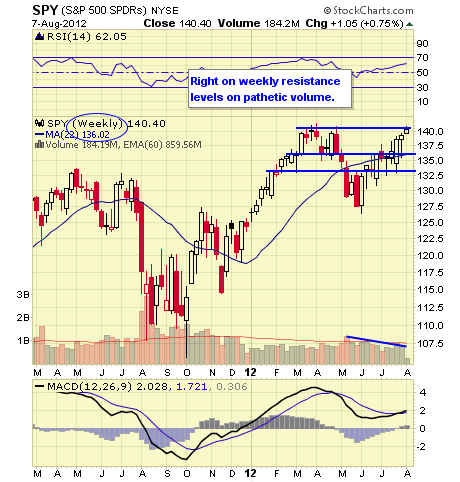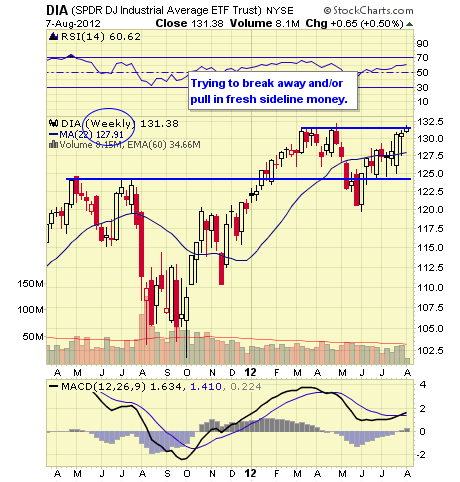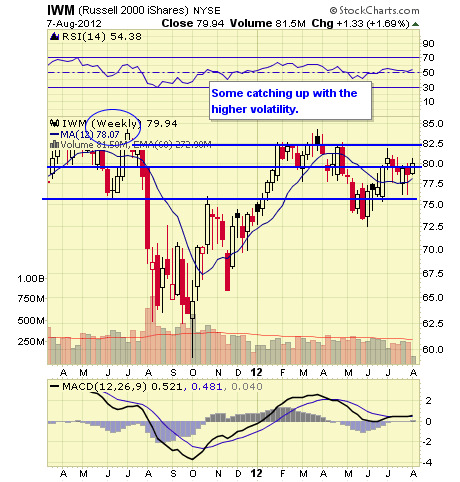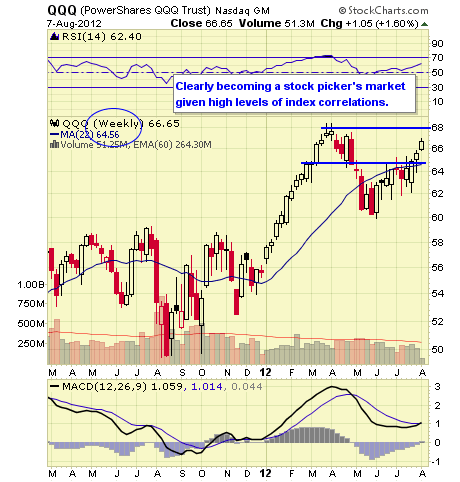 Continue to U.S. Sector, Stocks & Bond ETFs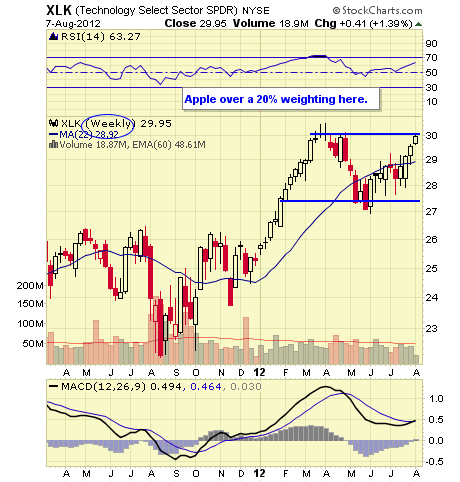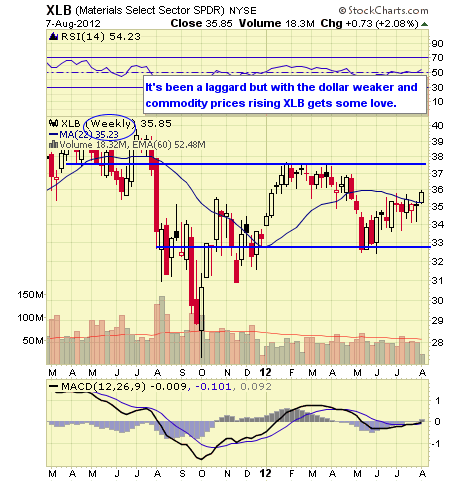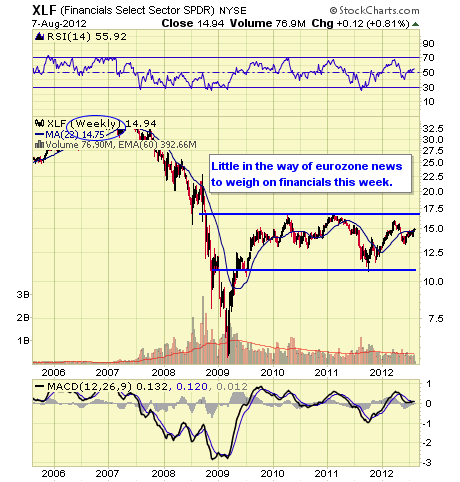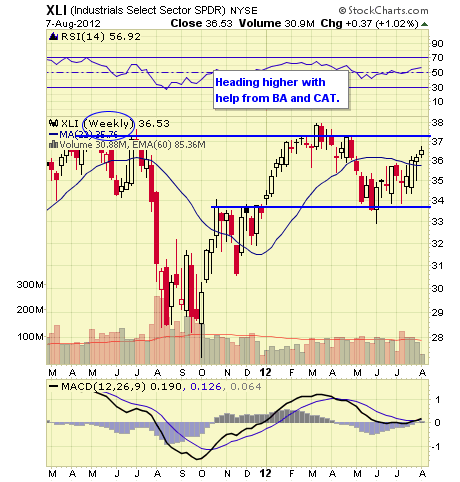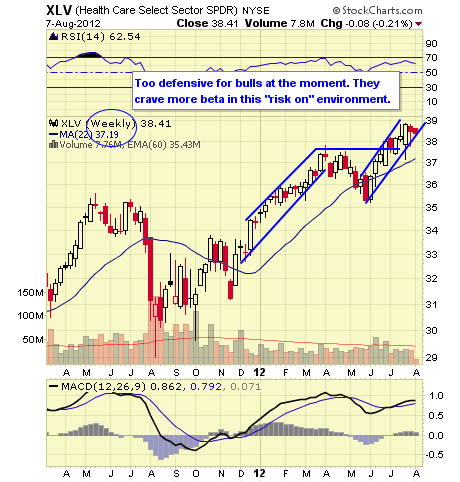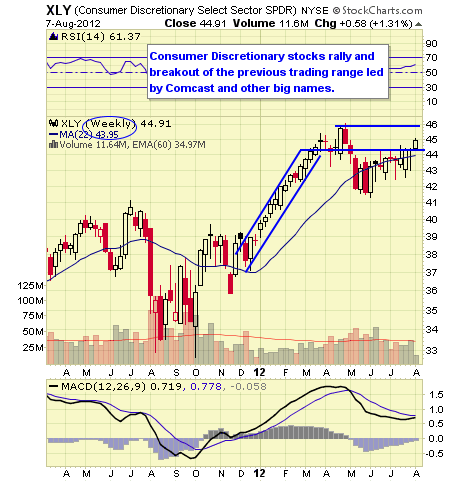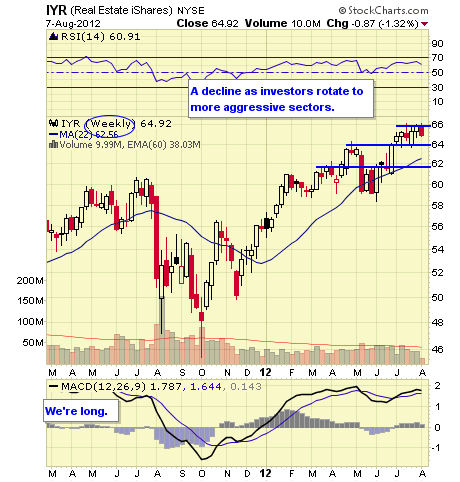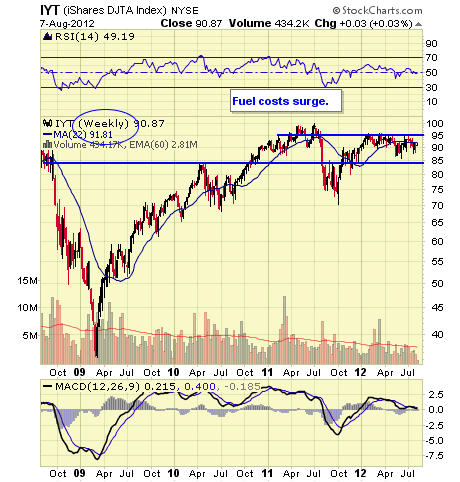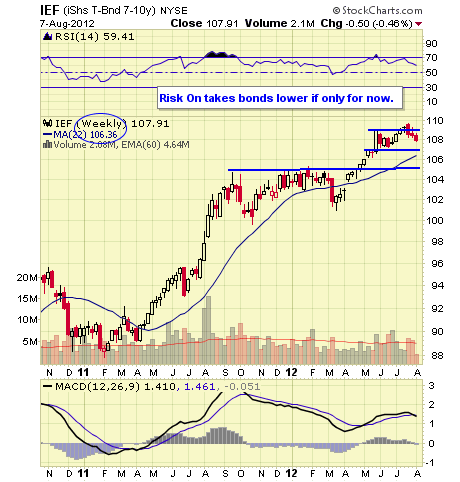 Continue to Currency & Commodity Market ETFs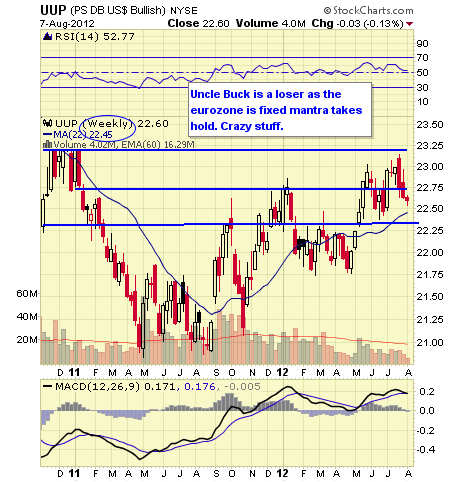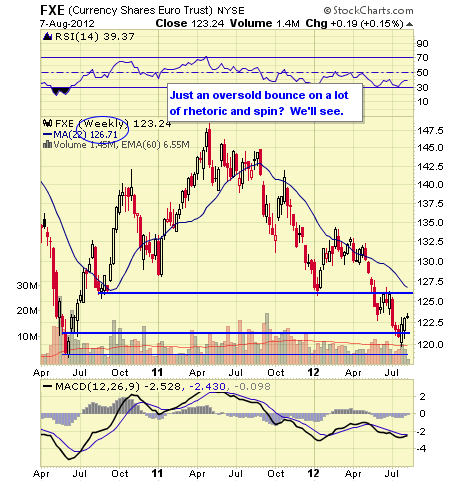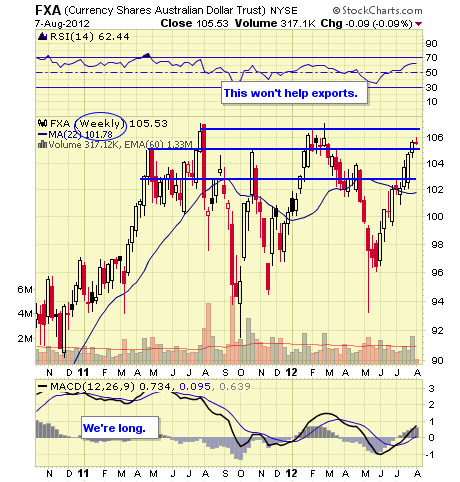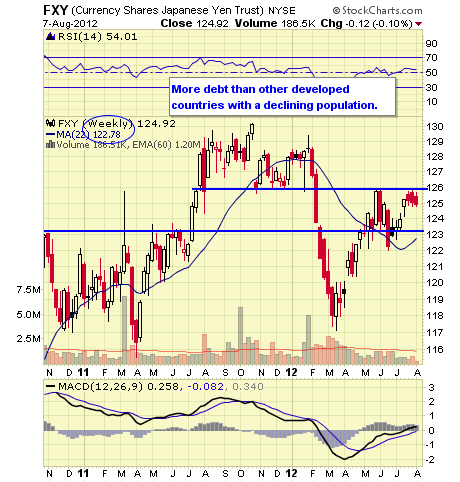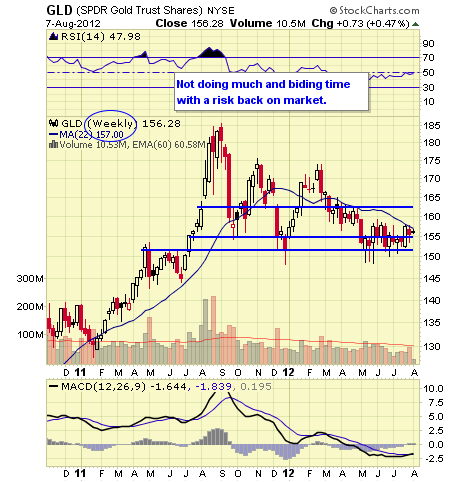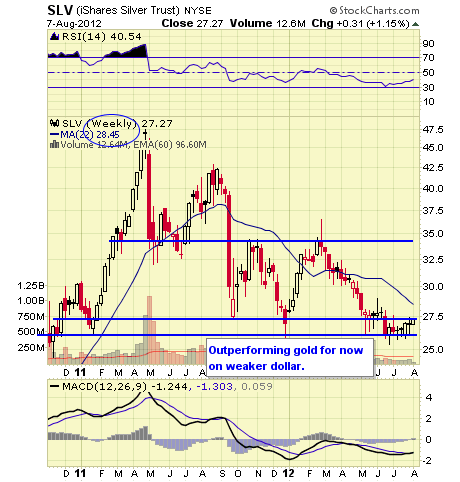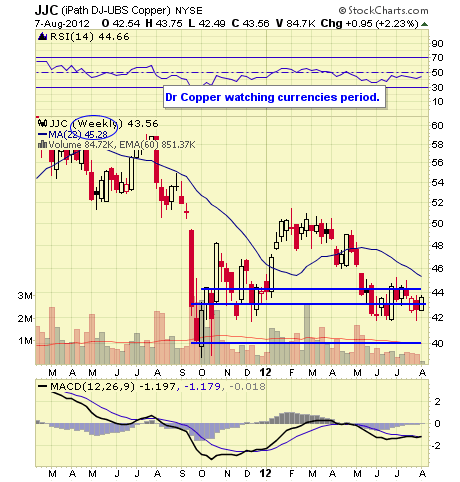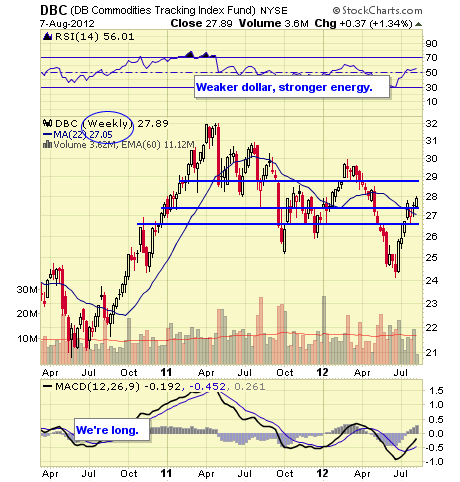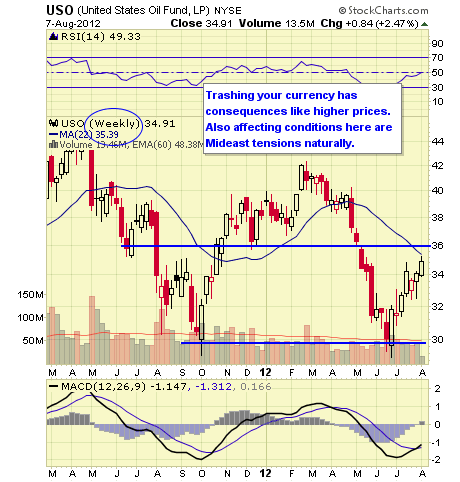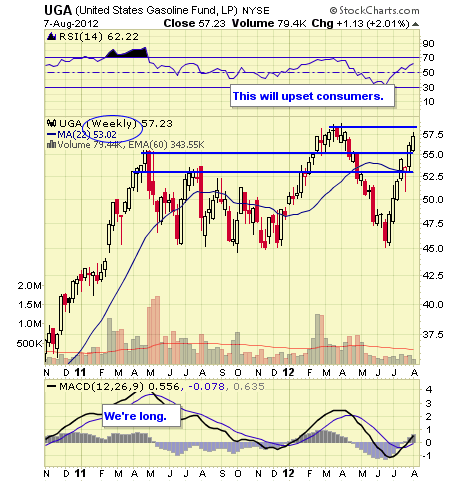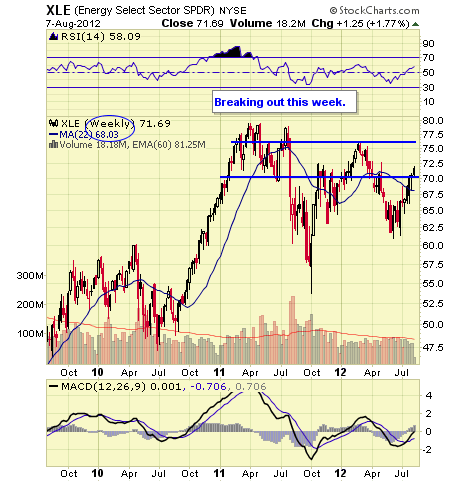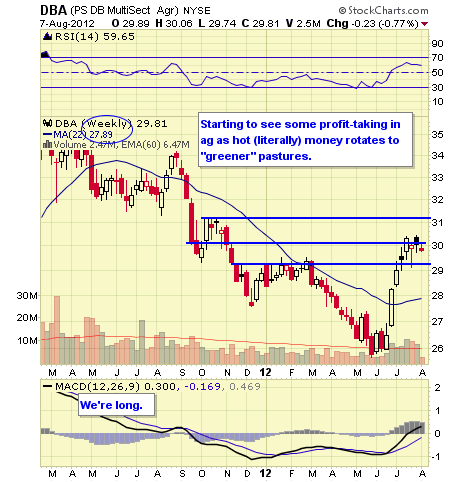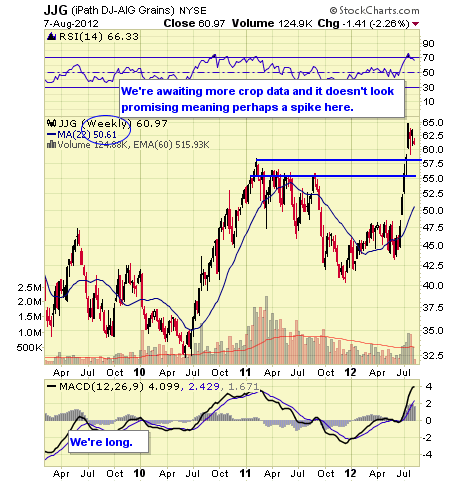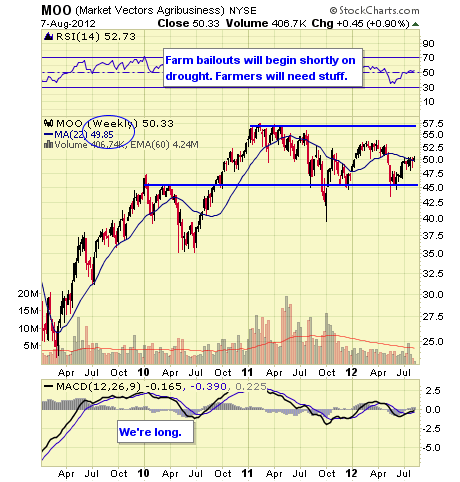 Continue to Overseas Sectors & ETFs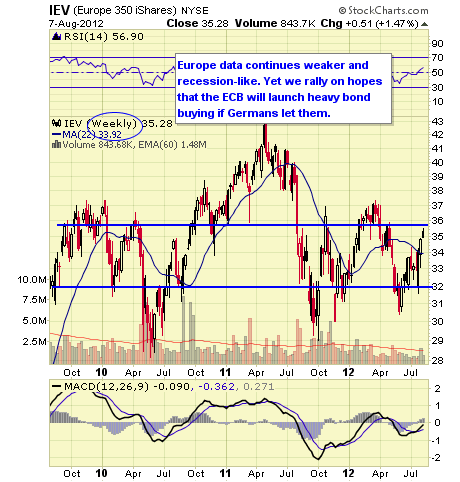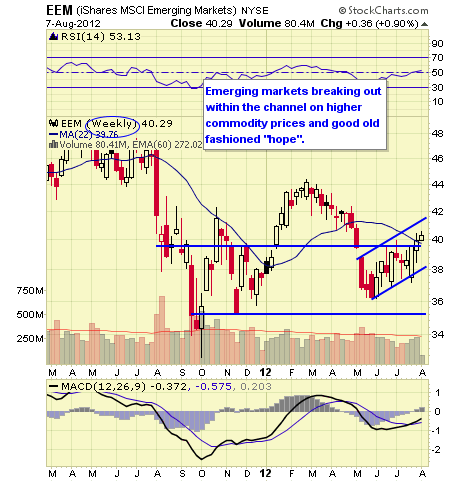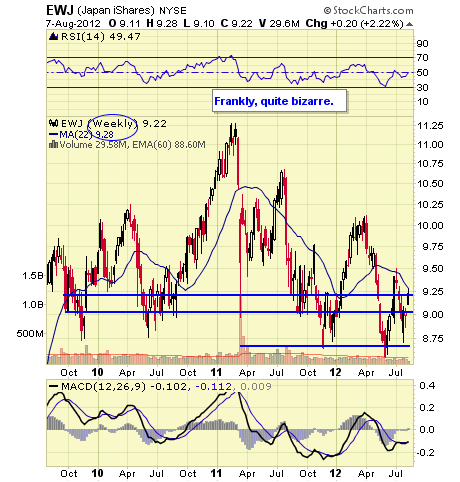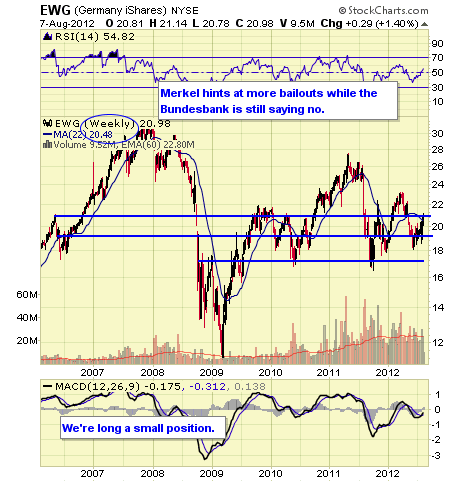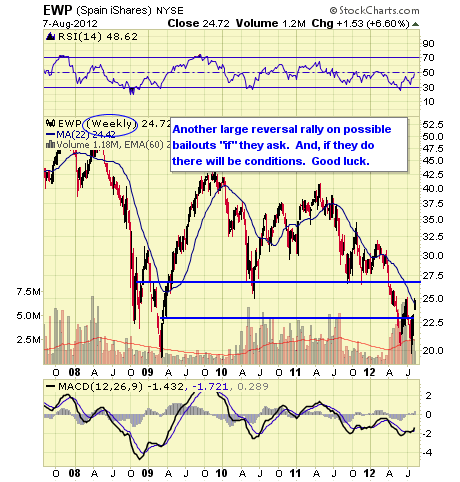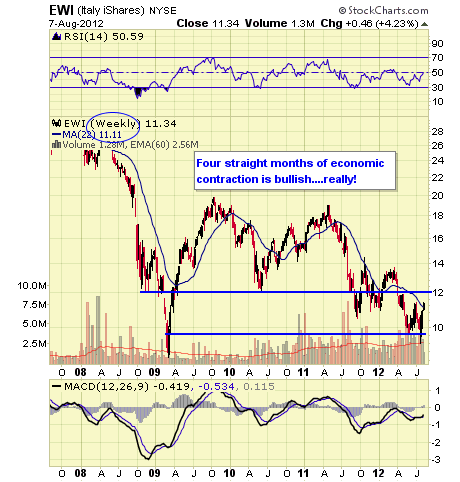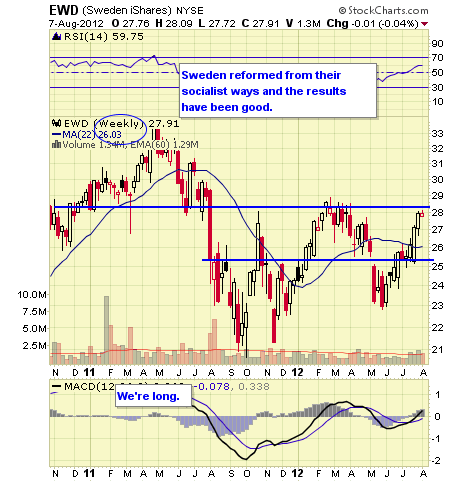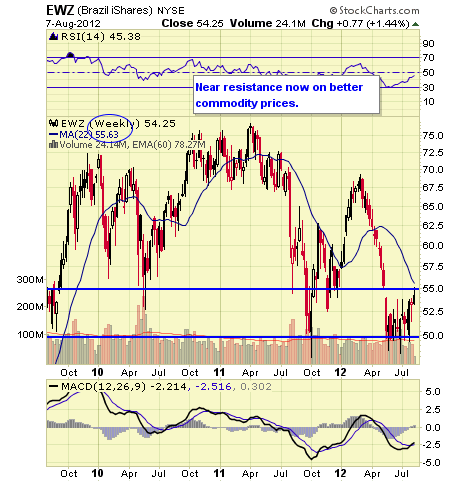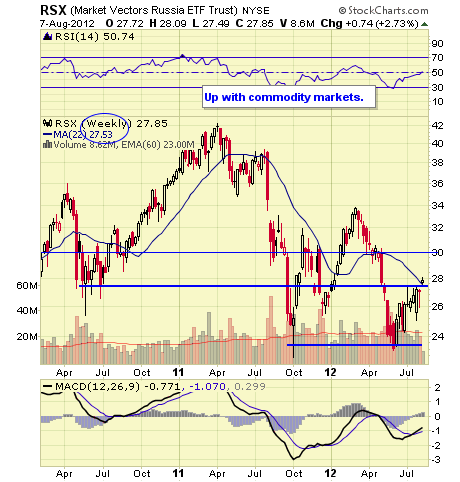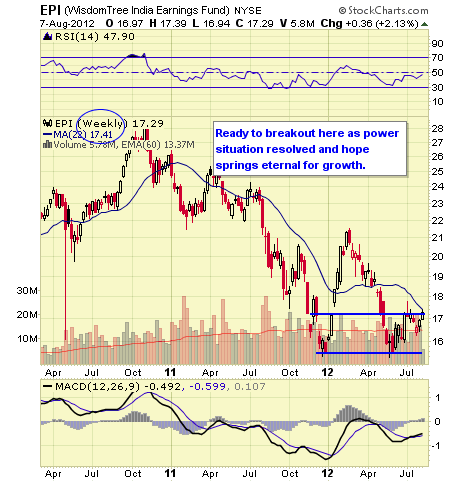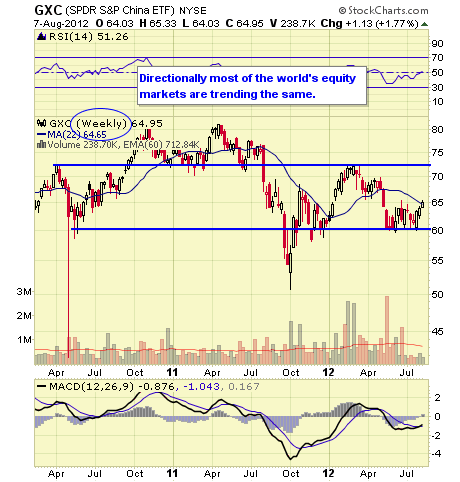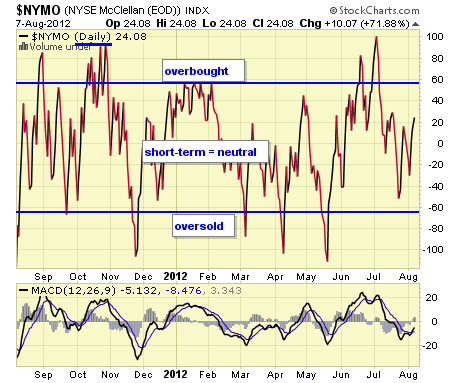 The NYMO is a market breadth indicator that is based on the difference between the number of advancing and declining issues on the NYSE. When readings are +60/-60 markets are extended short-term.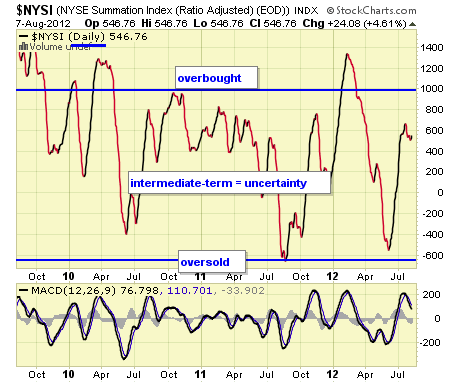 The McClellan Summation Index is a long-term version of the McClellan Oscillator. It is a market breadth indicator, and interpretation is similar to that of the McClellan Oscillator, except that it is more suited to major trends. I believe readings of +1000/-1000 reveal markets as much extended.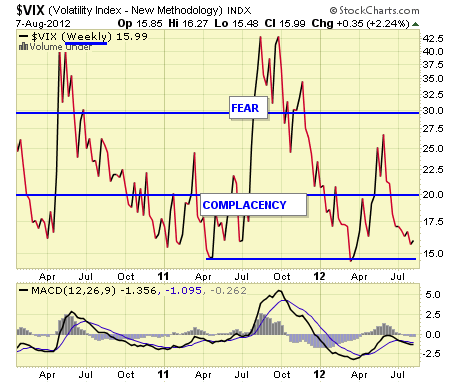 The VIX is a widely used measure of market risk and is often referred to as the "investor fear gauge". Our own interpretation is highlighted in the chart above. The VIX measures the level of put option activity over a 30-day period. Greater buying of put options (protection) causes the index to rise.
We're still moving higher with little participation. There is really little to add.
Disclaimer: The ETF Digest maintains active ETF trading portfolio and a wide selection of ETFs away from portfolios in an independent listing. Current "trading" positions in active portfolios if any are embedded within charts: Lazy & Hedged Lazy Portfolios maintain the follow positions: VT, MGV, BND, BSV, VGT, VWO, VNO, IAU, DJCI, DJP, VMBS, VIG, ILF, EWA, IEV, EWC, EWJ, EWG, & EWU.
The charts and comments are only the author's view of market activity and aren't recommendations to buy or sell any security. Market sectors and related ETFs are selected based on his opinion as to their importance in providing the viewer a comprehensive summary of market conditions for the featured period. Chart annotations aren't predictive of any future market action rather they only demonstrate the author's opinion as to a range of possibilities going forward. More detailed information, including actionable alerts, are available to subscribers at www.etfdigest.com.
Disclosure: I have no positions in any stocks mentioned, and no plans to initiate any positions within the next 72 hours.