Better-than-expected consumer spending has propelled many of the mispriced stores to report comparable sales above analysts' expectations. Those midrange retailers reporting higher sales performance include Target (NYSE:TGT), Costco (NASDAQ:COST), Kohl's (NYSE:KSS), and Macy's (NYSE:M). Among apparel stores seeing increased earnings include Gap Inc. and Limited Brands.
Sales at stores open at least a year rose 4.3 percent in July at the 20 stores tracked by Thomson Reuters, well above expectations of a 1.5 percent gain. This is a good sign as retailers head into the important back-to-school months of August and September.
These sales trends also bode well for the retail REITs as many of them have adopted strategies that have enabled them to outperform other REIT sectors this year. The sector boasts an overall year-to-date total return of 23.57 percent through August 1. Of the 31 retail sector REITs, the overall average return is 3.1 percent and the combined retail sector market capitalization is 135.35 billion or around 26 percent of the overall capitalization of the FTSE NAREIT All Equity REIT Index.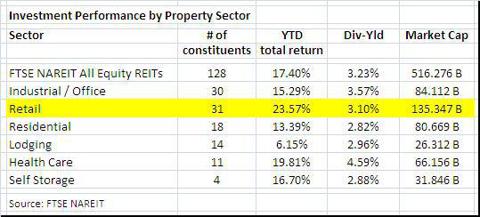 The retail sector REITs consist of three sub-sectors including shopping centers, regional malls, and free-standing (or triple-net). Accordingly, the returns for these sub-sectors are also strong as regional malls enjoy the leader board position (at 25.11 percent), followed by shopping centers (22.01 percent) and free-standing (18.24 percent).

To capitalize on total return performance, many retail REITs have orchestrated strategic initiatives that have resulted in differentiation that has resulted in greater competitive advantages and increased profitability. By exploiting their differentiated risk-control strategies, these "best in class" REITs have exploited a few select initiatives.
Pruning Non-Core Properties
Some of the most active REITs known for shedding non-core assets include Kimco Realty (NYSE:KIM), Weingarten Realty (NYSE:WRI), and Regency Centers (NYSE:REG). These three shopping center REITs have executed recycling strategies that have resulted in improved occupancy fundamentals and overall balance sheet enhancements. By focusing on "core of competency" fundamentals, these REITs have maintained sound risk controls - the essence of an intelligent REIT platform.
International Expansion
Many retail REITs are increasingly expanding internationally, especially in Asia, Central America, and South America. These expansions offer the opportunity to improve their returns by investing in markets where personal wealth is increasing and where markets are not as saturated as the U.S. These investments help balance REIT's geographical risk.
Several of the REITs that are active in international expansion include Kimco Realty, Taubman Centers (NYSE:TCO), and Simon Property Group (NYSE:SPG). These retail REITs are all active in expanding abroad while establishing greater diversification and enhancing overall "margin of safety" fundamentals.
Brand Innovation
Like many retailers, the retail REITs are also finding innovative strategies to defend against e-commerce. Clearly, technology is a double-edge sword and several retail REITs have initiated innovative leasing strategies to enhance overall revenue and occupancy growth. Kimco Realty, Regency Centers, and Weingarten Realty have all developed proprietary leasing initiatives that have enhanced overall leasing productivity.
Summing Up the Retail REIT Forecast
Most retail REITs are seeing improved operational improvements and these trends are explained by Raymond James Research Analyst, R.J. Milligan:
Overall, results in the shopping center REITs were pretty positive despite some macro headwinds. Fundamentals are moving in the right direction - Occupancies are up, leasing spreads are positive, and same-store NOI continues to grow. Small-shop leasing volumes are up, and while the traditional 'mom and pop' small business owners have yet to jump back into the mix, the better capitalized national retailers and franchisees continue to take space in quality centers.

The acquisition market has become extremely competitive, with cap rates hitting new lows for A-quality assets, forcing the REITs to focus more on redevelopment. While low cap rates may be keeping the REITs on the acquisition sidelines, they have spurred non-core dispositions that allow the REITs to recycle their portfolios into markets and assets with greater perceived future growth.
For the balance of the year, retail REITs should continue to outperform other REIT sectors. Several REITs that I recommend include Kimco Realty, Regency Centers, Weingarten Realty, Taubman Centers, Simon Properties Group, Realty Income (NYSE:O), National Retail Properties (NYSE:NNN), and Federal Realty (NYSE:FRT).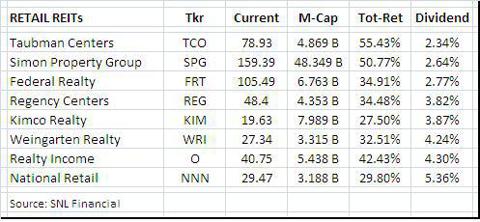 Here is a snapshot of recommended picks ranked by Total Return Performance: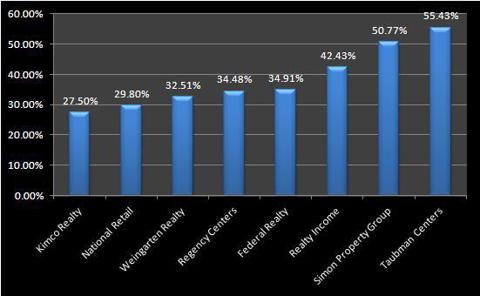 Disclosure: I have no positions in any stocks mentioned, and no plans to initiate any positions within the next 72 hours.