TransCanada Corp.'s (NYSE:TRP) smaller-than-expected equity issue comes with a couple of pluses, according to Grant Hofer, an analyst at UBS Securitites Inc.
Because the deal rang in at C$1.3-billion rather than C$1.5-billion, the analyst jacked up his earnings target by 1%. Less dilution, more earnings.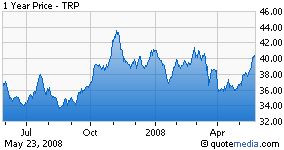 TransCanada issued 34.7 million shares, rather than the 41.7 he expected, in an offering that closed in the middle of May. (TransCanada did offer to finance a recent $2.8-billion acquisition in New York.) While the equity offering was smaller than Mr. Hofer expected, it will still allow the company to solidify its "A" credit rating, he said.
Why the smaller issue? "We suspect that the depressed share price was a contributor to the decision," he said in a note issued Monday. Mr. Hofer maintained his C$46 target price and "buy" rating.