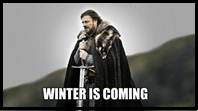 The Fed Can't Keep Winter Away Forever
Stocks are telling us one thing, and bonds quite another; which when combined is flashing a warning light. Stocks have been holding up fairly well as 72% of stocks have beaten their earnings expectations, and as ECB President Mario Draghi promises to restart the printing presses in the wake of a worsening European situation. On the other hand, Treasury bonds are also rallying with the 10 year yield now at 1.40%, an all-time low. We all know from hard earned experience that stocks and bonds never go up together for more than short periods of time. Without a QE3 from the Fed and another LTRO from the ECB, winter will come early this year.
Clearly, stocks have rallied because traders believe that Ben Bernanke and the Federal Reserve will launch QE3 at some point. Bonds have been rallying because they think it won't. Only one of these markets is right, and it's usually the bond market. Bernanke knows that he is down to just one, and possibly two silver bullets left. Therefore, he is more likely to use it as a catastrophic hedge to prevent a crash rather than to keep the markets at a high level. That means the Fed won't be able to take further easing action until early next year, at least until after the presidential election. By then, with the "fiscal cliff" and the slowing economy high on the list, things will be more in need of a stimulus. For this reason, Ben Bernanke is not likely to waste his ammunition now.
Of course we all know that it is an election year. Remember, it is up to the party that is out of power to portray conditions here as terrible as possible so they can get elected to get them corrected. It's the party in power's job to convince us how much things have improved so we stay with them. The lies, misinformation, and ridiculous comparisons can make life complicated, frustrating, and difficult for investors.
It's going to be very tough going for a while, and making sense of it all is a full time job. That's where we can help. Even though times are difficult and dangerous, you can't just keep your money in the bank earning nothing. There are plenty of ways to make money in this market and in the dangerous market ahead, but the key is to be tactical, not buy-and-hold, and to do it without all the risk.
Investor Strategy
If we get a QE3 from the Fed's September meeting, which I don't expect, we'll get a nice pop in growth stocks and particularly commodities. Traders can play (EUO), (UUP), (EPV), (SH) and (BGZ) to play the downside of the market and Europe.
Commodities will be the big movers. If we get further stimulus they will scream higher and if we get none, they will plummet. With further stimulus unlikely until next year, more aggressive traders should short the actual commodity and metal stocks such as Goldcorp. (GG), Barrick Gold Corp (ABX), SPDR Gold Shares (GLD), Power Shares Double Gold (DGP), Market Vectors Gold Miners ETF (GDX), Newmont Mining Corp. (NEM), Freeport-McMoRan Copper & Gold Inc. (FCX), PowerShares DB Gold Double Long (ETN) for the not so faint of heart, plus Silver Wheaton Corp. (SLW) and ProShares Ultra Silver (AGQ) and Fortuna Silver Mines (FSM).
If you are an active trader who likes to move quickly, the best way to play it is to be in and out of actual growth stocks. We are in a downtrend so traders can short S&P 500 (SPY), SPDR Select Sector Fund - Financial (XLF), iShares MSCI Emerging Index Fund (EEM), Emerging Markets Consumer ETF (ECON), Brazil (EWZ), PowerShares QQQ Trust, Series 1 ("QQQ"), iShares Russell 2000 (IWM) and iShares FTSE China 25 Index Fund (FXI). However, be prepared to cover these shorts and go long on these same stocks once the election is decided.
Disclosure: I have no positions in any stocks mentioned, and no plans to initiate any positions within the next 72 hours.